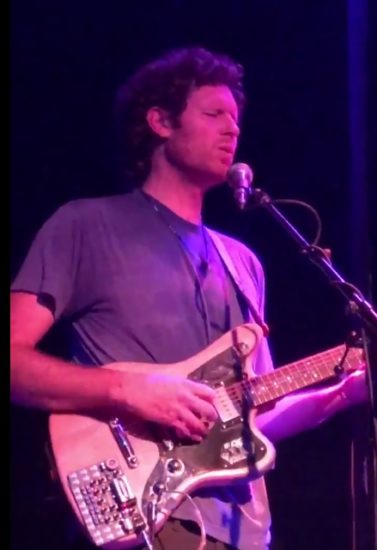 [screenshot from this video]
Chad VanGaalen is a modern day Rennaisance man. He's a Juno nominee, Polaris prize nominee, music producer, artist, composer (for Adult Swim TV Series Dream Corp LLC) — the Calgary native is an all around talented guy. One wonders where the man gets time to write, record and release his own albums, but this year he did just that. Light Information (Sub Pop / Flemish Eye) is VanGaalen's first record in three years, and of course he played all of the instruments and recorded it in his own studio.
Chad VanGaalen just completed an extensive tour in support of Light Information and the near-end of the tour reached NYC last week. We were fortunate to finally get to see this superb artist at Rough Trade after several near misses over the last decade or so. And it was well worth the wait. This performance by Chad and his four piece band was a rip-roaring post-punk trek through much of the new album and some VanGaalen classics. The show also featured some hilarious and downright weird banter, but it all fit with the proceedings. Chad is a unique artist with a very specific sound and vision and the opportunity to see him at the top of his game touring on an A+ album was truly a treat. I hope he comes back to NYC soon.
I recorded this set in our usual manner in this venue, which our Schoeps cards mounted centered at the soundboard booth and mixed with an outstanding feed provided by house FOH Dustin. The sound quality is superb. Enjoy!
Download the Complete Show [MP3] / [FLAC]
Stream the Complete Show:

Chad VanGaalen
2017-12-06
Rough Trade
Brooklyn NY
Digital Master Recording
Soundboard + Audience Matrix
Soundboard [engineer Dustin Myers] + Schoeps CCM4u Cardioids > Sound Devices 744t > 2 x 24bit 48kHz wav files > Soundforge (post-production) > CDWave 1.95 (tracking) > TLH > flac (320 MP3 and tagging via Foobar)
Recorded and Produced by nyctaper
Setlist:
[Total Time 1:15:03]
01 Mind Hijacker's Curse
02 Locked in the Phase
03 [banter – arcade]
04 Host Body
05 Mystery Elementals
06 Old Heads
07 Golden Oceans
08 Faces Lit
09 You Fool
10 [banter – Dogs]
11 Pine and Clover
12 [band introductions]
13 Clinically Dead
14 Release This High
15 Heavy Stones
16 Static Shape
17 Peace on the Rise
18 [encore break]
19 City of Electric Light
20 Weird Love
21 Rabid Bits of Time
22 [outro]
SUPPORT Chad VanGaalen: Bandcamp | Flemish Eye Records Page | Buy Light Information from Flemish Eye or Sub Pop