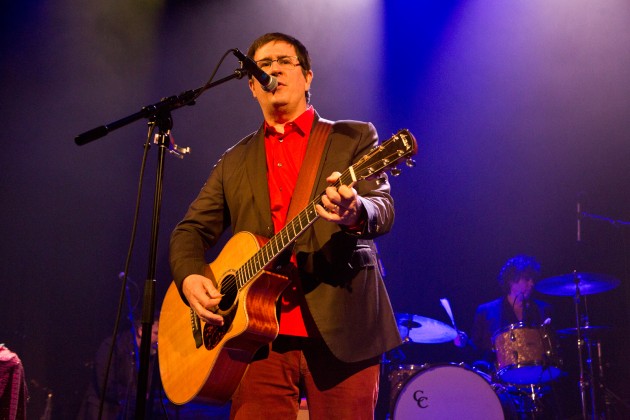 [photos by Greg Cristman]
I've never been to a Mountain Goats concert quite like this one. Generally speaking, the fans of the Mountain Goats are universally involved in the show. Sure, they shout out obscure requests but the people at these unique shows are there for the artist, for the music, and for the experience. There's normally almost no chatter at a Mountain Goats show that's unrelated to the music. Just listen to the recording we just recently posted from Brooklyn Steel, a large venue with a very large crowd and not a peep during the quiet moments. That Brooklyn crowd was at that show for all the right reasons, and the band seemed to feel it.
At White Eagle Hall in Jersey City, the front half of the crowd was the usual engaged Mountain Goats fans, but the back half of the sold out venue were almost defiantly yapping over the music. It was troubling and odd and I think it knocked the band off a kilter a couple of times. John specifically called out "hey talking guys, I'm trying to play guitar here". I don't have any explanation for this crowd that isn't going to read as arrogant, so I'll just attribute it to a Friday night, a sold out venue, and too-efficient bartenders.
Sadly, this is the reality for many events these days — the chatterers don't really care. But this was a really solid show that I'm simply going to have to get over the crowd issues. For devotees to The Sunset Tree, however, this show is a must-listen. Along with regulars "This Year" and "Up The Wolves", we were treated to infrequently performed versions of "You Or Your Memory" and "Broom People". The balance of the setlist offered a slate of the new songs (from Goths) performed regularly on this tour and a couple of more surprises — "I've Got The Sex" and the return of "Beautiful Gas Mask" to the rotation. There are only three more dates on this tour — so get out and see the band, but please don't talk over the music!
I recorded this set with the fortunate use of Brandon's excellent board feed mixed with some of the room mics mounted inside the board area centered in the balcony. Other than the crowd din recognizable during quiet moments, this recording is quite good. Enjoy!
Download the Complete Show [MP3] / [FLAC]
Stream the Complete Show:

Mountain Goats
2017-11-10
White Eagle Hall
Jersey City NJ
Digital Master Recording
Soundboard + Audience Matrix
Soundboard [Engineer: Brandon Eggleston] + Schoeps CCM4u Cardioids > Sound Devices 744t > 2 x 24bit 48kHz wav files > Soundforge (post-production) > CDWave 1.95 (tracking) > TLH > flac (320 MP3 and tagging via Foobar)
Recorded and Produced by nyctaper
Setlist:
[Total Time 1:43:39]
01 [Vivaldi introduction]
02 The Grey King and the Silver Flame Attunement
03 Cotton
04 In the Craters on the Moon
05 Beautiful Gas Mask
06 [banter – Debbie snorts coke]
07 Unicorn Tolerance
08 Rain in Soho
09 Andrew Eldritch Is Moving Back to Leeds
10 Night Light
11 Moon Over Goldsboro
12 I've Got The Sex
13 Snow Crush Killing Song
14 [banter – Fenders]
15 Paid in Cocaine
16 Shelved
17 Birth Of Serpents
18 Broom People
19 Harlem Roulette
20 Against Pollution
21 Spent Gladiator 2
22 [encore break]
23 The Diaz Brothers
24 Up the Wolves
25 This Year
26 [second encore break]
27 See America Right
28 You Or Your Memory
29 The Young Thousands
SUPPORT the Mountain Goats: Website | Twitter | Buy Official Releases | Tour Dates