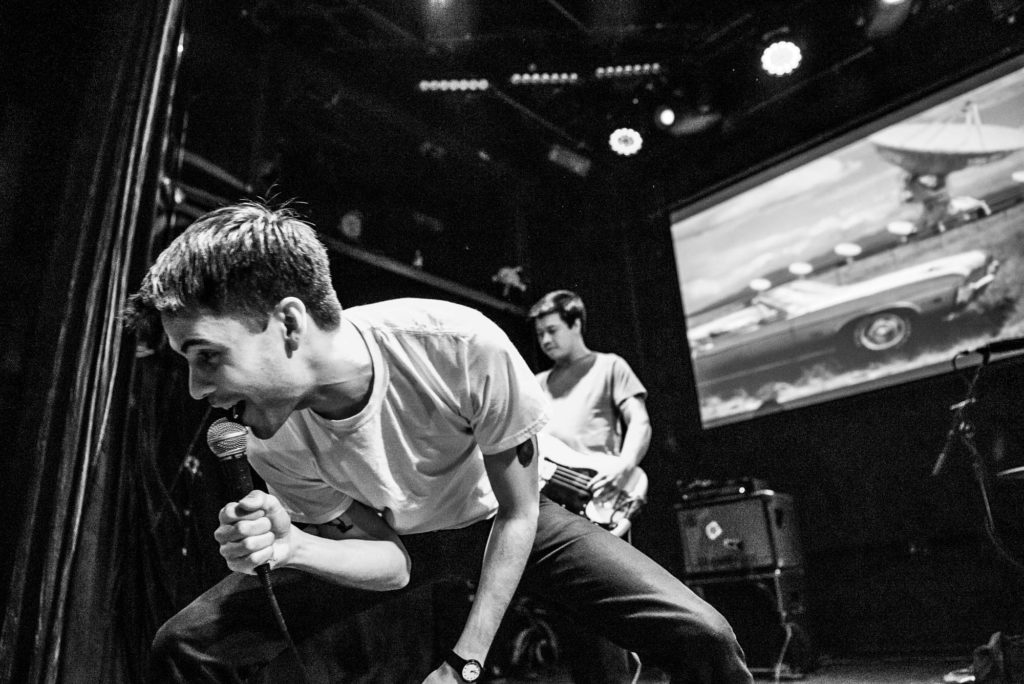 Big Ups began its life as a band in 2010 and ended on this very night in 2019. In a scene with hundreds of bands, many vying for attention in the same overall lane, Big Ups always stood out. I first saw them hot off the release of their first LP, Eighteen Hours of Static, at the now-defunct DIY venue Shea Stadium, and the experience stuck with me long after the feedback, and even the venue, faded. A DIY scene is ephemeral by definition–dozens of venues opened and closed during this band's run, not to mention the number of bands who did the same. Big Ups persisted through it all, and they deserved to. Up through this very last night, at the very un-DIY Bowery Ballroom in Manhattan, they made better music, played better shows, and earned better fans.
No matter what type of Big Ups fan you were, this show offered something. The setlist served as a ready-made career retrospective, spanning the band's earliest EPs through their final, and most intricate, release, Two Parts Together. If you'd never seen Joe Galarraga, Brendan Finn, Amar Lal, and Carlos Salguero Jr. play together before, well, now you got it (if too late). For the rest of us, we were reminded why this band was a can't-miss on any night of the week. Their particular flavor of "post-hardcore" music, steeped in the soft/loud dynamic, relied on precision as well as Galarraga's hyperkinetic stage presence. No matter how many times you'd seen and heard them perform something, it landed hard, straight in the gut. The words were direct, the music was explosive, and the crowd was always, always with them. Tonight, it was no different, with a teeming pit that gave the Bowery Ballroom floor more resemblance to a place like Shea Stadium that it seems possible to have.
A band's last show has a nasty habit of inviting too much nostalgia, both about them, and about the scene from whence they came. It's without dispute that the scene "isn't what it used to be" — because it isn't supposed to be. A music community is an organism that thrives on change, and this is one of them. Bands like Big Ups, and the places they play, set the tone, and then, eventually, the hand off the torch. Keeping that sentiment as literal as possible, the band ended their set with "Not Over Yet" (ironically, from one of their early EPs). "Even if I never sing this song again / you know I won't forget" Galarraga sings — and I believe it.
I recorded this set with a feed of RJ Gordon's house mix, together with Schoeps MK4V microphones mounted at the soundboard. The sound quality is outstanding. Thanks to RJ for the feed, and best of luck to everyone in Big Ups on the next chapter.
Download the complete show: [MP3/FLAC/Apple Lossless]
Big Ups
2019-01-18 [Final Show]
The Bowery Ballroom
New York, NY USA
Recorded and produced by acidjack
Soundboard (engineer: RJ Gordon) + Schoeps MK4V (at SBD, slightly LOC, PAS)>KCY>Z-PFA>>Sound Devices MixPre 6>24/48 polyWAV>Adobe Audition CC>Izotope Ozone 5>Audacity 2.3>FLAC ( level 8 )
Tracks [Total Time 1:05:38]
01 Body Parts
02 Justice
03 Not Today
04 In the Shade
05 Hard To Care
06 Meet Where We Are
07 Grin
08 Knight
09 Goes Black
10 Hope For Someone
11 National Parks
12 Dogs
13 T.M.I.
14 [banter]
15 Wool
16 [encore break]
17 Fear
18 Stressed/Pressed
19 No Plan
20 Not Over Yet
If you enjoyed this recording, PLEASE SUPPORT Big Ups, visit their website, like them on Facebook and buy their records from Exploding In Sound. Also, support your local music scene!