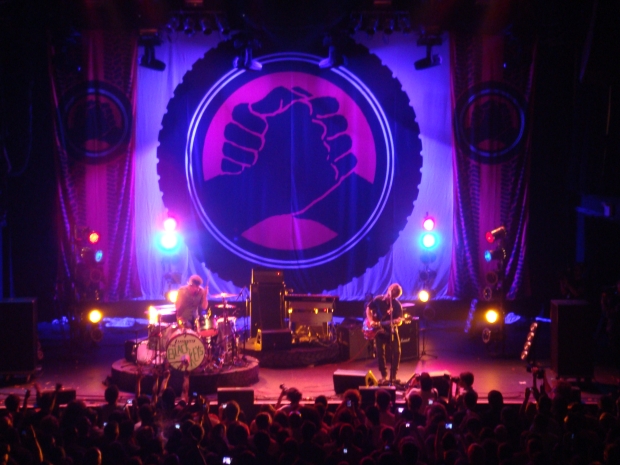 [photos by Johnny]
I don't know how these guys do it.  In little more than a 24-hour period, The Black Keys played three full gigs here in New York City.  One of them, the second of two dates at Central Park's SummerStage, was right before this performance.  I got tired just watching them.  On top of that, they always aim to please and are consistently one of the best live acts that you will see.  Every time I've been to a Black Keys concert, I've invariably met (or brought) someone who's never been to one of their shows and every time, when the lights come up, I see that "whoa!" look on their faces.  It thrills me to no end.
Aside from incorporating a heavy dose of songs from the recent 'Brothers' album, the setlist didn't vary wildly from their last stint at Terminal 5.  Not to say there weren't any other changes: since May, Dan Auerbach and Patrick Carney have been bringing Leon Michaels, on keyboards, and Nick Movshon, on bass, out to play "Same Old Thing" and the 'Brothers' material.  Effectively, turning the stalwart duo into a four-piece for the first time in a live setting.  The purists might cry heresy, but it adds a great dimension to their sound.  And judging from the crowd's reaction, I'm not the only one who thinks so.  I make no secret of my admiration for this band and they've certainly earned it.
Thanks to the help of our new pals, Ryan and Frank, we were able to secure the dead-center spot on the balcony directly behind the soundboard.  The recording is excellent and, apart from getting louder as the night progressed, about as good as it gets in this venue.  Hope you like what you hear as much as we did.  Enjoy!
Stream "Busted":
[audio:http://www.nyctaper.com/B2006BlackKeys9992/tbk2010-07-28-Busted.mp3]
Stream "Howlin' For You":[audio:http://www.nyctaper.com/B2006BlackKeys9992/tbk2010-07-28-Howlin_For_You.mp3]
Direct download of the complete show in MP3 [HERE]
Direct download of the complete show in FLAC [HERE]

If either of the links are no longer working, email nyctaper with a request for the download location of the files.
The Black Keys
Wednesday, July 28, 2010
Terminal 5
New York, NY, USA
(opening bands: Lee Fields & The Expressions / The Whigs)
Source: AUD > AKG C 414 B-XLS's + DPA 4021's > Edirol R-44 (WAV @ 24-bit/48kHz)
Lineage: R-44 > USB > PC > Adobe Audition (mixdown, adjust levels, downsample, dither, tracking) > WAV (16-bit/44.1kHz) > Trader's Little Helper (check/fix SBE's, FLAC conversion) > FLAC ( level 8 )
Recorded and produced by: Johnny Fried Chicken Boy
SETLIST:
[Total time: 1:31:25]
01. Thickfreakness
02. Girl Is On My Mind
03. 10 A.M. Automatic
04. The Breaks
05. Stack Shot Billy
06. Busted [*]
07. Everywhere I Go [#]
08. Strange Times
09. Same Old Thing
10. Everlasting Light
11. Next Girl
12. Chop and Change
13. Howlin' For You
14. Tighten Up
15. She's Long Gone
16. Ten Cent Pistol
17. Your Touch
18. I'll Be Your Man
19. I Got Mine
20. [encore break]
21. Too Afraid To Love You
22. Sinister Kid
23. Till I Get My Way
* R.L. Burnside song
# Junior Kimbrough song
If you download this recording, we expect that you will PLEASE SUPPORT The Black Keys, visit their website, visit their MySpace page, and purchase their official releases and merchandise.