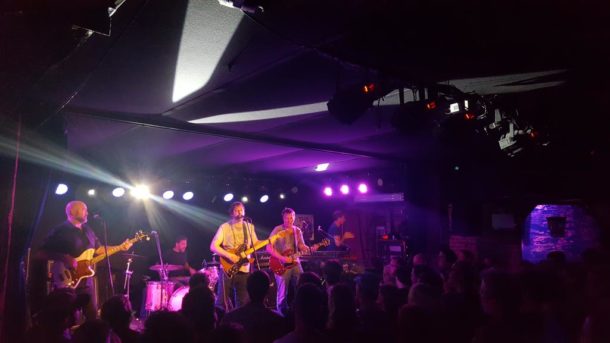 [photo from Chris Quartly twitter]
The relative enjoyability quotient of a band reunion almost always depends upon the reason for the get together. When long-departed groups decide to get together and play shows for the simple fun of it, count us in. Creeper Lagoon had a brief but productive career that petered out in 2004. After being named Spin's Best New Artist in 1998, the band went on to produce a couple of major label releases before splitting up after a difficult European tour. The 2001 release Take Back the Universe and Give Me Yesterday remains the peak of the Creeper Lagoon catalog and the music sounds as vibrant now as it did nearly two decades ago. After the split, all of the band members went on to successful careers and happy lives outside of the music industry. This excellent interview of band founder Sharky Laguana gives all the details, but suffice to say that all of the band member were in a good place when this reunion was contemplated and then announced late last year. After a couple of shows at the Noise Pop Fest's 25th Anniversary in San Francisco in February, Creeper came to NYC for their first show in 16 years, a one-off at Mercury Lounge with no plans to return.
The excitement of the event was evident in the crowd from the outset as the band interactions will attest. Mercury was quite sold out and Creeper Lagoon's energy reflected that fact throughout the night. The setlist was a lengthy run through the band's back catalog with a nice cross-section of material. Universe was well represented as expected. The reality is that this night was exactly the reunion show you would have hoped for if you're a Creeper Lagoon fan — fun, interactive, energetic, and well paced. If the reactions of the many fans who approached me after the show asking about the recording is any evidence, this document should also be exactly what the fans want.
I recorded this set with the Schoeps cards mounted in front of the Soundboard and mixed with a superb feed provided by the band's FOH Kim Griess. This was a rambunctious and happy crowd, although there was a near-fight audible to my left during the encore break. Other than that and some other obvious chatter, the sound quality is quite excellent. Enjoy!
Download and Stream the Complete Show from our Bandcamp Page:

Creeper Lagoon
2017-08-10
Mercury Lounge
New York NY
Digital Master Recording
Soundboard + Audience Matrix
Soundboard [engineer Kim Griess] + Schoeps CCM4u Cardioids > Sound Devices 744t > 2 x 24bit 48kHz wav files > Soundforge (post-production) > CDWave 1.95 (tracking) > TLH > flac (320 MP3 and tagging via Foobar)
Recorded and Produced by nyctaper
Setlist:
[Total Time 1:32:34]
01 Chance of a Lifetime
02 Claustrophobia
03 Under the Tracks
04 Dead Man Saloon
05 Second Chance
06 [Tracy false start]
07 Tracy
08 [Patrick intro]
09 Dreaming Again
10 Sylvia
11 Empty Ships
12 Motor Away [Guided By Voices]
13 [banter – lawyer shit]
14 Hey Sister
15 Roman Hearts
16 Wrecking Ball
17 Bloodbuzz Ohio [National]
18 Sunfair
19 Keep from Moving
20 [encore break]
21 [Tonight long intro]
22 Tonight Was Fun
23 Wonderful Love
24 Dear Deadly