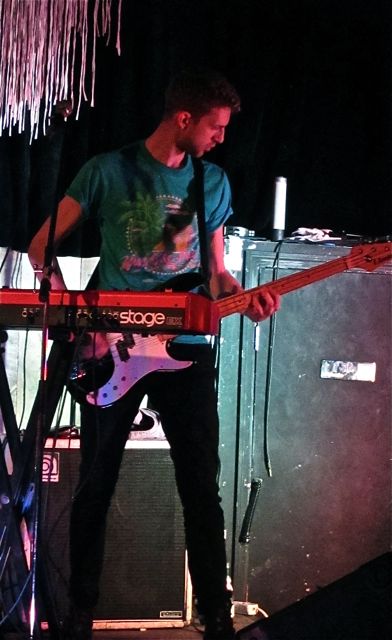 [Photos by acidjack]
Brooklyn's Steel Phantoms had been on my list of bands to see for awhile. The band makes catchy, tightly-wound rock n' roll that incorporates elements of 80s postpunk, new wave and prog-rock, and it is an infectious combination in any setting. Though they were the first act on a four-deep bill at Cameo Gallery on this night (and had the good nature to joke about it), the Phantoms owned the rapidly-filling room with their rapid-fire set that featured mostly-new material, plus a total of three tracks from their Forer and Steel Phantoms EPs (both available on their bandcamp page). After a caffeinated kickoff that featured "Fast Stop" and "Evening Routine" from their first EP and a new song, "'94", the band slowed it down with the midtempo "Mona" before kicking things back into high gear. The band saved the best for last with their new song, "I Get You", which gave guitarist Jesse Newkirk a chance to show off his versatility with the instrument. This is a band with loads of potential and a wide potential audience that is, we think, on the way up.
I recorded this set in the same manner as the Doe Paoro recording, and this particular capture is even better than that one – truly flawless. Enjoy!
Stream "'94"
[audio:http://www.nyctaper.com/S0515SteelPhantoms0212/03 '94.mp3]
Stream "I Get You"
[audio:http://www.nyctaper.com/S0515SteelPhantoms0212/08 I Get You.mp3]
Direct download of MP3 files [HERE]| Direct Download of the FLAC files [HERE]
Follow acidjack on twitter
Note: All of the material on this site is offered with artist permission, free to fans, at our expense. The only thing we ask is that you download the material directly from this site, rather than re-posting the direct links or the files on other sites without our permission. Please respect our request.
Steel Phantoms
2012-05-15
Cameo Gallery
Brooklyn, NY USA
Exclusive download hosted at nyctaper.com
Recorded and produced by acidjack
Schoeps MK5 (cardiod, PAS)>CMC6>Aerco MP-2 + Soundboard >> Edirol R-44 [Oade Concert Mod]>2x24bit/48kHz WAV>Audacity (mix down, adjust levels, set fades, tracking, amplify and balance)>FLAC ( level 8 )
Tracks
01 Fast Stop
02 Evening Routine
03 '94
04 Mona
05 Blade Runner
06 Bedouin
07 [banter]
08 I Get You
If you enjoyed this recording, PLEASE SUPPORT Steel Phantoms, like them on Facebook, and grab their EP Forer for free on their bandcamp page.