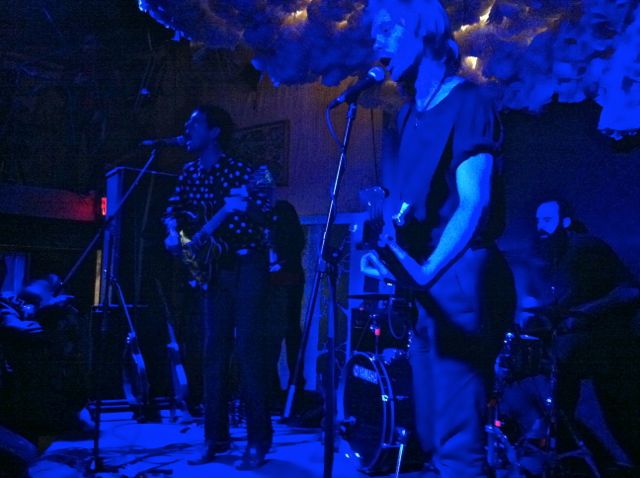 [Photos by acidjack]
In an excellent piece in the L Magazine entitled "101 Secrets to Indie Rock Success", the magazine advises that "[p]laying instruments on a stage isn't all there is to a performance. It's got to rise to the level of a show. There are different ways to put one on, but just playing instruments, even quite well, isn't enough."  Our Mountain have obviously taken that to heart in a big way – they're one of the most dynamic, engaging new live bands I've seen in awhile, and they look the part.
The third act of a four-act Glasslands bill with no weak links, Our Mountain still stood out immediately.  They come at you with punk sneer but play with adept, post-punk atmospherics and texture.  Their sound is all-encompassing, at times foreboding, at times coke-buzz intense. Frontman Matthew Hutchinson's writhing, twisting moves and confident delivery make him seem like a frontman with decades of experience, and his vocal delivery puts him squarely in the company of great postpunk forebears like Gang of Four.  He comes by his non-American accent honestly as well – the bandmembers, now based in Brooklyn, originally hail from Melbourne, Australia.
Along with the killer music, the band has also gotten a fair amount of press for one of its founders, percussionist/keyboardist, femme fatale and model Abbey Lee (Abbey Lee Kershaw, in the fashion world).  She'd be the tall, beautiful, striking blonde woman in the back corner – most strikingly, when she was banging a heavy chain against a trashcan lid during the set opener "Drury Lane".  But beyond Lee and her look, this band has that general sense of polish that tells you they are going places.  Live, each of their songs is delivered like it's the last time they'll ever play it – like they mean it.  Maybe it's that whole "journeying from halfway around the world to make your rock n' roll dreams come true" thing that makes them try that little bit harder – maybe.  Whatever the reason, Our Mountain are playing like they want this all to mean something, and they're only getting started.  With no official releases under their belt yet, the band is gunning for live and studio opportunities.  My suspicion is they'll get them.
I recorded this set with DPA 4021 microphones and a soundboard feed from the Glasslands FOH team.  The results are outstanding.  Enjoy!
Stream "Drury Lane"
[audio:http://www.nyctaper.com/O0116OurMountain2012/01 Drury Lane.mp3]
Stream "Wooden Hearts"
[audio:http://www.nyctaper.com/O0116OurMountain2012/05 Wooden Hearts.mp3]
Direct download of MP3 files [HERE] | Direct Download of the FLAC files [HERE]
Follow acidjack on twitter
Note: All of the material on this site is offered with artist permission, free to fans, at our expense. The only thing we ask is that you download the material directly from this site, rather than re-posting the direct links or the files on other sites without our permission. Please respect our request.
Our Mountain
2012-01-16
Glasslands
Brooklyn, NY USA
Digital Master Recording hosted exclusively at nyctaper.com
Recorded and produced by acidjack
DPA 4021>Naiant littlebox + Soundboard >> Edirol R-44 [Oade Concert Mod]>2x24bit/48kHz WAV>Audacity (mixdown, set fades, tracking, downsample)>FLAC ( Level 8 )
Tracks
01 Drury Lane
02 Midnight Black (with a white diamond on her forehead)
03 Untitled
04 1981
05 Wooden Hearts
06 Pink Elephant
If you enjoyed this recording, PLEASE SUPPORT Our Mountain, visit their website, like them on Facebook, and follow them on Twitter.  And go see their shows.  Definitely do that.