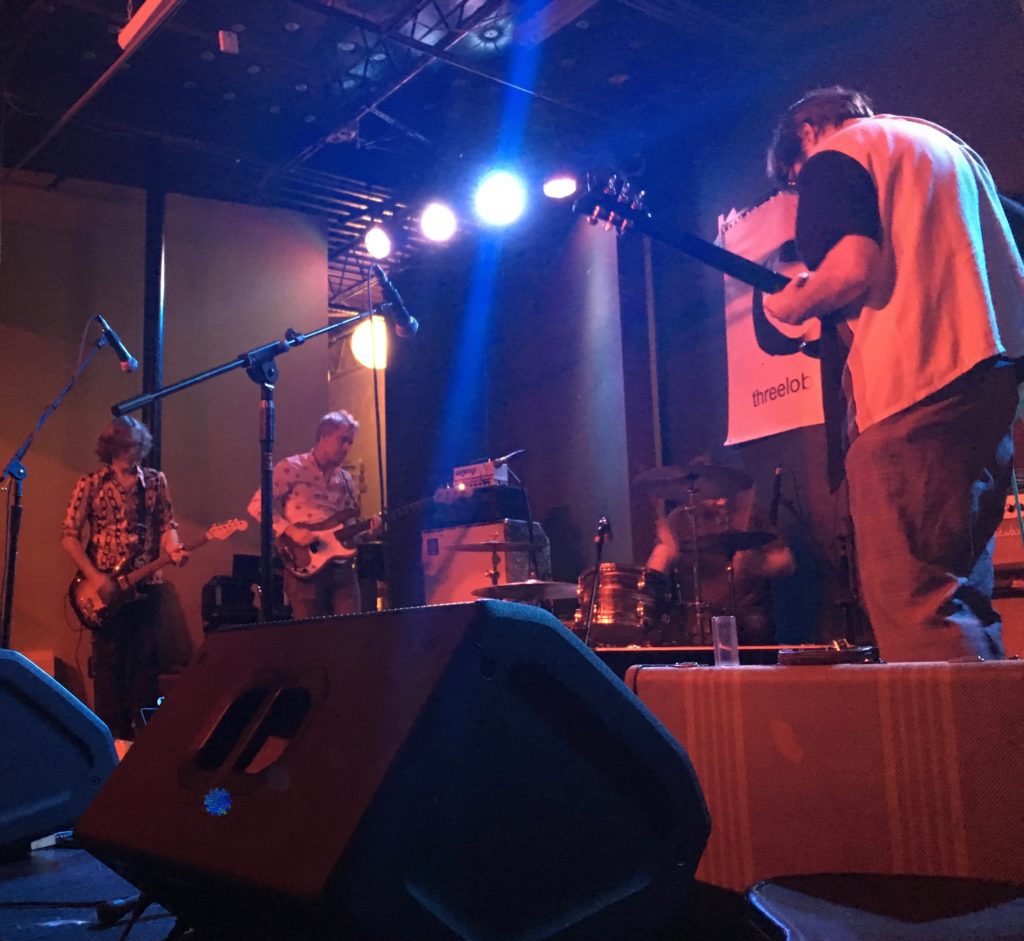 It's a rarer and rarer thing these days to discover a truly local phenomenon, especially in rock(ish) music, where even if a band doesn't tour nationwide, their music can become the province of bloggers in Sydney and Tokyo even if their music is made in a basement in Anaheim. Well, Enemy Waves remain, for the most part, such a phenomenon, a band whose experimental prowess and musical bona fides haven't yet overcome the fact that, to put it bluntly, these guys have a few other things going on in life. When we saw these guys do the Hopscotch Music Festival in 2014, we were blown away; the addition of Thurston Moore was an easy bonus.
This show featured a couple of songs from the Hopscotch outing, plus a couple of new numbers. Once again, the band showed how adept they are at improvisation, one of many reasons why they belonged at the Threelobed Sweet Sixteen Spectacular (other sets here). While the band's recorded output remains minimal to date, hopefully a set like this is an invitation for people to encourage them to do more (maybe even on Three Lobed(?)). As with everything that went on during this day-long extravaganza, this set was special, in this case, as a fairly rare chance to catch a band whose name should be (much) more widely known.
I recorded this set in the same manner as the other sets of the day, with multiple soundboard channels, Schoeps MK22 microphones onstage, and MBHO cardiod microphones in the crowd. The sound quality is excellent. Enjoy!
Download the complete show: [FLAC/MP3/ALAC]
Stream the complete show: 

Enemy Waves
2016-03-26
Three Lobed Sweet Sixteen Spectacular
Kingís
Raleigh, NC USA
Exclusive download hosted at nyctaper.com
Recorded and produced by acidjack
4x Soundboard channels (engineer: Brad Womack) + MBHO 603a/KA200N (FOB, DFC, PAS) + Schoeps MK22 (onstage, ORTF, DFC)>KC5>CMC6>Aeta PSP3 >> Zoom F8>8x24bit/48kHz WAV>Adobe Audition CS 5.5 (align, mix down, compression)>Izotope Ozone 5 (EQ, effects)>Audacity 2.0.3 (track, amplify, balance, downsample, dither)>FLAC ( level 8 )
Tracks
01 [intro-Cory Rayborn]
02 Bleechie
03 [unknown1]
04 [unknown2]
05 [banter/tuning]
06 Radiant III
If you enjoyed this recording, please support Enemy Waves by visiting their bandcamp page.