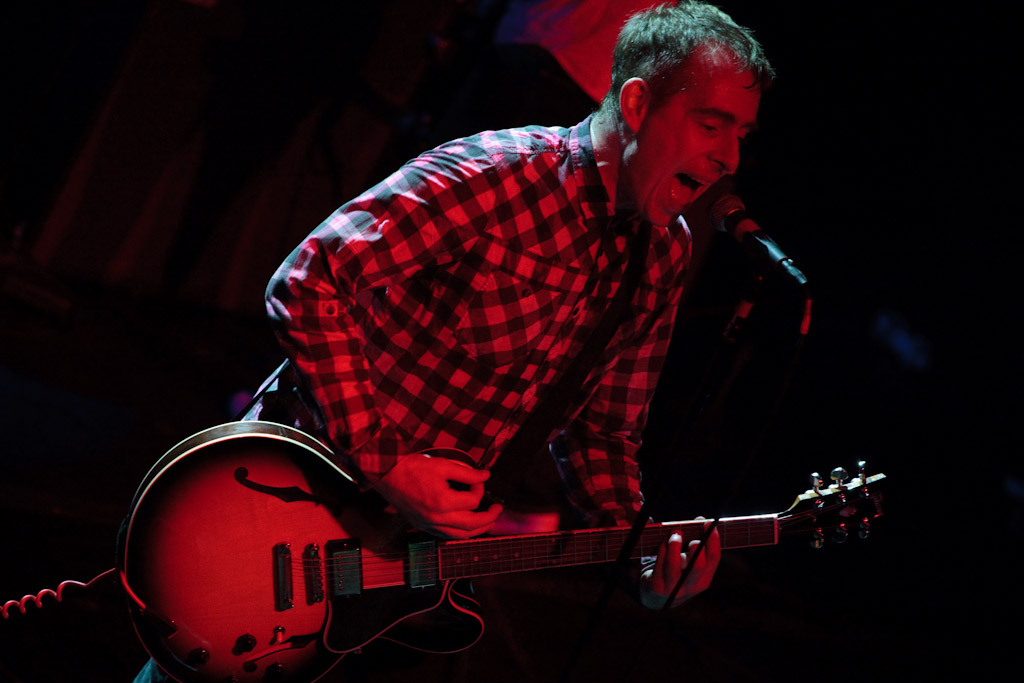 [photo by Alexis Maindrault – courtesy of The Music Slut]
Ted Leo has momentum. After two years of infrequent performances and no new releases, in December Ted played a powerful show at Bowery Ballroom that previewed many of the new songs that now appear on his outstanding new release Brutalist Bricks, released in March on Matador. The first tour in support of the album has been an unqualified success as each show features Ted's unbridled energy, the tight backing of the Pharmacists, and Leo classics sprinkled liberally into a setlist heavy on the outstanding new material — 9 of the album's 13 songs were played here. Last night at Irving Plaza was a homecoming of sorts, as Ted welcomed a large contingent of bridge and tunnel fans from New Jersey who came to support their Bloomfield boy. From the opening raging "The Mighty Sparrow" through the five-song encore segment, Ted never let go of the momentum and delivered one of the best performances we've seen this year.
We recorded this set with the four-microphone rig from the center of the floor and the sound quality is excellent. Enjoy!
This Recording is now available for Download in FLAC and MP3 via Archive.org [HERE].
Ted Leo and the Pharmacists
2010-04-09
Irving Plaza
New York, NY USA
Digital Audience Four-Track Master Recording
Recorded from Center of the Floor
Neumann KM-150s + DPA 4021s > Edirol R-44 (Oade Concert Mod) > 2x 24bit 48kHz wav files > Soundforge (level adjustments, mixdown, set fades) > CDWave 1.95 (tracking) > Flac Frontend (level 7, align sector boundaries) > flac
Recorded and Produced by nyctaper
2010-04-10
Setlist:
[Total Time 1:32:38]
01 [introduction]
02 The Mighty Sparrow
03 Heart Problems
04 Mourning In America
05 Me and Mia
06 Under The Hedge
07 Where Have All The Rude Boys Gone
08 Even Heroes Have To Die
09 Ativan Eyes
10 The Stick
11 [banter]
12 The High Party
13 One Polaroid A Day
14 Counting Down The Hours
15 Where Was My Brain?
16 Little Dawn
17 Bottled In Cork
18 Colleen
19 [banter]
20 A Bottle Of Buckie
21 Gimme The Wire
22 Biomusicology
23 [encore break/banter]
24 Bleeding Powers
25 Fisherman's Blues (The Waterboys)
26 Timorous Me
27 Parallel Or Together?
28 Angelfuck (The Misfits)
If you email nyctaper for access to this recording, we expect that you will PLEASE SUPPORT Ted Leo and the Pharmacists, visit their website, and purchase Brutalist Bricks from the Matador Records website [HERE].