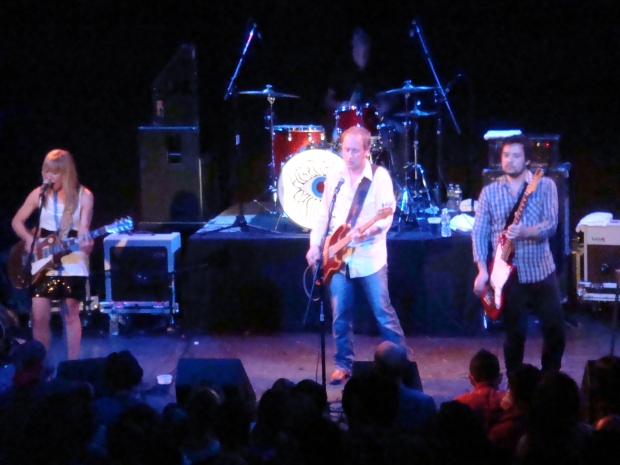 [photo by Johnny]
I first saw Heartless Bastards about a year and a half ago when they opened for The Black Keys and was pretty blown away.  Since then, I've been waiting (somewhat impatiently, I'll admit) for them to return to NYC with their indie-garage rock-blues amalgam and headline their own show.  My wish was granted when Erika, Dave, Mark and Jesse played not just one, but two back-to-back concerts at Music Hall of Williamsburg and Bowery Ballroom.  Suffice to say, I wasn't disappointed: acidjack and I caught the first night at MHoW and by the time the house lights came up, I couldn't wait to go to the second night.  The setlist included songs culled from their three albums, a short acoustic interlude, violinist Zy Orange Lyn joining the band for a handful of songs and Peter Pisano of Peter Wolf Crier sitting in for the encore's "Could Be So Happy" (the Peter Wolf Crier and The Builders and the Butchers sets will be coming soon).  While the setlists were essentially the same both nights, there was the surprise addition of "Searching For the Ghost" during the encore at Bowery.  Adding to the milieu, someone in the crowd inflated a few condoms that bounced around the venue (which Jesse makes reference to) for a good part of the show and can be heard occasionally popping throughout the recording.  On a personal note, I had the pleasure of meeting Ms. Wennerstrom after one of the gigs and she is an absolute and gracious sweetheart.  Yeah, I'm smitten.
We were in our regular spot on the balcony next to the soundboard and, aside from the occasional rumble of being under an a/c vent and a group that preferred to chat loudly rather than enjoy the music, we came out with an excellent recording.  Hope you like what you hear as much as we did.  Enjoy!
Stream "Out at Sea":
[audio:http://www.nyctaper.com/H6602HB9922/hb2010-07-15-Out_at_Sea.mp3]
Stream "Searching for the Ghost":
[audio:http://www.nyctaper.com/H6602HB9922/hb2010-07-15-Searching for_the_Ghost.mp3]
Direct download of the complete show in MP3 [HERE]
Direct download of the complete show in FLAC [HERE]

If either of the links are no longer working, email nyctaper with a request for the download location of the files.
Heartless Bastards
Thursday, July 15, 2010
Bowery Ballroom
New York, NY, USA
(opening bands: The Builders and the Butchers / Peter Wolf Crier)
Source: AUD > AKG C 414 B-XLS's + DPA 4021's > Edirol R-44 (WAV @ 24-bit/48kHz)
Lineage: R-44 > USB > PC > Adobe Audition (mixdown, adjust levels, downsample, dither, tracking) > WAV (16-bit/44.1kHz) > Trader's Little Helper (check/fix SBE's, FLAC conversion) > FLAC (level 8 )
Recorded and produced by: Johnny Fried Chicken Boy
SETLIST:
[Total time: 1:41:21]
01. Done Got Old
02. Out at Sea
03. Onions
04. Witchypoo
05. Blue Day
06. [banter]
07. Into the Open
08. I Swallowed a Dragonfly [*]
09. So Quiet [*]
10. Had to Go [*]
11. All This Time [*]
12. The Mountain
13. Sway
14. Hold Your Head High
15. Swamp Song
16. Nothing Seems the Same
17. Early in the Morning
18. [encore break / banter]
19. Could Be So Happy [#]
20. Searching for the Ghost [*]
21. Gray
22. Runnin
* Zy Orange Lyn on violin
# Peter Pisano (of Peter Wolf Crier) on additional vocals
If you download this recording, we expect that you will PLEASE SUPPORT Heartless Bastards, visit their website, visit their MySpace page, and purchase their official releases and merchandise.