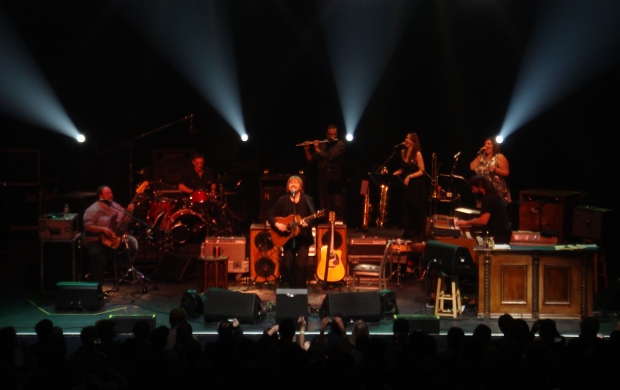 [photos by Johnny]
Despite how "jambands" seem to invoke the ire of quite a few people, it can't be ignored that they attract a zealous following.  Bolstered by excellent musicianship and great songwriting, Phish has arguably been at the top of this genre for a long time and are able to sell out nearly every arena-sized (and larger) venue they play in.  That's why it's nice when the individual members indulge in their side projects, allowing them to kick back and play the smaller places like they did before becoming a multi-million dollar juggernaut.  I hadn't been to a Phish concert for the better part of two decades when a few friends literally dragged me to see frontman Trey Anastasio last year.  It turned out to be a stellar gig and good enough to make me dip my toes back into the pond, so to speak.  With his return to Terminal 5 this year, there was no way I was going to miss it and it turned out to be money well spent.  Delving into the extensive catalog of material from his main band and solo jaunts, Trey and company split the performance into acoustic and electric sets, playing a lot of favorites and a few inspired, and some surprising, covers.  Judging by the great time the performers and the crowd were having, reinforced by the multiple sing-alongs during the course of the evening, I can understand why so many folks are continually drawn to them.
We recorded this show from the first balcony, nearly dead-center.  A few other people had the same idea and we had a blast turning the area into a taper's section.  As with Phish, Trey Anastasio's sound engineers are top-notch.  The house sound that night was superb and our recording reflects that.  Enjoy!
Stream "Meatstick":
[audio:http://www.nyctaper.com/T2220TreyAnastasio0112/TAB_-_Meatstick.mp3]
Stream "Burn That Bridge":
[audio:http://www.nyctaper.com/T2220TreyAnastasio0112/TAB_-_Burn_That_Bridge.mp3]
Direct download of the complete show in MP3 [HERE]
Direct download of the complete show in FLAC [HERE]

If either of the links are no longer working, email nyctaper with a request for the download location of the files.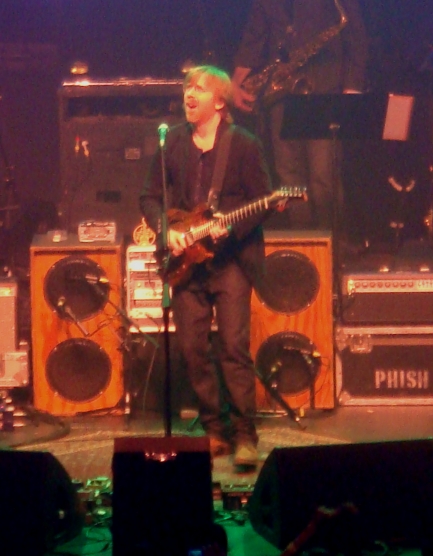 Trey Anastasio Band
Tuesday, February 22, 2011
Terminal 5
New York, NY, USA
Source: AUD > AKG C 414 B-XLS's + DPA 4021's > Edirol R-44 (WAV @ 24-bit/48kHz)
Lineage: R-44 > USB > PC > Adobe Audition (mixdown, adjust levels, downsample, dither, tracking) > WAV (16-bit/44.1kHz) > Trader's Little Helper (check/fix SBE's, FLAC conversion) > FLAC ( level 8 )
Recorded and produced by: Johnny Fried Chicken Boy
1st SET: Acoustic
[Total time: 1:07:40]
01. Down with Disease
02. Wolfman's Brother
03. Theme from the Bottom
04. Camel Walk
05. Kill Devil Falls
06. Meatstick
07. Halley's Comet
08. Bouncing Around the Room
09. Cavern
10. Prince Caspian
11. [banter]
12. Limb by Limb
13. Stealing Time from the Faulty Plan
14. [banter]
15. Wading in the Velvet Sea
16. [banter]
17. Heavy Things
18. [banter]
19. Peggy
20. [banter]
21. Hey Ya!  [OutKast]
2nd SET: Electric
[Total time: 1:43:45]
22. 2nd set intro
23. In the Night  [Professor Longhair]
24. Valentine
25. Ocelot
26. It Makes No Difference  [The Band]
27. Gotta Jibboo
28. Burlap Sack and Pumps
29. Clint Eastwood  [Gorillaz]
30. Cayman Review
31. Sand
32. Sweet and Dandy  [Toots & the Maytals]
33. Burn That Bridge
34. [banter]
35. My Problem Right There
36. Tuesday
37. First Tube
38. Empire State of Mind  [Jay-Z]
39. [encore break]
40. Sultans of Swing  [Dire Straits]
If you download this recording, we expect that you will PLEASE SUPPORT Trey Anastasio and Phish, visit their website, visit their MySpace and Facebook pages, and purchase their official releases and merchandise [HERE].