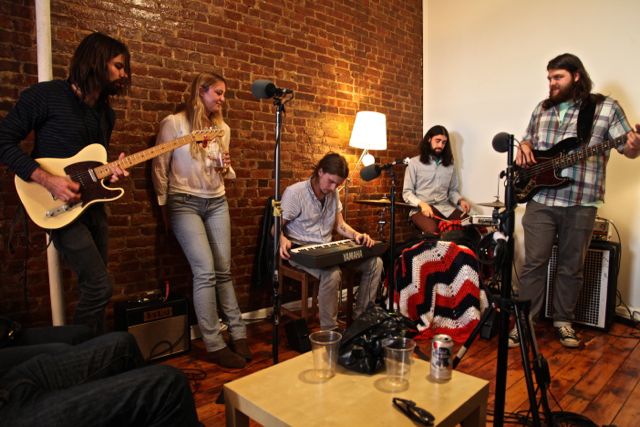 [Photo by Steve Alexandre]
Philly's The Lawsuits are just straight up quality. This young act, who have established a reputation in their hometown that is growing around the East Coast, are one of those bands so ready for primetime that you can't believe you're seeing them in someone's living room. Such are the advantages of living in New York City, I suppose.
This Backyard Brunch Session, like the Field Mouse set from later in the day, wasn't exactly true to the format in terms of being (a) in a backyard or (b) acoustic, but The Lawsuits played this backup location the same way I'm sure they'd have played Bowery Ballroom. Dual lead vocalists Brian Dale Allen Strouse (also guitarist/keyboardist and lead songwriter) and Vanessa Winters give the band a wide palette to choose from vocally, and the core rhythm section of Brendan Cunningham on bass and Josh Friedman on drums (joined for this set by guitarist Joe Bisirri) give power and structure to the intricate arrangements. As a unit, the band's highlight was probably "Love Is Weight". With its hooky keyboard backing and catchy chorus, the song would be as at home in any of the last four decades, and it's a home run now. The strongest individual performance could well have been Winters' on the country-blues number "Long Drive Home", where her vocals soared in the room without need of amplification. But it's hard to be partial to any one performance out of this excellent set — even the impromptu, unrehearsed cover of Tom Petty's "American Girl" brought a huge smile to everyone's face. If a choice of cover song could fully encapsulate the spirit, style and vibe of a band, the choice of that song by The Lawsuits might well be it. The band has shows in Philly on December 6 and New Year's Eve, and should be touring New York again next year. Don't miss them.
I recorded set with MBHO microphones on each of the lead vocalists with a mid-side pair of Schoeps MK5 and MK8 in the middle of the room. Of all of the site's Backyard Brunch recordings, I believe this is the finest quality one yet. Enjoy!
Stream the full set (with banter removed):

The incorrect version of "You Won't Love Me If You Won't" has been replaced with the right song.
Download the full set: [MP3] | [FLAC]
Note: All of the material on this site is offered with artist permission, free to fans, at our expense. The only thing we ask is that you download the material directly from this site, rather than re-posting the direct links or the files on other sites without our permission. Please respect our request.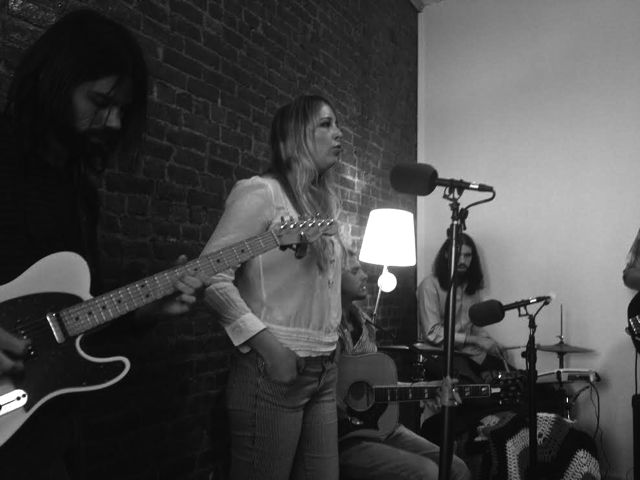 [Photo by Paul Dryden]
The Lawsuits
2013-10-26
Backyard Brunch Sessions
Brooklyn, NY USA
Exclusive download hosted at nyctaper.com and backyardbrunchsessions.com
Recorded and produced by acidjack
Schoeps MK5 (cardiod)+Schoeps MK8 (M-S) + MBHO KA200N>MBP603>Edirol R-44 [OCM]>2x24bit/48kHz WAV>Voxengo MSED (decode M-S)>Adobe Audition CS 5.5 (various effects and mixdown)>Izotope Ozone 5 (EQ, effects)>Audacity 2.03 (fades, tracking, light compression, amplify, balance, downsample, dither)>FLAC ( level 8 )
Tracks
01 [intro]
02 Fine Quality
03 Ebony Rose
04 Long Drive Home
05 [banter]
06 Dreaming #26
07 [banter2]
08 Onion
09 Love Is Weight
10 [banter3]
11 You Won't Love Me If You Don't
12 American Girl [Tom Petty]
Players:
Brian Dale Allen Strouse (vocals, keys, guitar)
Vanessa Winters (vocals)
Brendan Cunningham (bass)
Josh Friedman (drums)
Joe Bisirri (guitar)
If you enjoyed this recording, please support The Lawsuits, visit their website and buy Cool Cool Cool and their merchandise from their online store.