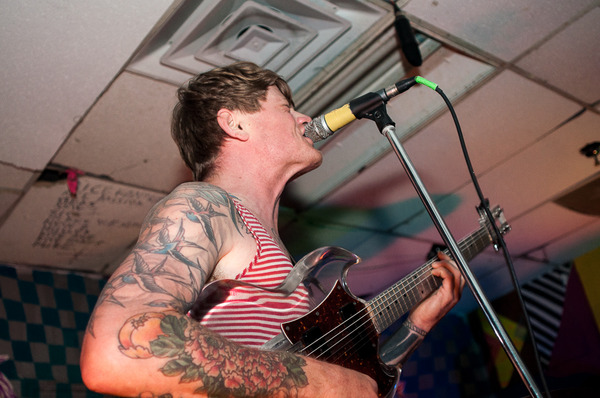 [photo by Edwina Hay – full set at Impose]
In between the last NYC shows by Thee Oh Sees — including that best-of-the-year night at 285 Kent — and their recent return to the City for two shows last week, there was talk of an extended "hiatus". I'm not sure if John Dwyer heard the collective virtual groan of disappointment when word got out, but thankfully the "hiatus" wasn't in fact any longer than a standard touring break for any conventional band. What actually ended up happening is that Dwyer moved from the Bay Area to LA and re-formed the band with a new drummer and bass player. The current version of Thee Oh Sees is indeed different, missing keys and backing vocals, but fortunately the quality remains the same. They are simply one of the best live bands around and Dwyer's manic energy and the authentic nature of the garage sound makes them a must-see event. The Death By Audio show on Sunday night was one of those "secret" shows that sold out in about five minutes, but we were fortunate to snag a ticket. DBA remains one of our favorite venues in large part because of shows like this one — the place was packed to the gills, the crowd was nearly out of control and the band played perhaps the longest set in its history, but it still seemed like everyone was smiling and getting along. When the music and the show itself is this good, its ok to get bounced around a little, get sweaty and have some beer get "spilled". It all comes out in the wash anyway.
I recorded this set with DPA omnis duct-taped to the ceiling about 15 feet from the stage and mixed lightly with a small amount of board feed to supplement the vocals. The sound quality is very consistent with the the room that night — a little messy but a whole lot of excellent. Enjoy!
Stream "The Dream":

Download the Complete Show [MP3] / [FLAC]
Note: All of the material on this site is offered with artist permission, free to fans, at our expense. The only thing we ask is that you download the material directly from this site, rather than re-posting the direct links or the files on other sites without our permission. Please respect our request.
Thee Oh Sees
2014-06-15
Death By Audio
Brooklyn NY
Digital Master Recording
Soundboard + Upfront Audience
Soundboard + DPA 4061s > Edirol R-44 (Oade Concert Mod) > 2 x 24bit 48kHz wav files > Soundforge (level adjustments, mixdown, set fades) > CDWave 1.95 (tracking) > TLH > flac (320 MP3 and tagging via Foobar)
Recorded and Produced
by nyctaper
Setlist:
[Total Time 1:21:16]
01 I Come From The Mountain
02 Carrion Crawler
03 Tidal Wave
04 Tunnel Time
05 Encrypted Bounce
06 Lupine Dominus
07 Toe Cutter – Thumb Buster
08 Withered Hand
09 The Dream
10 [banter – back rub]
11 [unknown]
12 [thanks]
13 [unknown 2]
14 Dead Energy
15 The Web
16 [encore break]
17 No Spell
If you download this recording from NYCTaper, we expect that you will PLEASE SUPPORT Thee Oh Sees, visit their website, and purchase their official releases from Castle Face Records [HERE].