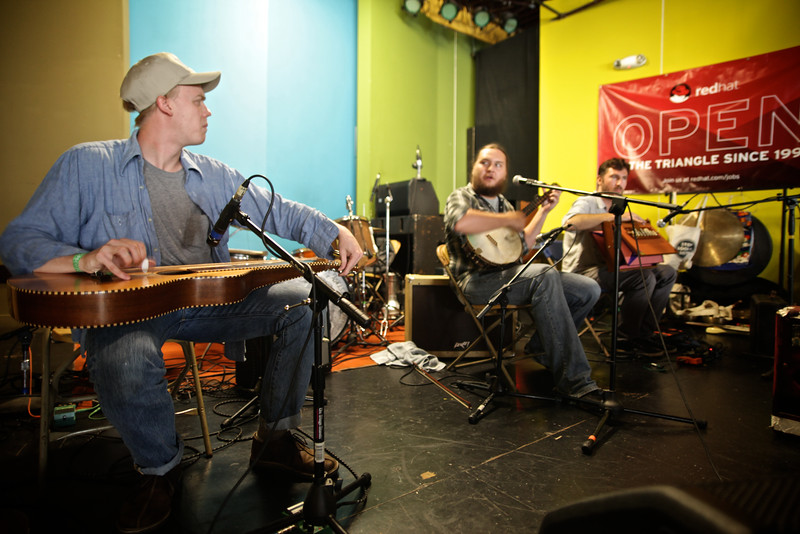 [Photo by PJ Sykes]
As I said in our last post about the co-sponsored Three Lobed / WXDU Day Show during Hopscotch Music Festival, one of the things that made this best-curated-of-the-fest day so special were the number of one-off collaborations that went down. Nathan Bowles has been all around the scene for a while now, lending his banjo and other skills to such diverse acts as the drone wizards Pelt, the Appalachian-influenced Black Twig Pickers, Steve Gunn, plus his solo work. Daniel Bachman, who has been on the site twice, is as prolific as he is talented. His latest release, Orange Co. Serenade appeared on the tiny North Carolina imprint Bathetic Records around the same time that the Virginian chose to relocate to Durham, NC.
For this very special first-time collaboration, Bachman and Bowles (joined by local guitarist Zeke Graves) chose to pay tribute to classic southern sounds, first serving up an acoustic version of Jeffrey Cain's "Moonshine Is the Sunshine" from his 1970 album For You, followed by the legendary North Carolina guitarist Link Wray's "Waterboy", which turned into a massive sixteen-minute guitar freakout with Graves and Bachman's dueling electric guitars backed by Bowles doing a turn on percussion. From the day's first act, we ended up hearing one of the highlights of the entire show.
I recorded this set, as with all of these sets, with Schoeps MK4V microphones on stage and a soundboard feed from the King's staff. The sound quality, particularly on the Link Wray song, is outstanding. Enjoy!
Download the recording: [MP3] | [FLAC]
Stream the full set:

Daniel Bachman and Nathaniel Bowles
2014-09-05
Three Lobed Recordings / WXDU Day Show
King's
Raleigh, NC USA
Exclusive download hosted at nyctaper.com
Recorded and produced by acidjack
Soundboard + Schoeps MK4V (on stage pair)>KC5>CMC6>>Edirol R-44 [OCM]>2x24bit/48kHz WAV>Adobe Audition CS 5.5 (mix down, compression)>Izotope Ozone 5 (effects, EQ)>Audacity 2.0.3 (track, fade, amplify, balance)>FLAC ( level 8 )
Tracks [Total Time 32:10]
01 [intro]
02 Moonshine Is the Sunshine [Jeffrey Cain]
03 Waterboy [Link Wray]
Musicians (in alphabetical order)
Daniel Bachman – acoustic and electric guitars, vocals
Nathaniel Bowles – banjo, percussion, vocals
Zeke Graves – electric guitar, sruti box
If you enjoyed this recording, SUPPORT these musicians by visiting their sites and buying their stuff. You can find Nathan Bowles here and buy his stuff here; Daniel Bachman's latest can be purchased from Bathetic Records here.