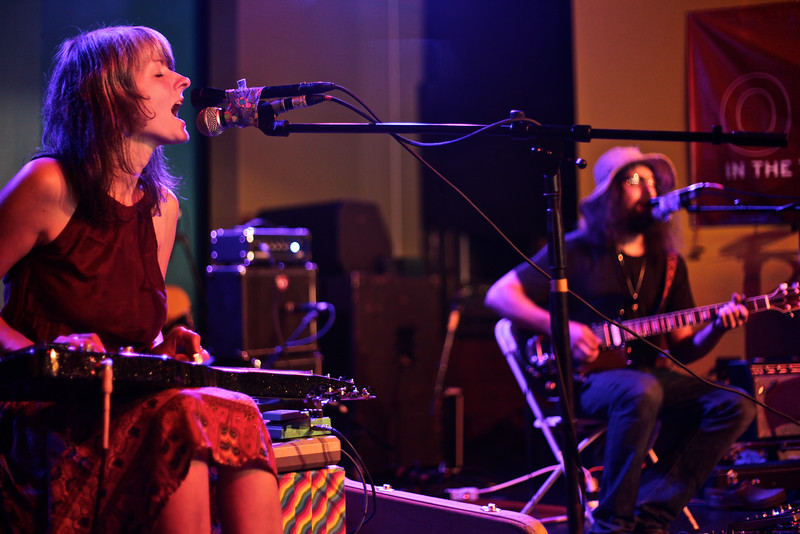 [photos by PJ Sykes]
MV & EE are an underground band in the purest sense, the kind of band who self-releases an LP after scads of others have come out on (admittedly obscure) labels and still presses tasty CD-Rs of their best-loved live sets. They exist on exactly that plane you might expect for a Vermont band, doing things their way, happy to earn the love the slow way, through swapped tapes and late-night listening sessions on porches and in basements. Their sound, a sort of far-out experimental folk, is homegrown and not easily replicated. Having seen the band twice this year already, I noticed now more than ever that no two MV & EE sets ever seem quite alike, and Matt Valentine and Erika Elder seem so in tune with one another that no song needs to hew to a single version, either.
This set at the  Three Lobed / WXDU Day Show at King's during Hopscotch Music Festival was the only one by an outfit that had actually played a night-time festival set (the night before at The Hive), but that didn't mean MV & EE were willing to dish out the same thing twice. In keeping with the vibe of this show, this set went to the more noisy end of the spectrum, especially on the delicious combo of "Roll On>Mayan Feedback" from this year's self-released record Alpha Lyrae. Valentine and Elder have been on a bit of a roll lately tour-wise, so they may be off the road for a bit, but check back at their website for all the band's latest info and releases, including their new seven-inch split with Woods with both bands performing Pink Floyd's "Green is the Colour".
I recorded this set with Schoeps MK4V microphones on stage coupled with a soundboard feed from the King's staff. The sound quality is outstanding. Enjoy!
Direct download of full set: [MP3] | [FLAC]
Stream the full set:

Note: All of the material on this site is offered with artist permission, free to fans, at our expense. The only thing we ask is that you download the material directly from this site, rather than re-posting the direct links or the files on other sites without our permission. Please respect our request, and feel free to repost the Soundcloud links.
MV & EE
2014-09-05
Three Lobed Recordings / WXDU Day Show
King's
Raleigh, NC USA
Exclusive download hosted at nyctaper.com
Recorded and produced by acidjack
Soundboard + Schoeps MK4V (on stage pair)>KC5>CMC6>>Edirol R-44 [OCM]>2x24bit/48kHz WAV>Adobe Audition CS 5.5 (mix down, compression)>Izotope Ozone 5 (effects, EQ)>Audacity 2.0.3 (track, fade, amplify, balance)>FLAC ( level 8 )
Tracks
01 [intro – Cory Rayborn and Matt Valentine]
02 Green Is the Colour [Pink Floyd]>
03 Jam>
04 Freedom and Unity Rap
05 [tuning]
06 Roll On>
07 Mayan Feedback
If you enjoyed this recording, PLEASE SUPPORT MV & EE, like them on Facebook and buy their latest record, Alpha Lyrae, directly from the band HERE.