Follow @acidjacknyc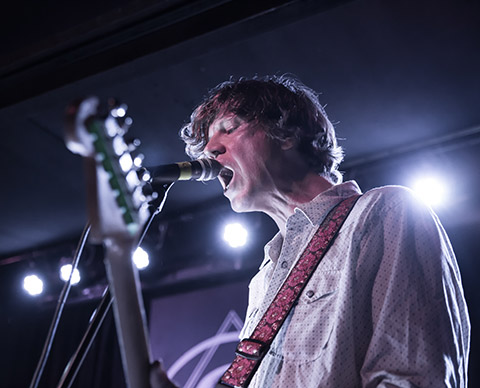 [Photos by P Squared Photography]
For more than three decades, Thurston Moore has been a constant in so many ways — perhaps the only excusable reason why changes in his personal life have been talked about at all in the last few years. Musically, Moore has stood above almost every one of his peers in his ability to both mine the farthest reaches of his instrument (see, for example, his recent appearances with Tony Conrad and Enemy Waves) while constructing memorable, catchy, yet-still original traditional songs. Moore's most recent album, The Best Day, represents both impulses while leaning on the latter, abetted by a crack band that includes Steve Shelley, James Sedwards on guitar, and My Bloody Valentine's Debbie Googe on bass. While The Best Day is technically Moore's first solo album since 2010's Demolished Thoughts, it may be better to think of it as a next step beyond the Chelsea Light Moving project that we saw in 2012 and 2013. The connection to Moore's Sonic Youth output, both lyrically and musically, feels strong, but there's also a line toward the more concise style of his 1995 solo album, Psychic Hearts. On the U.S. release date for The Best Day, this show at the metal-centric venue St. Vitus gave us the very best of all of it — energetic guitar work, deeply-explored grooves, and killer songwriting.
This set covered almost the entire Best Day album, plus a couple of choice nuggets from Psychic Hearts. We had first hoped to catch the full band at Hopscotch Music Festival, but due to visa issues, that ended up being just Thurston and Shelley, doing surprisingly full renditions of these songs. Played by the band for which they were intended, these songs sprung to life, from "Speak to the Wild" and its earworm of a hook to the set closer, Psychic Hearts' "Pretty Bad".  Many artists at Moore's level of seniority are worried about staying relevant; the question with Moore is how much better he might get from here. Moore has made some misunderstood comments about black metal lately, making the choice of St. Vitus all the better. Watching the man and his band on stage, it's hard to imagine anyone not being impressed.
I recorded this set with Schoeps MK4V microphones and a soundboard feed of the house mix. The sound quality is outstanding, at least on par with the Chelsea Light Moving recordings from 2013. Enjoy! We have now added a complete video of the set from our friends at unARTig as well!
Thurston Moore plays another NYC show this Sunday at Rough Trade NYC. It appears to be sold out, but give it your best shot….
Download the complete show: [MP3] | [FLAC]
If the above are not working, try these permanent links: [MP3] | [FLAC]
Stream the complete show:

Note: All of the material on this site is offered with artist permission, free to fans, at our expense. The only thing we ask is that you download the material directly from this site, rather than re-posting the direct links or the files on other sites without our permission. Please respect our request.
Thurston Moore
2014-10-21
St. Vitus
Brooklyn, NY USA
Exclusive download hosted at nyctaper.com
Recorded and produced by acidjack
Schoeps MK4V (LOC, A-B)>KC5>CMC6>Sound Devices USBPre2 + Soundboard>>Roland R-44 [OCM]>2x24bit/48kHz WAV>Adobe Audition CS 5.5 (aligh, mix down, fades, limiter)>Izotope Ozone 5 (light EQ, exciter)>Audacity 2.0.5 (tracking, amplify, balance, downsample, dither)>FLAC ( level 8 )
Tracks [Total Time 1:06:14]
01 Forevermore
02 Speak to the Wild
03 Germs Burn
04 Detonation
05 [banter]
06 The Best Day
07 Grace Lake
08 [encore break]
09 Psychic Hearts
10 Pretty Bad
Band:
Thurston Moore – guitar, vocals
Debbie Googe – bass
James Sedwards – guitar
Steve Shelley – drums
If you enjoyed this recording, PLEASE SUPPORT Thurston Moore, visit his Facebook page, and buy The Best Day directly from Matador Records.