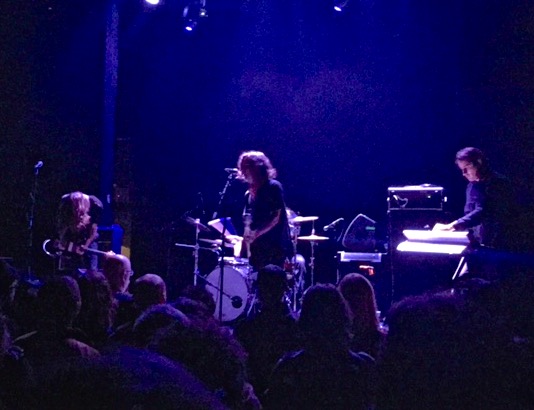 The Chilean band Föllakzoid have a habit of latching you into their deep grooves and not letting up, each song building like a little universe around monotones to create pieces that fall squarely in the post-Krautrock camp. The artist Uwe Schmidt, better known as Atom TM, joined the band for their brand new record, III, and the electronic influence was evident at this show, as the band created trancelike numbers that lent themselves as much to dancing as to chilling out. There are hints of U.S.-based compatriots like Moon Duo here, but this music comes across are more beat-focused and less "rock."
This show at Rough Trade marked a relatively rare return by the band to the U.S., and that was emphasized by the long line to get in the door. Some were no doubt there early to see Jim Jarmusch and Jozef van Wissem's Squrl take the stage first, but the crowd only filled in further by the time Föllakzoid took the stage. From single, flickering beats, "Electric" grew into the roiling kickoff track from III that we've all come to love, followed by that album's centerpiece, "Piure." By the time those two songs ended, the show was already thirty-two minutes in. Those hoping for standard "psychedelic" fare might have wondered what they had walked into at that point; fortunately, the people here got it, and started dancing. From there, they turned back to their excellent previous effort, II, for the last four songs — "99," "9," "Trees," and "Rivers." The set's intensity peaked at "Trees," which felt like the biggest rock number of the bunch, making "Rivers" and its slightly more subdued pace the right way to go out. We hope these guys will be back soon.
I recorded this set with Schoeps MK4V cardiod microphones and a soundboard feed from Rough Trade engineer Kameron Biehl. The sound quality is outstanding. Enjoy!
Download the complete show: [MP3] | [FLAC]
Stream the complete show:

Föllakzoid
2015-05-23
Rough Trade NYC
Brooklyn, NY USA
Exclusive download hosted at nyctaper.com
Recorded and produced by acidjack
Schoeps MK4V (inside SBD cage, PAS)>KCY>Z-PFA + Soundboard [Engineer: Kameron Biehl] >> Roland R-26>2x24bit/44.1kHz WAV>Adobe Audition CS 5.5 (align, mix down, compression, fades)>Izotope Ozone 5 (EQ, exciter)>Audacity 2.0.3 (track, amplify, balance, downsample, dither>FLAC ( level 8 )
Tracks [Total Time 75:26]
01 Electric
02 Piure
03 99
04 9
05 Trees
06 Rivers
If you enjoyed this recording, PLEASE SUPPORT Föllakzoid, like them on Facebook, and buy their records from Sacred Bones.