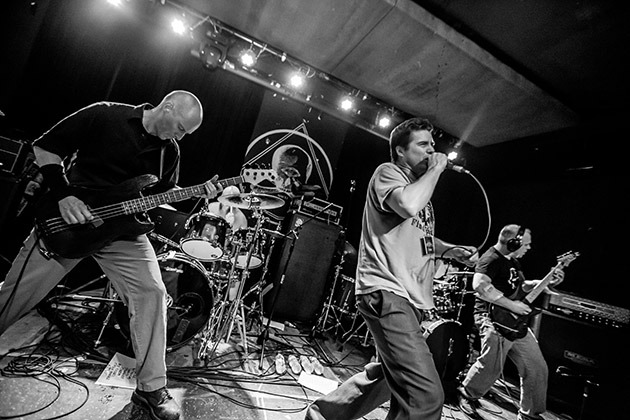 [photos by PSquared Photography]
Ohio is an interesting place. In some ways its an Eastern industrial state and in other ways its an agricultural Midwestern state. Its a state with large cities and large swaths of farmlands. Its largest metropolitan area of Cleveland is itself a unique place which is geographically both a lake city and a river city. Despite that Cleveland also happens to be the home of the Rock and Roll Hall of Fame, it's music has always indicated a similar off-kilter personality. Its most well known punk band was also one of the first art-rock outfits — Pere Ubu. Its early 70's classic rock band was also a unique mix of jazz and blues — The Numbers Band. Its 80s alternative band was also a "gunk punk" act — Death of Samantha. And its 90s hardcore band was also its 90s metal band — the inimitable craw.
Even craw's reunion didn't follow the standard script. We've seen a ton of these 80s and 90s band reunions. Generally speaking, the usual scenario is that the continued existence of a cabal of fans manages to finally convince a band of some repute to bury the hatchet and reuite. Most times the band enters the reunion with the advantages of maturity and sobriety and does their legacy proud. But the craw reunion was in large part the result of one uber fan who grew up to be a respected journalist and musician himself. Hank Shteamer is a senior editor at Rolling Stone and he plays in the bands Aa (Big A little a) and STATS, but as a teenager he was one of a few very rabid craw fans who saw the band repeatedly. His fanship never went away, and as outlined in this excellent Observer piece, when Hank teamed up with local record label Northern Spy the pairing produced 1993-1997, a remastered box set of craw's long out of print first three records along with a 200-page book with an essential history of the band. The final piece of the puzzle was realized when craw agreed to play two reunion shows, one of course in Cleveland and the other at Saint Vitus in Brooklyn.
I arrived early on Saturday to record the show at Saint Vitus and was immediately met with the good news that the venue was sold out. As the crowd filtered in during the opening sets, it was an interesting amalgam of various types of people of various ages and styles, and as we found out when the band took the stage, from various geographical areas — people traveled from far and wide to see this show. But the crowd did all have one thing in common, they were there to hear the music, as all attention was focused forward to the stage and there's almost no talking on this recording. craw took the stage and immediately recognized the large contingent of traveling fans before launching directly into a lengthy "Caught My Tell" from their still-in-print 2002 album Bodies for Strontium 90, and then stuck with that album for the next few songs. The remainder of the show consisted of material that appears on the current box set as the songs were roughly grouped by album in reverse-chronological order. By the time craw reached their self-titled debut album and one of its highlights "405", the show was virtually complete. While craw didn't leave the stage, the final two "encore" numbers were performed by the entire 7-piece band the represented every player who had appeared on all of their albums.
For a band that hadn't performed live in the better part of a decade, and who has always relied on mathematical precision in their riffs, this show was phenomenally tight and focused. At the center of it all was lead vocalist Joe McTighe, whose sing/scream/talk approach to the strangely literary lyrics are part of the unique draw of this singular band. Although this show is purportedly the final craw show of this all-too-brief reunion, honestly I can't imagine that the band won't keep playing gigs. When something is this good and the fans are calling for more, there's no reason not to give them more. At least that's what we hope is the case.
I recorded this set with the Schoeps cards mounted in front of the soundboard and mixed with an excellent feed provided by Vitus's FOH wiz Nick. The sound quality is superb. Enjoy!
Download the Complete Show [MP3] / [FLAC]
Stream the Complete Show:

craw
2016-03-12
Saint Vitus
Brooklyn NY
Digital Master Recording
Soundboard + Audience Matrix
Soundboard [engineer Nick] + Schoeps CCM4u Cardioids > Sound Devices 744t > 2 x 24bit 48kHz wavs > Soundforge (post-production) > CDWave 1.95 (tracking) > TLH > flac (320 MP3/tagging via Foobar)
Recorded and Produced by nyctaper
Setlist:
[Total Time 1:16:48]
01 [introduction]
02 Caught My Tell
03 Chop Shop
04 Space Is the Place
05 Unsolicited Unsavory
06 Killer Microbes Devour Cleveland
07 New Plastics Diet Alters Man's DNA
08 Parasitic Dad Evades Biocops
09 Divinity of Laughter
10 The Adventures of Cancerman
11 Botulism Cholera and Tarik
12 Sound of Every Promise
13 Strongest Human Bond
14 Cobray to the North
15 My Sister's Living Room
16 To the Child Reader
17 405
18 Elliot
19 [outro]
SUPPORT craw: Website | Buy 1993-1997 | Facebook | Bandcamp