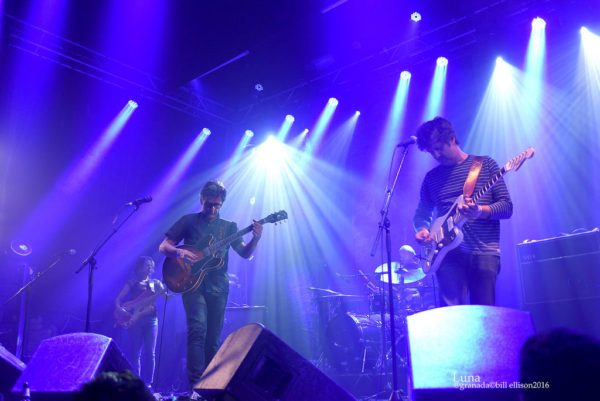 [photo by Bill Ellison]
After their triumphant return in 2015, it remained to be seen whether Luna's reunion was permanent. The band took some time off after their New Year's show in California, but earlier this month Luna played the first of quite a few scheduled 2016 shows. The brief two-show run through Texas continued the band's impressive return. For this particular Dallas show, the setlist contained the familiar songs, but also included a couple of rarities and of course the show featured some clever banter. The good news for NYC fans is that the band is back this coming weekend. Luna has sold out the Bell House this Friday night but our readers might be advised to try to find secondary market tickets. If that does not work out, Luna is returning to NYC for two shows in October at Rough Trade — and will perform Penthouse in its entirety.
Luna's bassist Britta Phillips released her first solo album Luck or Magic last month, and she is playing a free solo show (with a familiar backing band) at Rough Trade tomorrow (Thursday) night.
Kubacheck recorded this Dallas show with his trusty MBHO rig and the sound quality is equally excellent to his previous contributions to this site. Enjoy!
Download the Complete Show [MP3] / [FLAC]
Stream the Complete Show:

Luna
2016-05-04
Granada Theater
Dallas TX
Digital Master Audience Recording
Recorded from Front of Board
MBHO 603a – KA-500 > Naiant Tinybox > Roland R-05 > 24bit 48kHz wav file > Soundforge (level adjustments, EQ, set fades) > CDWave 1.95 (tracking) > TLH > flac (320 MP3 and tagging via Foobar)
Recorded by Kubacheck
Produced by nyctaper
Setlist:
[Total Time 1:31:24]
01 Slide
02 Speedbumps
03 Chinatown
04 Sideshow by the Seashore
05 Malibu Love Nest
06 Pup Tent
07 This Time Around
08 [banter – Big D]
09 California
10 [banter – Screaming Trees]
11 Tracy I Love You
12 [banter – politics]
13 Bewitched
14 [banter – Perkins]
15 Moon Palace
16 Lost in Space
17 Twenty Three Minutes in Brussels
18 [encore break]
19 Friendly Advice
20 Indian Summer
21 [second encore break]
22 Tiger Lily
If you Download this recording from nyctaper, we expect that you will PLEASE SUPPORT Luna, visit their website, and purchase their official releases from the links at their website, from Bandcamp and the Long Players Box Set from Captured Tracks Records [HERE].