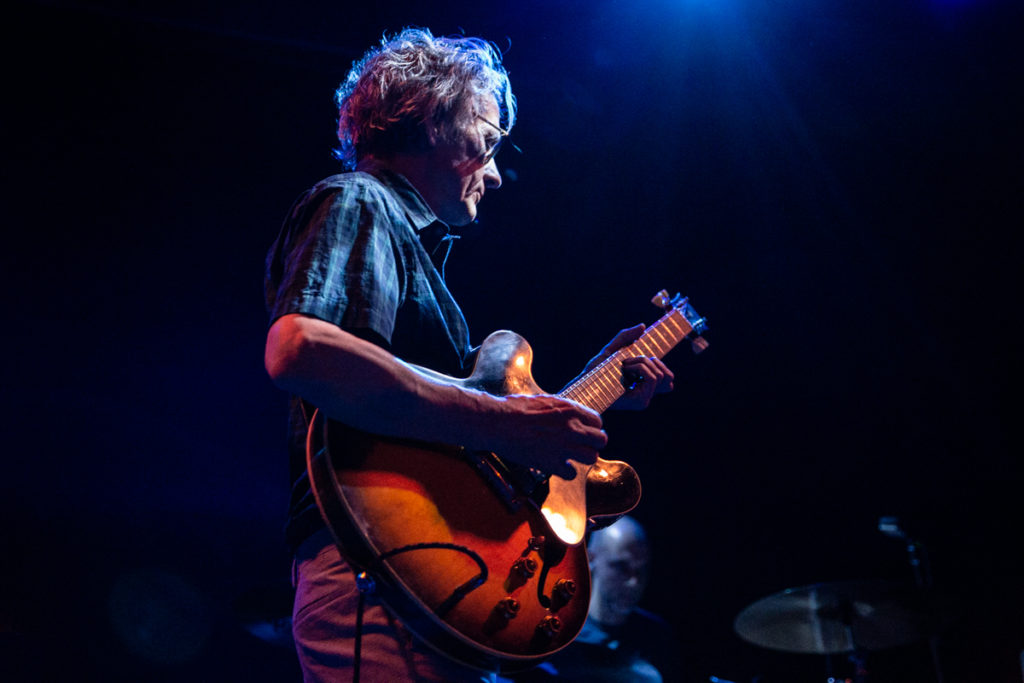 The Luna tour that just completed was a big one. The band played seventeen shows in twenty days, and played a complete album every night, alternating between Lunapark, Bewitched, and Penthouse. The added bonus was the appearance of original bassist Justin Harwood, who shared duties with Britta Phillips throughout the shows and also allowed Britta to provide some vocal harmonies when Justin performed.
Now five years into their reunion, we've already noted that Luna seems poised to stick around as a working band and their performances have been revelations of consistency and excellence. And the fans seem to agree — both Bowery shows were sold out and it was actually a bit of a chore to score a ticket (thanks generous friend!). We did get one at the last minute for Sunday night's show, and were fortunate to have captured this show.
Sunday night at Bowery was a Penthouse night and the band's first set was a meticulous performance of the album, with personal favorite "23 Minutes in Brussels" as my highlight. After a brief intermission, the band returned to play the bonus or hidden track of "Bonnie and Clyde", followed by a neat set of favorites, oddities, and a couple of covers. The final encore was "IHOP", the lead track from the Pup Tent album that is virtually never played live — it was a personal request from a band superfan who despite travelling all over the country and indeed internationally to see Luna had never experienced this song live. This tour was like that — tricks and treats for the superfans and just plain great music for the rest of us.
Luna returns to performance in February, with two West coast shows announced thus far. We'd expect some New York dates to be added.
I recorded this set from our usual spot with the Neumann hypers this time, and mixed with a feed mixed expertly by the band's sound man Paul. The sound quality is superb. Enjoy!
Download the Complete Show [MP3] / [FLAC]
Stream the Complete show (minus banter):
Luna
2019-10-20
Bowery Ballroom
New York NY
Digital Master Recording
Soundboard + Audience Matrix
Soundboard + Neumann KM-150s > Sound Devices 744t > 2 x 24bit 48kHz wav files > Soundforge (post-production) > CDWave 1.95 (tracking) > TLH > flac (320 MP3 and tagging via Foobar)
Recorded and Produced by nyctaper
Setlist:
[Total Time 1:44:43]
First Set (Penthouse)
01 [intro]
02 Chinatown
03 Sideshow by the Seashore
04 Moon Palace
05 Double Feature
06 Twenty-Three Minutes in Brussels
07 Lost In Space
08 Rhythm King
09 Kalamazoo
10 [banter – Tolstoy]
11 Hedgehog
12 Freakin' and Peakin'
Second Set
13 Bonnie and Clyde [Serge Gainsbourg]
14 California Blue [Roy Orbison]
15 Still at Home
16 Inside Your Heart [The Monochrome Set]
17 Eggnog
18 Slide
19 Superfreaky Memories
20 [encore break]
21 Pup Tent
22 Season of the Witch [Donovan]
23 IHOP