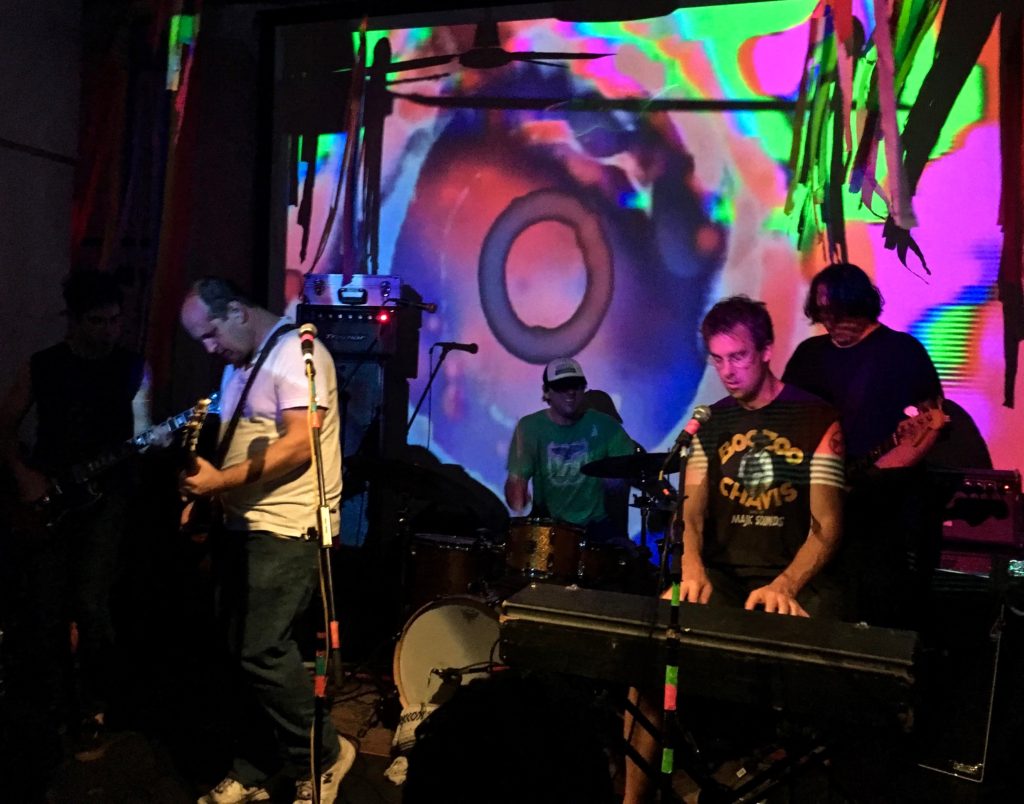 Oneida used to share a building in Williamsburg with the DIY art institution Secret Project Robot — a relationship we documented both at the band's private studio space, and at a series of farewell shows for the group at that location. While the band and SPR physically went their separate ways, the two remained united in ethos, and Oneida have remained a fixture at SPR events since. This summertime performance — held indoors because of rain — was yet another farewell to Secret Project Robot, which will be relocating from its Melrose Street location in Bushwick to a new frontier this fall. It was fitting, then, that Oneida helmed the sendoff, joined by some of the strongest local bands going, including Guerilla Toss and Honey.
This set was dominated by the band's "Preteen Weaponry" three-part song, as well as fairly concise versions (by Oneida standards) of "Bad Habit" and "Economy Travel." As the band's cryptic sounds filled the repurposed warehouse space, walls covered in trippy 90s-referencing images (Bart Simpson, Ninja Turtles), it was yet another reminder of what spaces like Secret Project Robot mean to the people who frequent them, and what they mean to cities in general. Even if you're not one of the proud freaks and weirdos (I don't think of those as insults) who hangs out there, even if you've never set foot in a place like it, Secret Project Robot has had an effect on your city, and in a sense, on who you are. Spaces like this are for the true creators, the ones whose utter abandonment of the expected opens up whole new zones of the possible. And as long as there are these spaces, and the people in them, we will be a better place for it.
But a space like Secret Project Robot isn't a warehouse or an address — it's an idea. And we look forward to what they will do next.
I recorded this set with Schoeps MK4V microphones and an Aeta PSP3 preamp way up front. The sound quality is excellent. Enjoy!
Download the complete set: [MP3/FLAC/ALAC]
Stream the complete set:

Oneida
2016-07-30
Secret Project Robot
Brooklyn, NY USA
Exclusive download hosted at nyctaper.com
Recorded and produced by acidjack
Schoeps MK4V (FOB, ROC, PAS)>KCY>Z-PFA>Aeta PSP3>Roland R-26>24bit/48kHz WAV>Adobe Audition CS 5.5 (fades)>Izotope Ozone 5 (EQ, effects)>Audacity 2.0.3 (track, amplify, downsample, dither)>FLAC ( level 8 )
Tracks
01 Preteen Weaponry Part I
02 Preteen Weaponry Part II
03 Preteen Weaponry Part III
04 Bad Habit
05 Economy Travel
If you enjoyed this recording, PLEASE SUPPORT Oneida. Visit their website, like them on Facebook, and buy the Positions EP from Rocket Recordings.