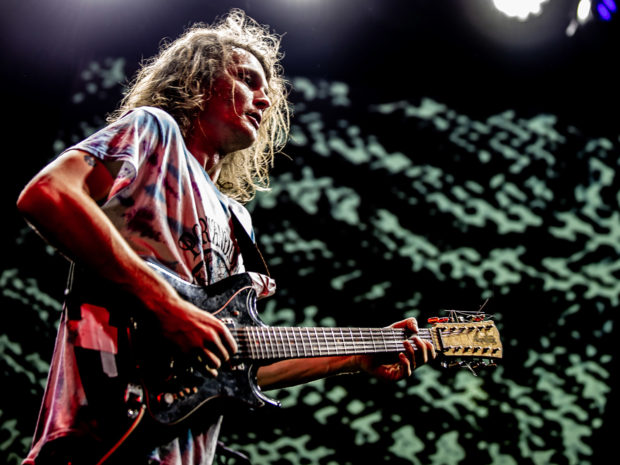 [photos by PSquared Photography]
One of the most advantageous aspects of our involvement in this site is our access and exposure to the world class music at a time before those bands hit it big. When it comes to King Gizzard and the Lizard Wizard, we were there at Day One of their time in the US, including seeing their first U.S. show at McCarren Park, a series of shows at Baby's All Right, a semi-private Halloween party in a loft, their first show at Bowery Ballroom, and the "secret show" at Baby's later that week. The three King Gizzard shows we saw in 2015 corresponded to the new music that would eventually become their major label debut and breakthrough album, 2016's Nonagon Infinity (ATO Records). But it was in 2017 when The Gizz took their career to the next level, accomplishing a feat that will likely never be repeated — the release of five quality albums in one calendar year.
Its been two years since I last saw them in NYC and while much has changed, King Gizzard are still very much the same band. Although it wasn't Baby's, the three sold out shows at Brooklyn Steel were very much fan-friendly affairs with the band playing a very democratic selection of material. The show we recorded was the middle night of the three and fortunately for us contained an homage to the "old days", a long "Head On / Pill" segue that contained long bits of three older numbers and a few other teases. We'd like to think it was the Gizz's acknowledgement of how important those early days in New York were for the band's career, days we captured here and remember well.
I recorded this set with the Schoeps cards set up inside the soundboard cage and mixed with a superbly mixed and well balanced soundboard feed. The resulting blend yielded another superb recording from this excellent sounding room. Enjoy!
Download the Complete Show [MP3] / [FLAC]
Stream the Complete Show:

King Gizzard and The Lizard Wizard
2018-06-16
Brooklyn Steel
Brooklyn NY
Digital Master Recording
Soundboard + Audience Matrix
Soundboard + Schoeps CCM4u Cardioids > Sound Devices 744t > 2 x 24bit 48kHz wav files > Soundforge (post-production) > CDWave 1.95 (tracking) > TLH > flac (320 MP3 and tagging via Foobar)
Recorded and Produced by nyctaper
Setlist:
[Total Time 1:29:17]
01 Rattlesnake
02 Greenhouse Heat Death
03 Digital Black
04 Vomit Coffin
05 The Lord of Lightning
06 Alter Me I
07 Altered Beast II
08 Crumbling Castle
09 The Fourth Colour
10 Deserted Dunes Welcome Weary Feet
11 The Castle In The Air
12 Muddy Water
13 The Wheel
14 Robot Stop
15 Gamma Knife
16 People-Vultures
17 Head On-Pill
18 Cellophane
19 Sea of Trees
20 Am I In Heaven
21 Pill (Reprise)
PLEASE SUPPORT King Gizzard and the Lizard Wizard: Website | ATO Records Site | Bandcamp