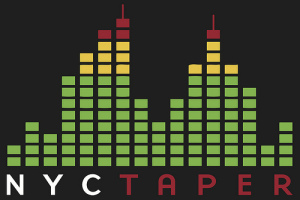 Its time to finally shake off the CMJ hangover and get another schedule posted. The Winter season is usually a very fruitful period for the site, and this year is no exception. We're happy to have Yo La Tengo's shows at Maxwell's back again — we're covering at least five as of now.
[Below is the updated schedule. We expect to attend and record these events. However, circumstances will prevent some of these from being done, and others will be added in the meantime.]
If you want nyctaper to record your band, a band you represent, a show you're promoting, or even your favorite band in the world, get me on the list and make sure everyone who needs to approve of the recording gives permission. Also, remember I'm doing this all for free — the recordings, the post-production, the reviews, the links, etc. — so treat me fairly.
2010 Schedule:
Oneida:
October 29, 2010 Monster Island Brooklyn
Dustin Wong:
November 2, 2010 Monster Island Brooklyn
Bob Mould:
November 6, 2010 The Rock Shop Brooklyn (permission request pending)
Brunch After Dark with Oh Land, Arms, Canon Logic, Fatty Acid and Courtesy Tier:
November 8, 2010 Brooklyn Bowl
Richard Barone:
November 13, 2010 Maxwell's Hoboken NJ
Suzanne Vega:
November 14, 2010 Housing Works Bookstore NYC
The Joy Formidable:
November 16, 2010 Bowery Ballroom NYC
Buffalo Tom:
November 18, 2010 Mercury Lounge NYC
Bardo Pond (Memory Burn Psych Festival):
November 20, 2010 Bell House Brooklyn
Lenka:
November 21, 2010 Vivo in Vino NYC (permission request pending)
Jeff Tweedy:
December 4, 2010 Bowery Ballroom NYC
Yo La Tengo:
December 4, 5, 6, 7, and 8, 2010 Maxwell's Hoboken NJ
Wormburner:
December 10, 2010 Mercury Lounge NYC
Nada Surf:
December 14, 2010 The Rock Shop Brooklyn
Einsterzende Neubauten:
December 15, 2010 Bowery Ballroom NYC (permission request pending)
Dean Wareham:
December 17, 2010 Music Hall of Williamsburg Brooklyn
Marcy Playground:
December 18, 2010 Mercury Lounge NYC
Cracker / Camper Van Beethoven:
January 14, 2011 Highline Ballroom NYC
The Dismemberment Plan:
January 30, 2011 Webster Hall NYC
Godspeed You! Black Emperor:
March 14, 2011 Terminal 5 NYC