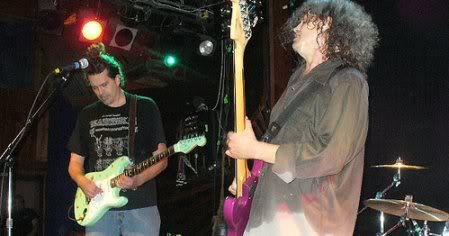 The Meat Puppets are back in New York in a continued triumphant return to performing. The release of Rise to Your Knees
, their strongest album in years, and the rave reviews of the 2007 performances, have established the "Pups" as one of the most unlikely and rewarding comeback stories of the rock era.
When I saw them at the Knitting Factory in August, I was aware that the tour was being viewed as a success, but I had no idea that the band would be so tight and powerful. My recording of that night is in the nyctaper archives (here).
On Wednesday and Saturday this week, our friends at the BrooklynVegan blog are sponsoring a free CMJ party at Pianos (158 Ludlow). The Meat Puppets are performing downstairs at 3:45pm on Wednesday (10/17), and I will be there to record. The complete schedule for all of the BrooklynVegan performaces is (here).
The Meat Puppets are also performing at Lion's Den on Wednesday night at 11pm.