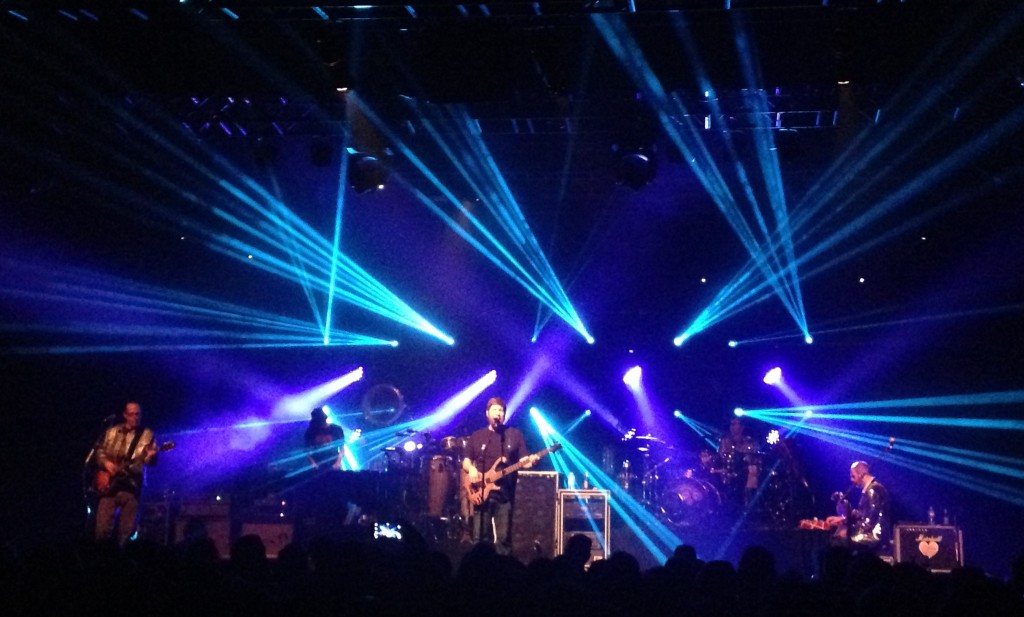 Last month we took a look back at some 1990's classic moe. in tribute to our fallen friend. We have a lot of good memories from that period in moe.'s history, but rest assured they are still a very active and compelling live act. On Friday at the Best Buy Theatre in Times Square we experienced that first hand. moe. is in NYC for three shows in celebration of their 25th year of existence, the first of which was an intimate performance at Le Poisson Rouge, but this night was the first of two nights at Best Buy and the band was clearly on. The first set was nearly ninety minutes and contained just six "songs" — but plenty of outstanding jam sequences and extended work on some of their most classic material. "Meat" has always been a highlight song for me and this set-closing version was one for the ages. Al Schnier in particular was manic during the climax of the song and ended the set on a great high note. moe's second set started with a very apt song, their classic tribute to "New York City", played obviously as a dedication to the location of the show but also I suspect as a tribute to Eric and his wife who often requested this number. After a run through some of their newer songs, moe.'s second set ended with a lengthy and peak segue performance of "Akimbo" into "Rebubula", which began with some nice interplay between the guitars that hinted several times at the Grateful Dead's "Playing in the Band". After an extended encore break, the band returned for an exceptional "The Road" before bidding goodnight. The band plays again at Best Buy tonight, and the tour continues through the Midwest and South, dates here. We will be catching up with moe. again at Mountain Jam in June.
I recorded this set with the Schoeps cards from a very advantageous location in a very well placed taper's section — about 40 feet back and centered on the floor. I used hi and lo's V3 pre-amp which really added some nice color to this prime Schoeps capture of a very nice sounding room. The result is a really superb recording. Enjoy!
This Recording is available to Download in FLAC and MP3 format at Achive.org [HERE]
Stream the Complete Show:

moe.
2015-03-13
Best Buy Theatre
New York NY
Digital Master Recording
FOB Center Audience
Schoeps CCM4u Cardioids > Grade Design Lunatec V3 > Sound Devices 744t > 24bit 48kHz wavs > Soundforge (post-production) > CDWave 1.95 (tracking) > TLH > flac
Recorded and Produced by nyctaper
Setlist:
Set 1
[Total Time 1:24:49]
01 Paper Dragon
02 Waiting For The Punchline
03 Darkness
04 Bring You Down
05 Annihilation Blues
06 Meat
Set 2
[Total Time 1:36:24]
07 New York City
08 Do or Die
09 Kyle's Song
10 Same Old Story
11 Don't Fear The Reaper
12 Spaz Medicine
13 Akimbo
14 Rebubula
15 [encore break – announcements]
16 The Road
If you download this recording, we expect that you will PLEASE SUPPORT moe., visit their website and purchase their official releases from the moe. store here.