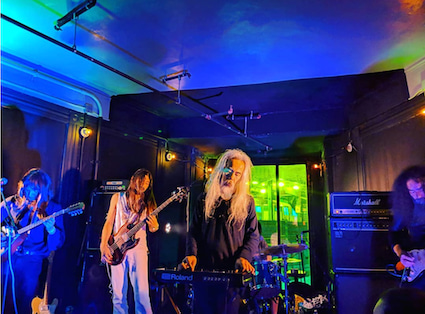 [photo from Kawabata's blog]
The return of the Acid Mothers Temple stateside has become a yearly tradition and as a result the band has built its reputation in the U.S. as one of the most intense psych rock bands on the planet.  This year the band agreed to play the show on the day that has become a kind of Christmas for heads — "4-20" at Market Hotel.  Whether responding to the unique surroundings or the "holiday" atmosphere, AMT drew their largest crowd of the tour and played their longest set of the year.  This show was 90 minutes of the most intense music we've ever seen from this band, which has evolved in personnel in recent years, but remains anchored by the ferocious lead guitar of  Kawabata Makoto.  New-ish guitarist and vocalist Jyonson Tsu was featured in Dark Star Blues and La Novia, and the band is blessed with Tsu's intense vocals and intuitive interplay with Makoto.  All in all, this was exactly what we'd hoped for from this band on this date, and judging by the diary entry for this date on Kawabata's blog, the band was pretty stoked about the show too.
I recorded this set by substituting the Neumann hypers into the installed rig in the venue and the change was exactly perfect for this show.  A small percentage of the board feed was used to fortify vocals and kick drum, and overall the sound is superb.  Enjoy!
Download the Complete Show from Archive.org [HERE]
Acid Mothers Temple
2019-04-20
Market Hotel
Brooklyn NY
Digital Master Recording
Soundboard + Audience Matrix
Soundboard [engineer Allesandra Urso] + Neumann KM-150s > Sound Devices 744t > 2 x 24bit 48kHz wav files > Soundforge (post-production) > CDWave 1.95 (tracking) > TLH > flac (320 MP3 and tagging via Foobar)
Recorded and Produced by nyctaper
Setlist:
[Total Time 1:23:43]
01 Blue Velvet Blues
02 Dark Star Blues
03 Chinese Flying Saucer
04 Flying Teapot
05 Disco Pink Lady Lemonade
06 La Novia
07 Pink Lady Lemonade Coda
08 Cometary Orbital Drive
PLEASE SUPPORT Acid Mothers Temple: Website | Buy Albums