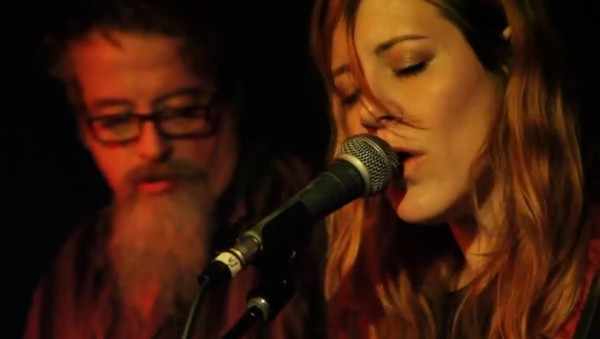 [screen cap from this video]
"We suddenly have a crowd", Wussy co-frontperson Chuck Cleaver noted wryly in the middle of a very sold-out crowd at the Studio at Webster Hall on Saturday. Suddenly of course being the relative word. Wussy has existed as a band for more than a decade but 2014 was by far their best year as a band. The breakthrough album Attica was released in the Spring and the groundswell of support was palpable. By year's end the album was appearing all over the place in the best-of-year lists, Pazz & Jop (Village Voice), The Guardian, KEXP, Underground Bee, Sound Opinions, Bradley's Almanac, Chunklet, KDHX, and many others — including this very site's 10 Best Concerts and 25 Best Moments. So the "crowd" wasn't so much as sudden as it was well earned. Perhaps its the sold-out crowds or the at-long-last universal praise or just the positive energy that currently surrounds the band but Saturday night's show is the best we've ever seen Wussy play — and we've been there a bunch of times going back several years. The band opened with a quiet Lisa Walker-led traditional number that will appear on the band's Record Store Day release later this year and then worked through half of Attica, selected older tracks, one new song and one clever cover. The entire band seemed to be "on" for this show and the highlights were many. We've chosen to stream Lisa's ode to Indiana, "Pizza King" from 2011's Strawberry and the aptly named "Beautiful", a co-lead vocal number that closes out Attica. Wussy does not have any current local dates, but given the huge success of this particular show, I can't imagine it will be long before they return East.
I recorded this set with the Schoeps cards clamped up high to the soundboard cage and mixed with an excellent feed from the band's local FOH David Fine. The sound quality is quite exceptional and really very well captures the energy in the room. Enjoy!
Stream "Pizza King":

Stream "Beautiful":

Download the Complete Show [MP3] / [FLAC]
Note: All of the material on this site is offered with artist permission, free to fans, at our expense. The only thing we ask is that you download the material directly from this site, rather than re-posting the direct links or the files on other sites without our permission. Please respect our request, and feel free to repost the Soundcloud links.
Wussy
2015-01-17
Studio at Webster Hall
New York NY
Digital Master Recording
Soundboard + Audience Matrix
Soundboard [Engineer David Fine] + Schoeps CCM4u Cardioids > Sound Devices 744t > 2 x 24bit 48kHz wavs > Soundforge (level adjustments, mixdown, EQ, set fades) > CDWave 1.95 (tracking) > TLH > flac (320 MP3 and tagging via Foobar)
Recorded and Produced by nyctaper
Setlist:
[Total Time 1:06:19]
01 I Give You All
02 Pulverized
03 Bug
04 [banter – two chords]
05 To The Lightning
06 Rainbows and Butterflies
07 [banter – strobe lights]
08 Alone
09 Pizza King
10 [banter – KOA]
11 Maglite
12 Gene I Dream
13 Yellow Cotton Dress
14 [no encore break]
15 Airborne
16 Beautiful
17 Teenage Wasteland
18 Photograph (Ringo Starr)
19 Rigor Mortis
If you download this recording, we expect that you will PLEASE SUPPORT Wussy, visit their website, and purchase their official releases from the Music link at their site [HERE] or from the Shake It Records website [HERE].