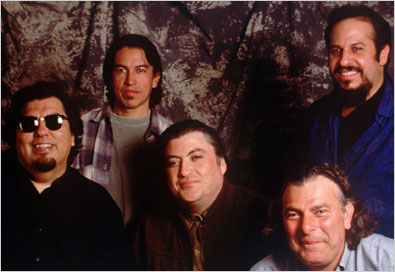 I'm not entirely certain of the exact date that I met Eric Vandercar, but my best guess is February or March of 1996. We met through the old NYC-DAT-heads email list, and the immediate connection was the fact that we both had enormous DAT tape collections. When I first visited Eric in the Elizabeth Street apartment that he shared with his wife Jill, one of the first DATs he played for me was a March of 1996 Neil Young show in a small club in Santa Cruz — a recording that inspired me to purchased the very microphones that were used for that show. Eric and I traveled to shows in several different cities in the late 90s, and I've talked about those roadtrips in previous posts, but I believe that the first show Eric and I actually attended together was this Los Lobos show at Mercury Lounge on April 25, 1996. I am certain that Eric recorded this show from a mic stand mounted at the front left side of the soundboard booth at the Merc — in other words, at one of the most foot-traveled spots in the venue. My job was to block people from bumping into Eric's rig and from the sound of this recording I did a pretty good job — up until the encore break when there are a few bumps on the mic stand.
At this point in their history Los Lobos was a very well established band, and when they released their 1996 album Colossal Head, there was a traditional round of promotion for the band to do. One of the best means of early album promo in the old days was a visit to Letterman, and on April 24, 1996, Los Lobos played David Letterman's Late Show in the Sullivan Theatre, performing "Mas Y Mas" on national television. So with the band in NYC for a few days, there was a "secret show" scheduled at Mercury Lounge for which we were fortunate to snag a ticket. A venue the size of Mercury was a very intimate show for Los Lobos in 1996 and on this Thursday night the place was absolutely packed, including a reporter from the New York Times, who wrote a review of the show. Lobos worked through much of the then-new album, and seemed to be having a great time interacting with the crowd — there's quite a bit of banter on this recording besides the tracked portions. When the set came to a close with an extended and well-jammed "Peace" it seemed very much as if the show was over. Indeed Eric faded out and turned off his deck when house music came over the PA. But the capacity crowd was having none of that and after a long break Los Lobos returned for two encores, including an outstanding Neil Young cover that we are streaming below.
This recording has not previously circulated in flac format as far as I can tell. There is no entry at db.etree and no reference to this recording on any online trade lists. Eric recorded this set on a stand in the location described above with his trusty B&K cards. There is a decent amount of crowd chatter but overall this is a superb recording and certainly up to par with Eric's high standards. The DAT that I possess was cloned digitally from Eric's master and extracted without a single error. There is one brief bit of digi-static in the first song likely from the original transfer (no error shows up on my DAT). I edited a few loud claps, joined the fade-out portion of the encore break, boosted the levels and added fades in and out. Otherwise this is Eric's recording in its 19 year old glory. Enjoy!
Download the Complete Show [MP3] / [FLAC]
Stream "Cinnamon Girl" (Neil Young cover):

Los Lobos
1996-04-25
Mercury Lounge
New York NY
Digital Master Recording
FOB Audience – Front Left Corner of SBD Booth
B&K 4021 > Apogee AD-1000 > Tascam DA-P1 > DAT Master
DAT Clone > Sony PCM R-300 > Sound Devices 744t > 2 x 16/44 wav files > Soundforge (mastering) > CDWave 1.95 (tracking) > TLH > flac
Recorded by Eric Vandercar (ericv) (nyctaper DAT clone)
Produced by nyctaper
Setlist:
[Total Time 1:42:09]
01 Colossal Head
02 Revolution
03 Shakin' Shakin' Shakes
04 Dream in Blue
05 Angel Dance
06 Can't Stop the Rain
07 Manny's Bones
08 That Train Don't Stop Here
09 Little Japan
10 [banter – new record]
11 Everybody Loves a Train
12 Kiko and the Lavender Moon
13 [banter]
14 Maricela
15 [banter – bass line]
16 How Much Can I Do?
17 Ay Te Dejo en San Antonio
18 Volver, Volver
19 Georgia Slop
20 I Walk Alone
21 Peace
22 [encore break]
23 Evangeline
24 [tuning]
25 Cinnamon Girl [Neil Young]
If you download this recording from NYCTaper, we expect that you will PLEASE SUPPORT Los Lobos, visit their website, and purchase their official releases from the Store at their website [HERE].