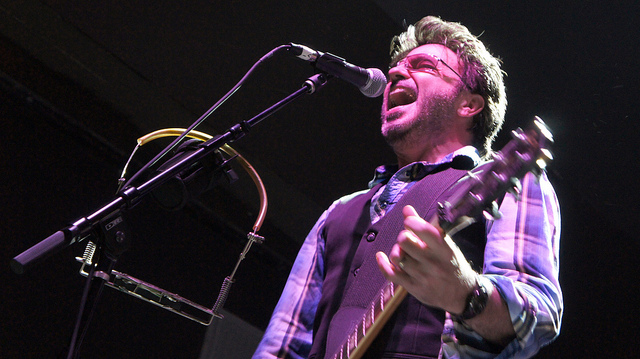 [photo by Dean Keim]
On their annual co-tour with Camper Van Beethoven, Cracker usually gets the anchor spot. I guess this is because David Lowery, who gets double duty each night, sings louder and more vociferously for Cracker's style of music than he does for CVB, and if the bands were reversed he'd have no voice at all for the Camper set. For the Stage 48 show a few weeks back, this was again the case. Lowery was his usual more animated Cracker self for a very energetic show. But on that night, we were doubly impressed with the work of Johnny Hickman whose energy, humor and guitar work always makes a Cracker show more entertaining. At the Stage 48 show however, Johnny seemed especially moved by the recent loss of a friend Mac Shingleton and the dedication to Mac of "Another Song About the Rain" ignited something special in that song and the moving version was the highlight of the evening. We're streaming it below.
I recorded this set in the same manner as the CVB set and the sound is superb. Enjoy!
Stream "Another Song About the Rain":

This Recording is now available to Download in FLAC and MP3 and to Stream at Archive.org [HERE].
Note: All of the material on this site is offered with artist permission, free to fans, at our expense. The only thing we ask is that you download the material directly from this site, rather than re-posting the direct links or the files on other sites without our permission. Please respect our request.
Cracker
2013-01-19
Stage 48
New York, NY USA
Digital Master Recording
Recorded from Inside of Soundboard Booth
Soundboard + Sennheiser MKH-8040s > Edirol R-44 (Oade Concert Mod) > 24bit 48kHz wav file > Soundforge (level adjustments, EQ, mixdown, set fades) > CDWave 1.95 (tracking) > TLH > flac (320 MP3 and Tagging via Foobar)
Recorded and Produced
by nyctaper
2013-02-07
Setlist:
[Total Time 1:21:01]
01 Low
02 Teen Angst
03 The Good Life
04 Useless Stuff
05 I Could Be Wrong
06 Friends
07 Forever
08 [banter – tuning]
09 Turn on Tune in Drop Out with Me
10 Eurotrash Girl
11 Big Dipper
12 Guarded By Monkeys
13 Seven Days
14 Another Song About the Rain
15 [encore break]
16 Gimme One More Chance
17 I See The Light
If you download this recording from NYCTaper, we expect that you will PLEASE SUPPORT Cracker, visit their website, and purchase their official releases directly from the Store at their website [here] or from the 429 Records website [here].