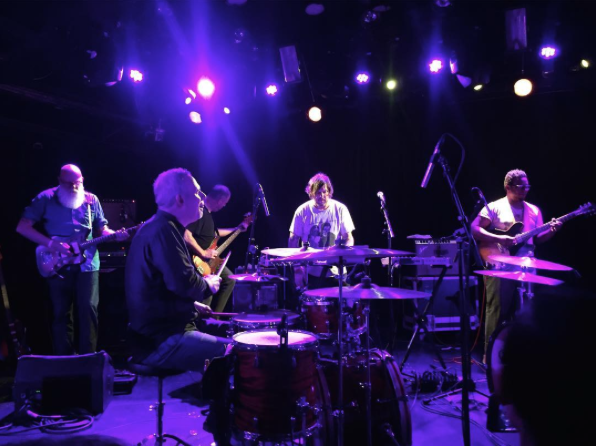 [Photo by David C/@castleone]
Almost exactly a year since we last saw Tortoise, the band rolled back into town for a two-night stand at (le) Poisson Rouge and the Hall at MP. The great thing about seeing Tortoise—and it's why I come back year after year—is that they've got such a vast catalog that there's always new material to hear along with a revolving cast of deep cuts the band brings out on tour. Like last year's setlist, this one from (le) Poisson Rouge airs a batch of newer songs off last year's The Catastrophist, including the title track, "Hot Coffee," "Shake Hands With Danger," and again brings out Georgia Hubley to sing on "Yonder Blue." Adding a few songs we hadn't heard last year like "Ten-Day Interval," "Crest," and "Dot/Eyes," the band also goes super-deep with "Tin Cans & Twine" from the very first Tortoise album.
I recorded this set with the AKG hypercards clamped in front of the soundboard, combined with a board feed courtesy of the LPR crew. The sound quality is outstanding. Enjoy!
Download the complete show at the Live Music Archive.
Stream the complete show:

Tortoise
2017-03-15
(Le) Poisson Rouge
New York, NY
Recorded and produced by Eric PH for nyctaper.com
Tortoise's engineer: Elliot Dicks
Venue engineers: Jay Eigenmann, Bernie Girman, and Gabe Montesi Garskoff
Photo: David C
Soundboard + AKG C480B/CK63 > Zoom F8 > 2 x WAV (24/48) > Adobe Audition CC (align, mixdown compression, normalize, fades) + Izotope Ozone 5 (EQ) > Audacity 2.0.5 (tracking, tagging) > FLAC (24/48, level 8)
Tracks [1:25:27]
01. Gigantes
02. Hot Coffee
03. The Catastrophist
04. The Suspension Bridge at Iguazu Falls
05. Eros
06. Gesceap
07. Yonder Blue (with Georgia Hubley)
08. High Class Slim Came Floatin' In
09. Tin Cans & Twine
10. [technical difficulties]
11. Ten-Day Interval
12. Shake Hands With Danger
13. Crest
14. [encore break]
15. Dot/Eyes
16. Seneca
Tortoise: Website | Facebook | Buy The Catastrophist and more via Thrill Jockey