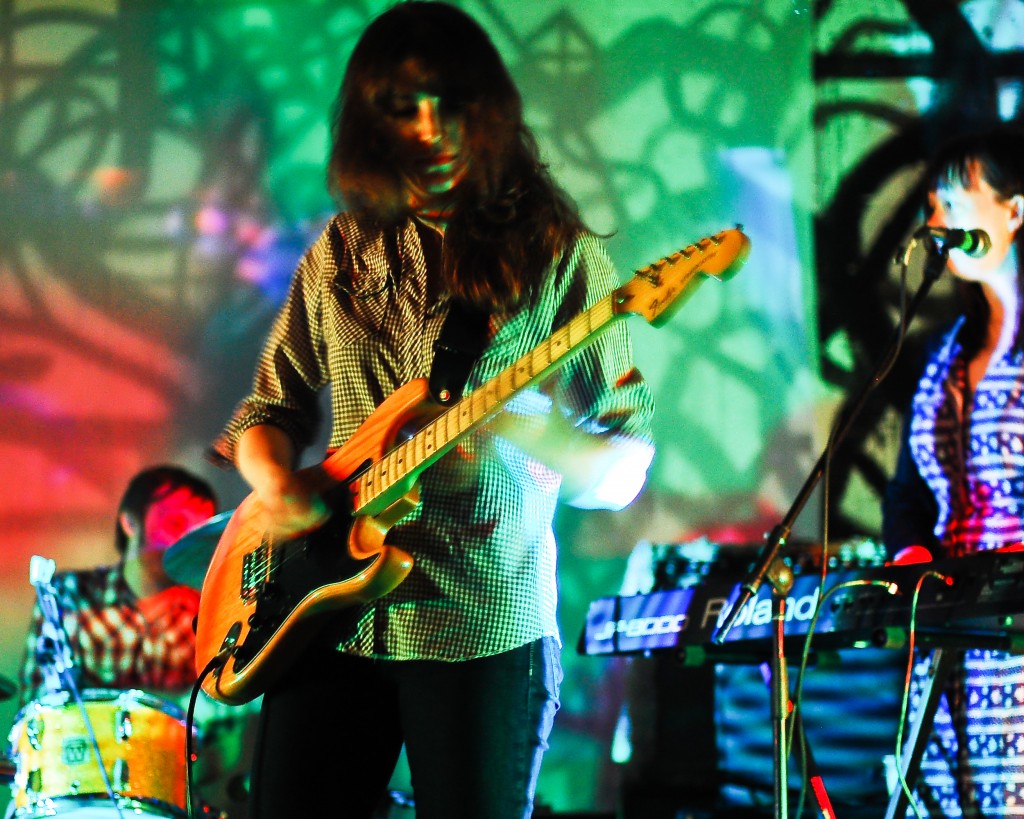 [Photos by Jill at For the Love of Brooklyn]
We had the privilege this month of celebrating this site's fifth anniversary with a show at 285 Kent headlined and curated by Oneida, a band we have long admired and been honored to feature on this site many times. Their first choice of act for this bill was the enigmatic Prince Rupert's Drops, a band with little Internet presence or official releases to speak of, but one that blew us away with their British-influenced psychedelic sound. What this band lacks in visibility is more than made up for by their playing, led by the charismatic playing of lead guitarist Bruno Meyrick-Jones and second guitarist (and vocalist) Leslie Stein. This 6-song set stretched to nearly 40 minutes with luxuriously paced songs, especially "Death March" which, despite the name, was not a death march to listen through. Most of this material appeared to be new aside from "Pillar to Post", which streams on the band's MySpace page and was also a highlight of their set. It has been a privilege to share live music with music fans across the world for the past five years, and a big part of that has been the chance to give more exposure to bands like Prince Rupert's Drops.
nyctaper and I recorded this set with a combination of high-end microphones placed strategically around the room. The sound quality is excellent. Enjoy!
Stream "Pillar to Post"
Audio clip: Adobe Flash Player (version 9 or above) is required to play this audio clip. Download the latest version here. You also need to have JavaScript enabled in your browser.
Stream "Death March"

Audio clip: Adobe Flash Player (version 9 or above) is required to play this audio clip. Download the latest version here. You also need to have JavaScript enabled in your browser.
Direct download of MP3 files [HERE] | Direct Download of the FLAC files [HERE]
Follow acidjack on twitter
Note: All of the material on this site is offered with artist permission, free to fans, at our expense. The only thing we ask is that you download the material directly from this site, rather than re-posting the direct links or the files on other sites without our permission. Please respect our request.
Prince Rupert's Drops
2012-05-12
NYCTaper 5th Anniversary Show
285 Kent
Brooklyn, NY USA
Exclusive download hosted at nyctaper.com
Recorded by nyctaper and acidjack
Produced by acidjack
Schoeps MK22 [FOB, DFC, STC22]>KCY>Z-PFA>Sound Devices USBPre2 + Sennheiser MKH-8040 >> Edirol R-44 [Oade Concert Mod]>2x24bit/48kHz WAV>Audacity (mixdown, set fades, tracking, amplify and balance, EQ, downsample)>FLAC ( level 8 )
Tracks
01 This Evening's Arms
02 Pillar to Post
03 Plague Ride
04 D.D.R.
05 Death March
06 Run Slow
If you enjoyed this recording, PLEASE SUPPORT Prince Rupert's Drops, visit their MySpace page, and attend their gigs!