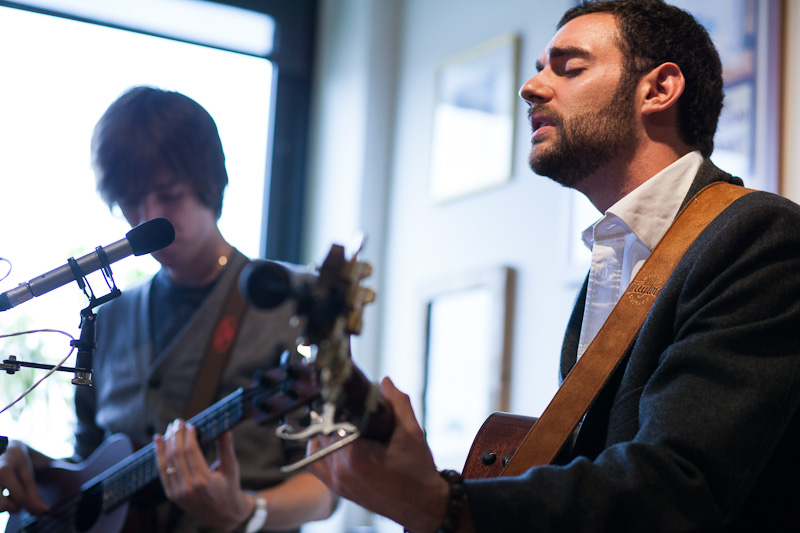 [Photos courtesy of Dominick Mastrangelo]
The Philadelphia duo Modern Inventors led off this final Backyard Brunch Session of the season with a set of classic, tightly-arranged rock. The band for this event was a combination of old and new: Modern Inventors guitarist Matt Kass was previously in the well-known Philadelphia band The Brakes, and he was joined for this show by two of his former bandmates, Zach Djanikian (Ukelele bass) and Spence Cohen (drums/percussion). Seeing the band for the first time, I wouldn't have guessed that they didn't always play in this configuration – these four players clearly found their groove quickly. Modern Inventors vocalist/guitarist Josh Benus, who met Kass when Kass produced an album for him in 2007, comes across as vocally effortless and beyond his years. The band is preparing an album, Trains and Aeroplanes, for December release, and spending their time until then playing the material live at shows on the East Coast, with a tour planned following the record's release that may well include Djanikian and Cohen in the touring unit. We are streaming the band's debut single, "Hello" below, which was, unsurprisingly, one of the strongest of the seven songs from this set.
I recorded this set with AKG 414 large diaphragm microphones in the Blumlein configuration, which provides a rich "360 degree" soundstage, with additional reinforcement on Benus' lead vocals. This is one of my favorite of all of my Backyard Brunch recordings.  Enjoy!
Modern Inventors have an upcoming tour date this month in NYC, when they play the Studio at Webster Hall on Friday the 23rd.  Grab your tickets here.
Stream "Hello"
Direct download of MP3 files [HERE] | Direct download of FLAC files [HERE]
If the FLAC link is no longer working, email nyctaper for the FLAC files
Follow acidjack on twitter
Note: All of the material on this site is offered with artist permission, free to fans, at our expense. The only thing we ask is that you download the material directly from this site, rather than re-posting the direct links or the files on other sites without our permission. Please respect our request.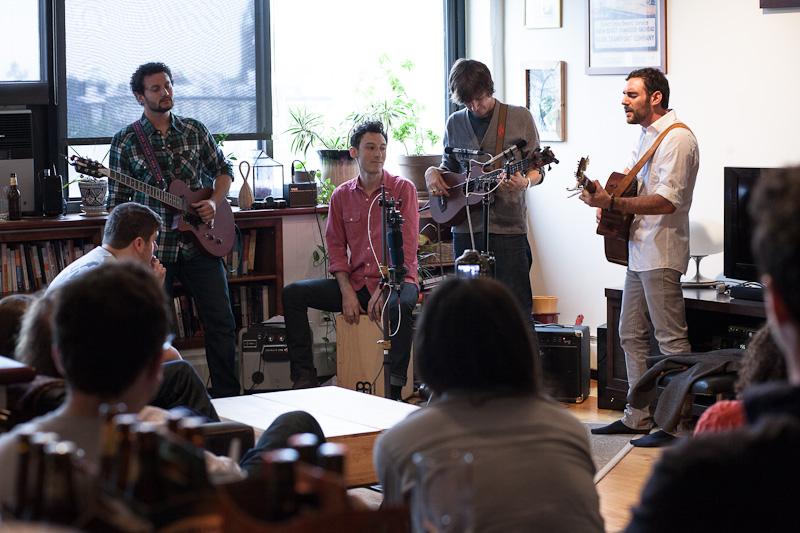 Modern Inventors
2012-10-07
Backyard Brunch Sessions
Brooklyn, NY USA
Hosted at nyctaper.com
Recorded and produced by acidjack
AKG C 414 B-XLS (Blumlein) + Audio Technica 3031 (lead vocal)>Edirol R-44 [OCM]>24bit/48kHz WAV>Adobe Audition CS 5.5 (set fades, edits)>Izotope Ozone 5 (EQ, exciter, imaging, edits to vocal tracks)>Audacity 3.0 (tracking, amplify, light DR compression, balance, downsample)>FLAC ( level 8 )
Tracks
01 Penny For Your Thoughts
02 Puncture All the Wheels
03 [banter/tuning]
04 Goodbye Northbrook Drive
05 [banter/tuning]
06 Anna
07 [banter/tuning]
08 Hello
09 [banter]
10 Old Habits
11 [banter]
12 This Sign
If you enjoyed this recording, PLEASE SUPPORT Modern Inventors, visit their website, like them on Facebook, check out their NYC-area show at the Studio at Webster Hall on November 23, and buy Trains and Aeroplanes when it is released.