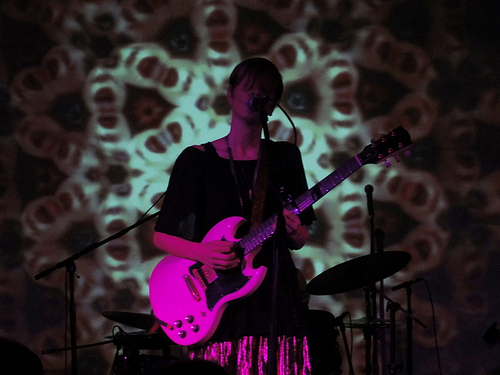 [Photo courtesy of Feast of Music]
To see pure love personified as rock n' roll, witness Jonny Ollsin, playing guitar in the thick of the Union Pool crowd last Wednesday as he looked up at his wife, Kim Krans, singing "Grace & Lies" to close out Family Band's set (see blurry image below). There were no corny faces or swooning poses from either; Krans, eyes cast down toward her husband as she sang, barely acknowledged him as he played. She didn't need to; Krans and Ollsin's bond is their music. This "Family Band" is nothing like the Osmonds or Jackson 5, but that turns out to be the perfect name for a band led by a family for whom music is its language, love its glue.
I first came across Ollsin and Krans at a Backyard Brunch Session last year (recording [HERE]). Then, they played as a three-piece with Scott Hirsch on pedal steel, sans drums, and despite being in the blazing July heat, the band had an obvious nocturnal vibe. Krans' dusky, haunting vocals come against a downtempo backdrop of moody guitar and pedal steel. They joked then that their style was "death prom", and while Family Band's sound is dark, it is also beautiful.
The band's second album, Grace & Lies, released this week on one of my favorite Brooklyn labels, No Quarter, represents the fullest realization to date of the band's sound. The album contains contemplative love songs like "Moonbeams" and slow burners like "Lace", as well as more chilling fare like "Again" and "Night Song". This show was styled as an album release party, and there is already much for Krans, Ollsin and Hirsch to celebrate, including a favorable Pitchfork review and positive notice from around the blogosphere. This set – this time with a drummer in tow – took us through much of the album, with perhaps its standout sequence coming in the middle as an extended version of "Night Song" segued into "Rest". While Krans, an accomplished visual artist, had never written a song prior to this band, Ollsin is a lifelong musician and composer whose prior bands included the thrash bands S.T.R.E.E.T.S. and Children. Ollsin's metal influences come through a bit in the brooding riff that anchors "Night Song"; even at its slower tempo, there is an edge to his playing that is unmistakable. As the band closed the show with that lovely rendition of "Grace & Lies", I thought about how many "family bands", based on lies and manipulation, have failed throughout pop music history. Ollsin and Krans' graceful, honest effort seems sure to shatter that mold.
I recorded this set with Schoeps MK41 microphones and a customized board feed from the Union Pool house engineer Bob.  As a bonus, we are also offering nyctaper's recording of Family Band back in April at the Bell House 'for the Brain Cave Festival, where they previewed many of these songs. Both recordings are of excellent quality. Enjoy!
Stream "Moonbeams" from Union Pool:
[audio:http://www.nyctaper.com/F0723FamilyBand0211/02 Moonbeams.mp3]
Stream "Rest" from the Brain Cave Festival:
[audio:http://www.nyctaper.com/F0723FamilyBand0211/06 Rest.mp3]
Stream "Night Song" from Union Pool:
[audio:http://www.nyctaper.com/F0723FamilyBand0211/05 Night Song.mp3]
Download the MP3 files: [Union Pool] | [Brain Cave Festival]
Download the FLAC files: [Union Pool] | [Brain Cave Festival]
Follow acidjack on Twitter
Note: All of the material on this site is offered with artist permission, free to fans, at our expense. The only thing we ask is that you download the material directly from this site, rather than re-posting the direct links or the files on other sites without our permission. Please respect our request.
Family Band
2012-08-01
Union Pool
Brooklyn, NY USA
Exclusive download hosted at nyctaper.com
Recorded and produced by acidjack
Schoeps MK41 (DFC, DINa)>KC5>CMC6>Sound Devices USBPre2 + Soundboard >> Edirol R-44 [OCM]>2x24bit/48kHz WAV>Audition (Compression on SBD, align)>Izotope Ozone 5 (EQ and effects)>Audition (parallel compression)>Audacity (set fades, tracking, amplify, balance, downsample)>FLAC ( level 8 )
Tracks
01 Again
02 Moonbeams
03 Ride
04 [banter]
05 Night Song>
06 Rest
07 Your Name
08 Lace
09 Grace & Lies
________________________
Family Band
2012-04-05
Brain Cave Festival
Bell House
Brooklyn, NY USA
Recorded by nyctaper
Produced by acidjack
Soundboard + Sennheiser MKH-8040>Edirol R-44 [Oade Concert Mod]>2x24bit/48kHz WAV>Audition (DR compression on soundboard, mixdown)>Izotope Ozone 5 (EQ, effects)>Audacity (set fades, mixdown, tracking, amplify, balance, downsample)>FLAC ( level 8 )
Tracks
01 [Brain Cave intro]
02 Again
03 Ride
04 Moonbeams
05 Your Name
06 Rest
07 Night Song
If you enjoyed this recording, PLEASE SUPPORT Family Band, visit their website, and purchase Grace & Lies from No Quarter Records [HERE]