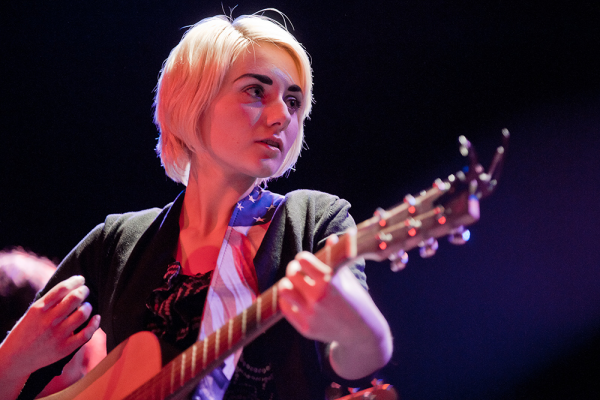 [Photos from Glasslands by Dominick Mastrangelo]
Jessica Lea Mayfield sure is a heartbreaker.  She has the affect of the pretty, reserved, stonerish girl in the back of the class – you always wondered what that girl was thinking. If that girl actually was Mayfield, well, that girl would have a hell of a lot deeper feelings than her air of ironic detachment might suggest. She'd be all-but-given-up on God ("Bible Days"), head-over-heels in love ("The One That I Love Best"), or maybe flat-out horny ("Grown Man").  And that voice of hers… well, it would hold your attention, if you weren't already looking. More than a few gents at this Thursday night Glasslands show could be overheard discussing variations of "she's hot!"
Lest you think the show was some kind of sausagefest, far from it – I'd say the majority of Mayfield's fans at this show were women, and most of them seemed able to sing just about every word. This was the most packed I've seen Glasslands on a Thursday in ages, and it's not hard to see why. Mayfield's latest record, the Dan Auerbach-produced Tell Me, moves Mayfield beyond her neo-country confines and continues her tradition of strong songwriting – see for example "Run Myself Into the Ground", which maintains a hint of twang but backs it with some solidly rock guitar work.  That came courtesy of Nashville's Richie Kirkpatrick, whose band Ri¢hie has also served as Mayfield's rhythm section at several recent shows. This was my first introduction to Jessica live, and I was extremely pleased with both the show and the crowd.  The only thing that could have made the night better would have been her performing her new cover of Nirvana's "Lounge Act"!
Johnny Fried Chicken Boy had a similar experience with Mayfield this April Fool's Day at Bowery Ballroom, where he recorded a somewhat different set before an equally pumped up audience. That show is also offered as a download here.
The Glasslands show was a fairly sophisticated recording for us, with a pair of DPA omnidirectional mics onstage, Schoeps "open cardiods" mounted an optimal distance from the stacks, and a soundboard feed running into two clock-synced decks run by myself and Johnny Fried Chicken Boy.  It is an outstanding capture at the very top of the range for this site.  John's Bowery recording is an excellent four-microphone recording from our usual spot at Bowery that is also not to be missed.  Enjoy!
Stream "Run Myself Into the Ground" from Glasslands:

Audio clip: Adobe Flash Player (version 9 or above) is required to play this audio clip. Download the latest version here. You also need to have JavaScript enabled in your browser.
Stream "Kiss Me Again" from Bowery Ballroom:

Audio clip: Adobe Flash Player (version 9 or above) is required to play this audio clip. Download the latest version here. You also need to have JavaScript enabled in your browser.
Stream "Seeing Stars" (solo) from Glasslands:

Audio clip: Adobe Flash Player (version 9 or above) is required to play this audio clip. Download the latest version here. You also need to have JavaScript enabled in your browser.
MP3 Downloads: Glasslands 2011/11/17 [HERE] | Bowery 2011/4/1 [HERE]
Download the Complete shows in FLAC [Glasslands] / [Bowery]
Follow acidjack on twitter
Note: All of the material on this site is offered with artist permission, free to fans, at our expense.  The only thing we ask is that you download the material directly from this site, rather than re-posting the direct links or the files on other sites without our permission.  Please respect our request.
Jessica Lea Mayfield
2011-11-17
Glasslands
Brooklyn, NY USA
An acidjack master recording
Recorded by acidjack and Johnny Fried Chicken Boy for nyctaper.com
Produced by acidjack
Schoeps MK22 (DFC, POS)>CMC6>Sound Devices USBPre2 + Soundboard >> Edirol R-44 #1 + DPA 4061 (onstage, 2ft split)>Naiant PFA>Edirol R-44 #2 >>>6x24bit/48kHz WAV>Audition (mixdown, limit peaks, light EQ to MK22 source)>Audacity (set fades, tracking, amplify and balance, downsample)>FLAC ( level 8 )
Tracks
01 Blue Skies Again
02 We've Never Lied
03 Sometimes At Night
04 Kiss Me Again
05 Grown Man
06 Seeing Stars [solo]
07 Nervous Lonely Night [solo]
08 I'll Be the One You Want Someday
09 For Today
10 Run Myself Into the Ground
11 Bible Days
12 Our Hearts Are Wrong
13 Trouble
14 Somewhere In Your Heart
15 [encore break]
16 The One That I Love Best
_______________________
2011-04-01
Bowery Ballroom
New York, NY, USA
Source: AUD > AKG C 414 B-XLS's + DPA 4021's > Edirol R-44 (WAV @ 24-bit/48kHz)
Lineage: R-44 > USB > PC > Adobe Audition (mixdown, adjust levels, downsample, dither, tracking) > WAV (16-bit/44.1kHz) > Trader's Little Helper (check/fix SBE's, FLAC) > FLAC Level 8
Recorded and produced by: Johnny Fried Chicken Boy
Tracks:
01 Our Hearts Are Wrong
02 Run Myself Into The Ground
03 Kiss Me Again
04 I'll Be The One That You Want Someday
05 [banter]
06 Sleepless [JLM solo]
07 Nervous Lonely Night [JLM solo]
08 Trouble
09 Bible Days
10 Sometimes At Night
11 We've Never Lied
12 Blue Skies Again
13 I Can't Lie To You, Love
14 [banter]
15 For Today
16 [banter]
17 Somewhere In Your Heart
18 encore break / banter
19 Grown Man
If you enjoyed these recordings, PLEASE SUPPORT Jessica Lea Mayfield, visit her website, and purchase her latest record Tell Me and other merch from the store at her website [HERE].