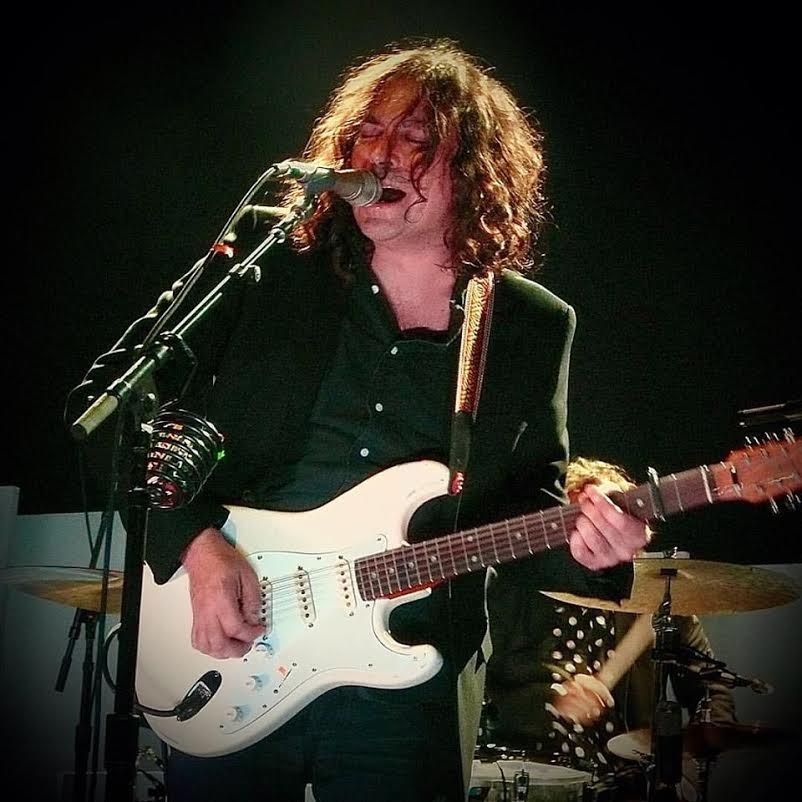 [Photo courtesy of Ellen Qbertplaya]
This happened: About a year and seven months ago, in March of 2014, we attended back-to-back performances by The War on Drugs at Bowery Ballroom. Two of us from the site were backstage, where the band had been kind enough to invite us. Frontman Adam Granduciel was surrounded with well-wishers, seeming half-dazed from the adulation. He struck me as an unpretentious and genuinely kind person, nothing like typical "rock stars" of popular lore. Of course, he also wasn't one yet. What followed a few minutes later was a conversation that has stayed with me since, as the founder of this site got a few minutes to talk to Adam, as he'd been doing since we saw his band take the stage as the opener at places like the Cameo Gallery and the Knitting Factory in Williamsburg. He basically laid out what was about to happen: the band's popularity would explode, they would be a top draw at festivals around the world, they would be surrounded by new and different types of handlers, they would appear on late night TV shows, and, not far in the future, they would play a huge venue, like Terminal 5. Not to say that represents any unique power of prognostication or insight; to anyone who had watched the band play those shows at Bowery, who had heard Lost In the Dream and its connection to the American rock tradition in the vein of Tom Petty and Bruce Springsteen, who could feel the energy oozing from the stage, it should have been clear. The person who seemed most surprised, that night, was Granduciel himself.
The album that made it all happen, Lost In the Dream, prompts even bigger questions than its words themselves ask. How good can you be? Is burrowing deep inside yourself until you've turned yourself inside out, hurt and insecurities and questions all on display, apt to give you even more anxiety, or free you from it? Granduciel famously struggled through making this record, a long-term personal project on which he recorded the instruments himself. That period found him dealing with bouts of depression, paranoia and self-doubt, which you can hear all over the record. As Granduciel said in one interview, at one point he found himself, 33 years old and alone, realizing music was all he had. Wondering if this body of work would be finished. If it would be enough.
So maybe it's not surprising that, even after those two very successful performances, Granduciel didn't quite believe what was about to happen. But in reality, our prediction ended up undershooting the band's success by a little. Because, after signing to Atlantic Records, ending up in tabloids, playing the Tonight Show, Kimmel, and Letterman (again), and headlining (soon) or high-billing at a slew of festivals, here they were, back in New York City, not at the 3,000 capacity Terminal 5, but at a true institution, Radio City Music Hall, with a capacity more than twice that. And from the opening notes, you knew that all that love and confidence that had come at them over the past 19 months wasn't misplaced. These broad stages are where Granduciel's sound belongs, even if his to-this-day humble, honest, everyman persona doesn't scream for attention the way his peers' often do. Tonight's setlist itself was a sign of the band's own confidence; rather than kick off with the best-known Lost In A Dream stuff, the band led with "Arms Like Boulders" from 2008's Wagonwheel Blues, probably owned by a fraction of this crowd, followed by "Baby Missiles" from Slave Ambient. Hearing these songs in this setting, with this band, it's easier to connect the dots from those albums to Lost In the Dream — while the band's big breakthrough had much more slick production, the roots of that big-tent sound have always been there. From the day Granduciel started this thing, The War On Drugs have been awesome, and they have been big.
Granduciel's family was in the audience, and what a joy this must have been for them. Judging by the number of shoutouts and dedications, there were quite a few friends and family there to witness this, as there ought to have been. As they always do, The War On Drugs gave this crowd their all for the full 100 minutes, and the setlist proved surprising at a few points. Sure, we got the ecstatic one-two-three of Lost In the Dream's best songs — "Red Eyes," "Eyes to the Wind," and "Under the Pressure" — but that came about mid-set. After a bit more of Lost In the Dream came a new cover we haven't heard, Ron Wood's "Mystifies Me," which paused mid-song for a dedication to drummer Charlie Hall and his wife, Ann. The main set closed on a mellow note, ending with "Lost In the Dream." Sometimes it seems strange that such melancholy songs have become such crowd-pleasers. But then, it's not hard to identify with their sentiments, particularly on Lost In the Dream — that search for something better, the suspicion, but not quite resignation, that the best things have passed. You keep your eyes up, you keep going, and you try to miss what is gone without letting it take you over. To me, it's always been "Under the Pressure," the album opener, that sums this part of this band's story up: that iconic keyboard melody, soaring over the lyrics about being under the pressure, trying not to crack. But even in that first, ecstatic "whoo!" at the beginning, you know that this song is about hope. You know the narrator will make it, even he doesn't sound so sure.
For an encore, we got probably band's biggest pre-Lost In the Dream tune, "Brothers," followed by the Wagonwheel Blues number "Buenos Aires Beach" to finish the night. It seems fitting that the set was bookended with songs from an earlier, simpler time in this band's cycle. From here on out, The War On Drugs' world will be something else entirely, as major recording artists on a roster that's played home to bands like AC/DC and Led Zeppelin. Whatever comes after Lost In the Dream, the weight of expectations on that record will be felt like never before. We don't know what it will sound like, but we do know that Granduciel has proven up to the greatness that'll be asked of him. He deserves this, all of it.
This set was recorded with Schoeps MK41V supercardiod microphones to maximize rejection of extra noise and focus on the music. The sound quality is excellent for an audience recording in this venue. Enjoy!
The War On Drugs are on their way to the West Coast to play the Greek Theatre in Los Angeles, followed by headlining the Treasure Island Music Festival in San Francisco. Catch them out there.
Download the complete set from the Live Music Archive: [MP3] | [FLAC]
Stream the complete set from the Live Music Archive:

The War On Drugs
2015-10-08
Radio City Music Hall
New York, NY USA
Schoeps MK41V>tinybox v2(OT)>Sony PCM-M10>24bit/44.1kHz WAV>Izotope Ozone 5 (EQ, image, exciter, compression)>Audacity 2.0.5 (track, amplify, balance, dither)>FLAC ( level 8 )
Tracks [Total Time 1:39:18]
01 Arms Like Boulders
02 Baby Missiles
03 Comin' Through
04 An Ocean in Between the Waves
05 Disappearing
06 Red Eyes
07 Eyes To the Wind>
08 Under the Pressure>
09 In Reverse
10 Burning
11 Mystifies Me [Ron Wood]
12 The Animator>Come To the City
13 Lost in the Dream
[encore break removed]
14 Brothers
15 Buenos Aires Beach
If you enjoyed this recording, PLEASE SUPPORT The War on Drugs, visit their website, and buy Lost In the Dream from Secretly Canadian.