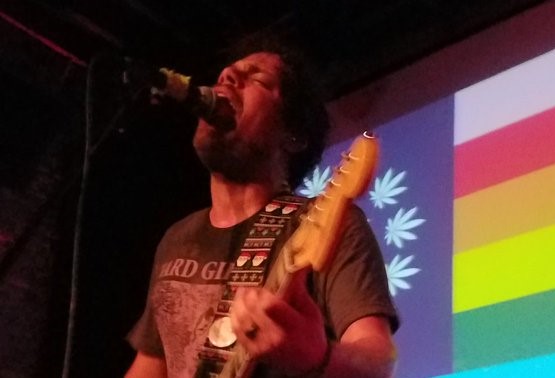 It is an objective fact that Jeff Rosenstock released one of the best albums of 2016, if not the best record of the year. WORRY is a work that exhibits all of the positive qualities of contemporary punk by one of the genre's most consistently excellent and prolific performers over the last two decades. During that time, Rosenstock has been a virtually unlimited fount of quality music, having participated as band member, contributor or producer in something like thirty albums in the last fifteen years. But Rosenstock's recent solo albums may be his highest quality output of his career. WORRY builds on the overwhelming success of his excellent 2015 album We Cool?. The fan response to it crashed the SideOneDummy Records website on the day of its release.
WORRY is album that walks the listener through a set of modern problems in a series of songs that touch on multiple genres all anchored by the indefatigable Jeff Rosenstock. Early in his career Rosenstock fronted a ska-punk band and then an anarchist-punk band but in his late thirties he's now not beholden to any particular genre. The album touches on themes of loneliness, oppression, politics and music — all of which are pointless without our emotional investment in other people. Indeed "…While You're Alive" concludes as the penultimate track on the record, by declaring that ultimately "Love is Worry". We may never be able to achieve a perfect existence ("Perfect Sound Whatever"), but if we appreciate the small events, we'll be truly alive. Its a simple but effective message from a performer who has spent his career confronting negativity and apathy with a singular work ethic and drive.
The Jeff Rosenstock Fall Tour came to a close on a cold November night in a converted warehouse in Brooklyn a mere ten days after perhaps the most devastating political moment of our lives. The final night of the tour was filled with much love and appreciation for the bands and fans who had supported him throughout, but the night was also fueled by purposeful rage and resistance. Rosenstock dealt with these issues throughout the set but also focused on the healing power of music. The set drew primarily from We Cool? and WORRY material, including an epic segue of the last eleven songs from WORRY to close the set. The band encored with "Police on My Back", which Rosenstock unfortunately noted as a Clash song. Perhaps the only down moment of the night was that he failed to call attention to the composers of that song, The Equals — a 1960s racially-integrated London band who experienced actual police oppression of immigrant culture. Its a theme sadly still relevant nearly fifty years after the release of that song. Otherwise, the night was an inspiration and Jeff Rosenstock continues to cement his status as perhaps the most important punk artist composing today. Moving forward through 2017 and after, we're going to need artists like Rosenstock whose life's work is hell bent on resisting the wave of hate and intolerance bubbling up from the worst aspects of our society.
Jeff Rosenstock is back on tour next month, including two local shows. The just-announced Antarctigo Vespucci (Rosenstock and Chris Farren) show at Trans-Pecos is February 11, and a Jeff Rosenstock date opening for Menzingers at Irving Plaza is on March 30. All dates HERE.
I recorded this set with the Neumann hypers mounted at the soundboard on the far right and mixed with a board feed. The balance and mix took a while the get right but I believe this is now an excellent recording that definitely captures the energy of that great night. Enjoy!
Download the Complete Show [MP3] / [FLAC]
Stream the Complete Show:

Jeff Rosenstock
2016-11-18
Villain
Brooklyn NY
Digital Master Recording
Soundboard + Audience Matrix
Soundboard [Engineer: Ryan] + Neumann KM-150 Hypers > Sound Devices 744t > 2 x 24bit 48kHz wav files > Soundforge (post-production) > CDWave 1.95 (tracking) > TLH > flac (320 MP3 and tagging via Foobar)
Recorded and Produced by nyctaper
Setlist:
[Total Time 1:08:27]
01 Wave Goodnight To Me
02 I'm Serious I'm Sorry
03 Hey Allison
04 Pash Rash
05 [banter – on tour]
06 To Be a Ghost
07 Festival Song
08 [banter – donations]
09 Beers Again Alone
10 Nausea
11 [banter – Worry]
12 Pietro 60 Years Old
13 I Did Something Weird Last Night
14 Blast Damage Days
15 Bang on the Door
16 Rainbow
17 Planet Luxury
18 HELLLLHOOOOLE
19 June 21st
20 The Fuzz
21 While You're Alive
22 Perfect Sound Whatever
23 You In Weird Cities
24 [encore break]
25 Teenager
26 Police on My Back [The Equals]
SUPPORT Jeff Rosenstock: Bandcamp | Tumblr | Buy WORRY at SideOneDummy Records