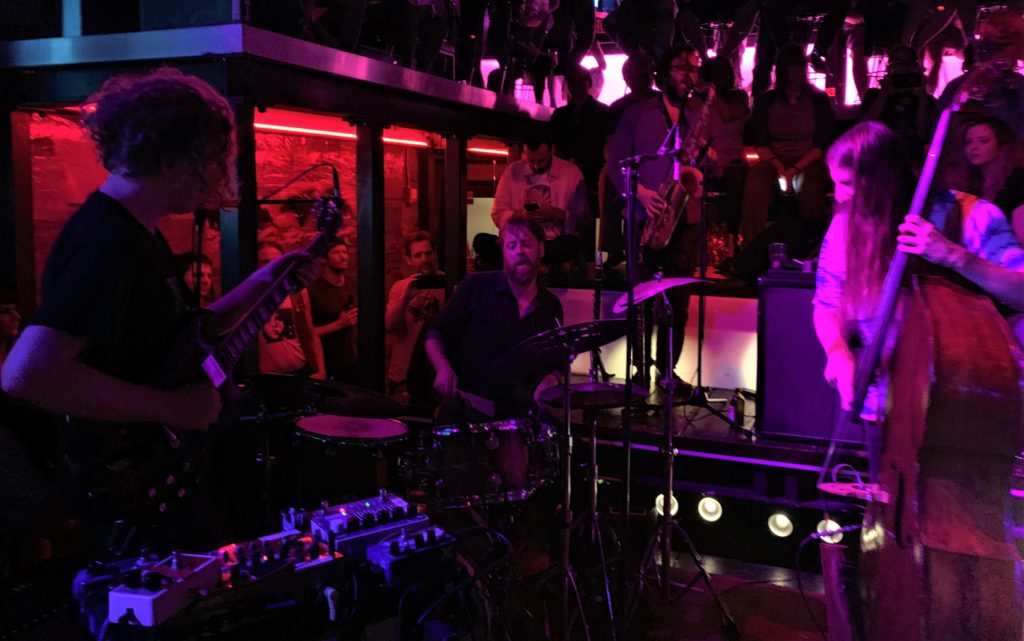 These are the types of nights that NYC music aficionados live for. A one-time-only live improvisation session by a group of five local stellar musicians in an intimate setting, who could really ask for more. Local guitar wizard Dave Harrington has made a nice career playing with a variety of musicians, and indeed bassist Spencer Zahn, horn player Stuart Bogie, and percussionist Joe Russo all performed at the release shows in February for Dave's 2019 release Pure Imagination, No Country.
This night at Nublu though was a truly collaborative effort by the quintet (also including guitarist Jonathan Goldberger) as each segment of the set was improvised. Harrington revealed to me in between sets that there was one point where he and Zahn began to riff on a piece they had rehearsed earlier that week, but for the most part these tracks are all the work of expert musicians using their interpretive skills in real time. The result is two hours of breathtaking wholly unique music that was both a joy to hear live and will forever be a thoroughly engaging listen.
Dave Harrington returns to Nublu on July 19 for another night of magic with his Merry Pranksters (members this time are secret!), and attendance is highly recommended.
I recorded this set from a spot about 15 feet from the stage with the Schoeps cards and the sound (other than a little chatter) is superb. Enjoy!
Download the Complete Set from Archive.org [HERE]
Stream the Complete Set:
Russo Harrington Bogie Zahn Goldberger
2019-06-29
Nublu
New York NY
Digital Master Recording
Upfront Audience
Schoeps CCM4u's > Sound Devices 744t > 24bit 48kHz wav files > Soundforge (post production) > CDWave 1.95 (tracking) > TLH > flac (320 MP3 and tagging via Foobar)
Recorded and Produced
by nyctaper
Setlist:
Set 1
[Total Time 54:23]
01 Improvisation 1
02 Improvisation 2
03 Improvization 3
04 Improvization 4
Set 2
[Total Time 1:02:23]
05 Improvisation 5
06 [band introductions]
07 Improvisation 6
08 Improvisation 7
09 Improvisation 8
Joe Russo – percussion
Dave Harrington – guitar, effects
Stuart Bogie – sax, flute, clarinet
Spencer Zahn – stand-up bass
Jonathan Goldberger – guitar
Please SUPPORT these artists: websites for Joe Russo, Dave Harrington, Stuart Bogie, Spencer Zahn, and Jonathan Goldberger