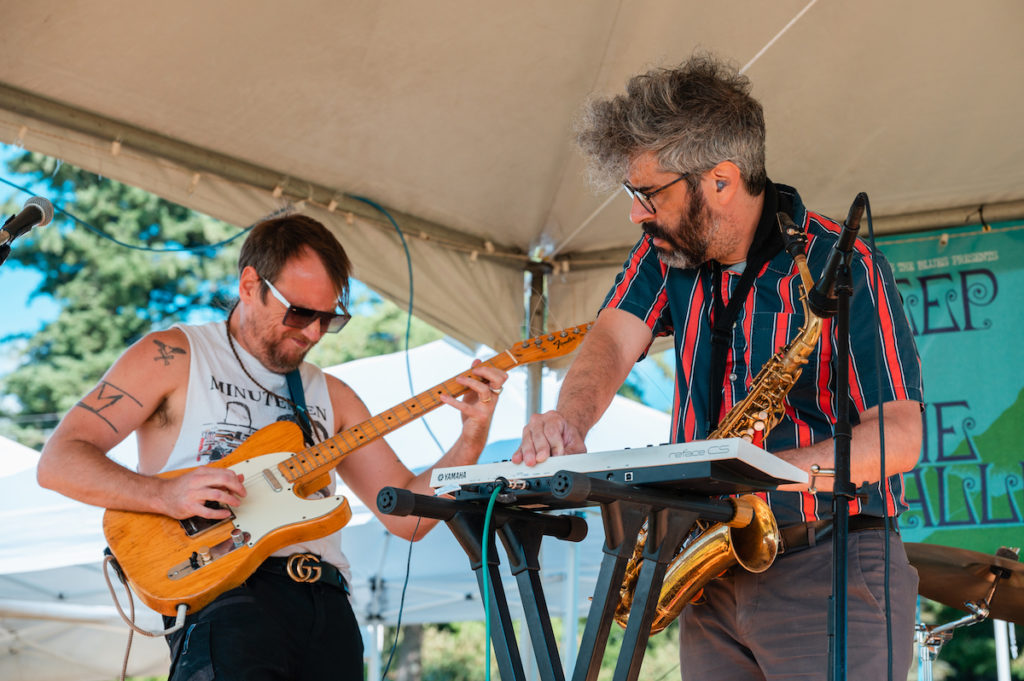 Our coverage of the 2023 Deep In The Valley festival continues! 
Has it really been four years since we last saw Sunwatchers? Unbelievable! Fortunately nothing interesting has happened since 2019 and so we pick up right where we left off. But just a few things in the interim: Sunwatchers put out the righteous duo Oh Yeah? and Brave Rats in 2020; Jim McHugh put out a pair of work-abolishin', eye-lazer shootin' solo records the same year; Peter Kerlin' released a guest-filled, wide-ranging experimental solo record; and Jeff Tobias released a trio of rad tapes/records just in the last year or so. Whew!
But wait, there's more! Sunwatchers will release Music is Victory Over Time in just a couple months. These two sets we saw this year will serve as a good preview of what's to come and it sounds pretty damn awesome. So be sure to preorder that right away. Meanwhile, enjoy this double dose of Sunwatchers to start your week.
Stream and Download at the Live Music Archive: Deep in the Valley | Tubby's
Sunwatchers
2023-08-19
Deep in the Valley
From the Ground Brewery
Red Hook, NY

Recorded and produced by Eric PH for nyctaper.com

Soundboard + MBHO KA100DK/603A (stage lip) > Naiant PFA >> Sound Devices MixPre-6 > WAV (24/48) > Adobe Audition CC + Izotope Ozone 5 > Audacity 3.0.2 > FLAC

Tracks [38:10]
01. Beautiful Crystals
02. Too Gary
03. T.A.S.C
04. Foams
05. The Works
06. World People 
---
Sunwatchers
2023-04-20
Tubby's
Kingston, NY

Recorded and produced by Eric PH for nyctaper.com

Soundboard (engineer: Nick) + MBHO KA200N/603A > Naiant PFA >> Sound Devices MixPre-6 > WAV (24/48) > Adobe Audition CC + Izotope Ozone 5 > Audacity 3.0.2 > FLAC

Tracks [51:54]
01. Blitzkrieg Bop [Ramones] > World People
02. Too Gary
03. T.A.S.C.
04. Foams
05. Blitzkrieg Bob [reprise] > Tumulus
06. There Goes Ol' Ooze
07. Beautiful Crystals
08. Silent Boogie