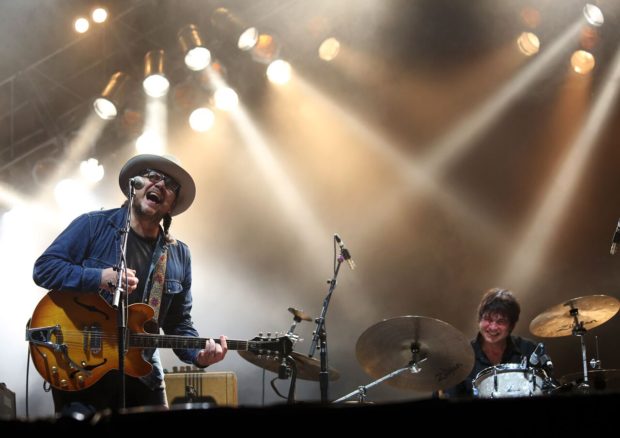 [photos by Robert Loerzel from Underground Bee]
Being There was released in October of 1996 and I saw Wilco live for the first time a month later at Mercury Lounge for a show that would change the course of my musical life. Like many of the attendees of this year's Solid Sound Festival, I've seen Wilco probably more than fifty times in a variety of locations. I've seen multiple shows supporting all of the albums of their career, I've seen acoustic sets, many guest appearances, the all-covers set. I've seen them play in small halls, big halls, theatres, baseball stadiums, a brewery, festivals, and even at Madison Square Garden. But the seminal event of seeing and hearing the band close-up play brand new Being There songs was an experience that took me down this path and permanently affixed those songs to my psyche.
Twenty-something years later, Wilco delivered on the now-traditional (2013-all covers, 2015-all acoustic) Solid Sound Friday request set by playing the album straight-through. It says something about the staying power of the material that almost all of these songs are either still set staples or occasional plays for the band's "regular" shows. But hearing the material in sequence brings me back to the cramped confines of Mercury on that chilly November night and reminds me why I still go to such lengths to see Wilco. But oh, if the Being There performance was all you expected from Friday night's set, the "encore" segment was a huge Wilco curveball. Upon returning to the stage, the band jumped into "I Am Trying to Break Your Heart", a not uncommon encore song. And then kept playing — the entire Yankee Hotel Foxtrot also in its entirety. Its took the opening notes of rarely played "Radio Cure" for our correspondent Gr8fulPete to recognize what was happening, but when it dawned on the crowd you can hear the shock and utter surprise of those witnessing this encore set for the ages.
Pete also recorded Saturday night's set and the Sunday Tweedy & Friends set and those will be coming to the site in the coming days.
Pete recorded this show with his high end Neumann cards from directly at the soundboard cage area and the sound quality is outstanding. Enjoy!
Download The Complete Show [MP3] / [FLAC]
Stream the Complete Show:

Wilco
2017-06-23
Solid Sound Festival
North Adams MA
Digital Master Audience Recording
Recorded inside Soundboard Cage
Neumann KM-185s > Sound Devices 702 > 24bit 48kHz wav file > Soundforge (post-production) >
CDWave 1.95 (tracking) > TLH > flac (320 MP3 and tagging via Foobar)
Recorded by gr8fulpete
Produced by nyctaper
Setlist:
[Total Time 2:14:13]
01 [Nick Offerman Introduction]
02 Misunderstood
03 Far Far Away
04 Monday
05 Outtasite (Outta Mind)
06 Forget the Flowers
07 Red-Eyed and Blue
08 I Got You (At the End of the Century)
09 What's the World Got in Store
10 Hotel Arizona
11 Say You Miss Me
12 Sunken Treasure
13 Someday Soon
14 Outta Mind (Outta Sight)
15 Someone Else's Song
16 Kingpin
17 Was I In Your Dreams
18 Why Would You Wanna Live
19 The Lonely One
20 Dreamer in My Dreams
21 [encore break]
22 I Am Trying to Break Your Heart
23 Kamera
24 Radio Cure
25 War on War
26 Jesus Etc
27 Ashes of American Flags
28 Heavy Metal Drummer
29 I'm the Man Who Loves You
30 Pot Kettle Black
31 Poor Places
32 Reservations
PLEASE SUPPORT Wilco, visit their website, and purchase their Star Wars and their other releases from their website [HERE]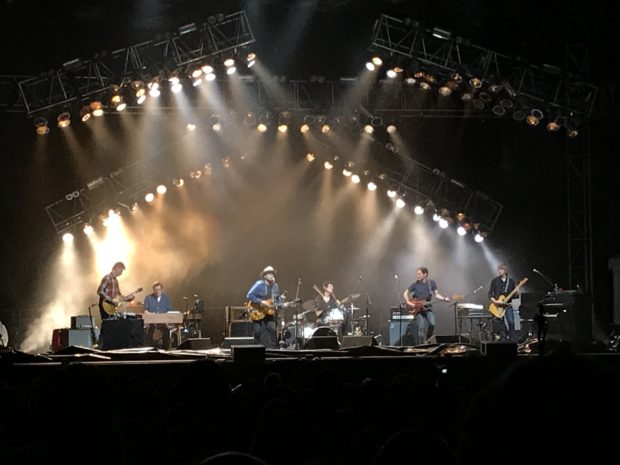 [photo by Pete]