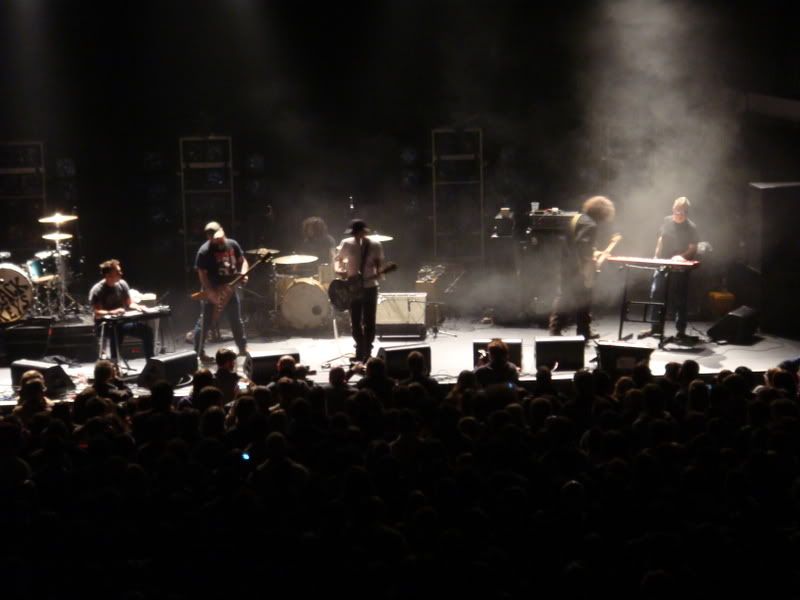 [photo by Johnny for nyctaper]
Since Johnny's Black Keys recording received universal rave reviews from nyctaper listeners, we had high expectations for the opening sets of this show — those expectations have been met!
Review by Johnny:
I can honestly say that I hadn't heard a note from this band until they stepped on the stage at Terminal 5. Led by Ben Nichols, Memphis-based Lucero seem to be cut from a different part of the same whiskey-soaked cloth as Drive-By Truckers and the Replacements that Bruce Springsteen had used to wipe his brow. They present a rollicking good time that would make seeing them in some boozy little southern fried bar a mind-blowing event. Not to say their set at Terminal 5 wasn't awesome, but equipment problems plagued guitarist Brian Venable for the first part of the performance, eliciting a few snickers from the crowd whereas in a smaller venue the throng would've been passing shots up to the stage in an effort to relieve the group's frustration. Kudos to them for keeping their sense of humor through the ordeal and putting on a great show. The beautiful interplay of the pedal steel and the keyboards didn't hurt either. The only way to say it is that these guys ripped. If this is what they are like on an "off" night, I can only imagine the experience when they're "on". As I stated earlier, I hadn't heard of Lucero prior to this show. But rest assured, at least one of their albums will join me at the register next time I'm in a record store and I'm damn well going to see them the next time they're playing a gig in town.
Our recording position in the venue was the same as for the Black Keys and Heartless Bastards. Aside from the chatter during the low-volume parts and the guitarist's equipment troubles, the mix was about as good as it gets in this venue and the resultant recording sounds really good. Enjoy!
Direct download of the complete show in MP3 [HERE]
Direct download of the complete show in FLAC [HERE]

If either of the links are no longer working, email nyctaper with a request for the download location of the files.
Lucero
February 6, 2009
Terminal 5
New York, NY, USA
Location: 2nd level, directly behind soundboard, DFC
Source: AUD > AKG C 414 B-XLS > Edirol R-44 (WAV @ 24-bit/48kHz)
Lineage: R-44 (WAV @ 24-bit/48kHz) > USB > PC > Adobe Audition (adjust levels, downsample, dither, tracking) > WAV (16-bit/44.1kHz) > Trader's Little Helper (check/fix SB's) > FLAC Frontend > FLAC ( level 8 )
Recorded and produced by: Johnny Fried Chicken Boy
SETLIST:
[Total time: 53:43]
01. That Much Further West
02. Nights Like These
03. Kiss the Bottle [*]
04. Johnny Davis
05. Joining the Army (aborted)
06. Nineteen Seventy-Nine
07. I Can Get Us Out of Here
08. Wasted
09. Tonight Ain't Gonna Be Good
10. Noon as Dark as Midnight
11. Slow Dancing
12. Bikeriders
13. Nobody's Darlings
14. Better Than This [#]
* Jawbreaker song
# Ben Nichols solo
If you download this recording, we expect that you will PLEASE SUPPORT Lucero, visit their website, visit their MySpace page, and purchase their official releases and merch from the store at their website [HERE].