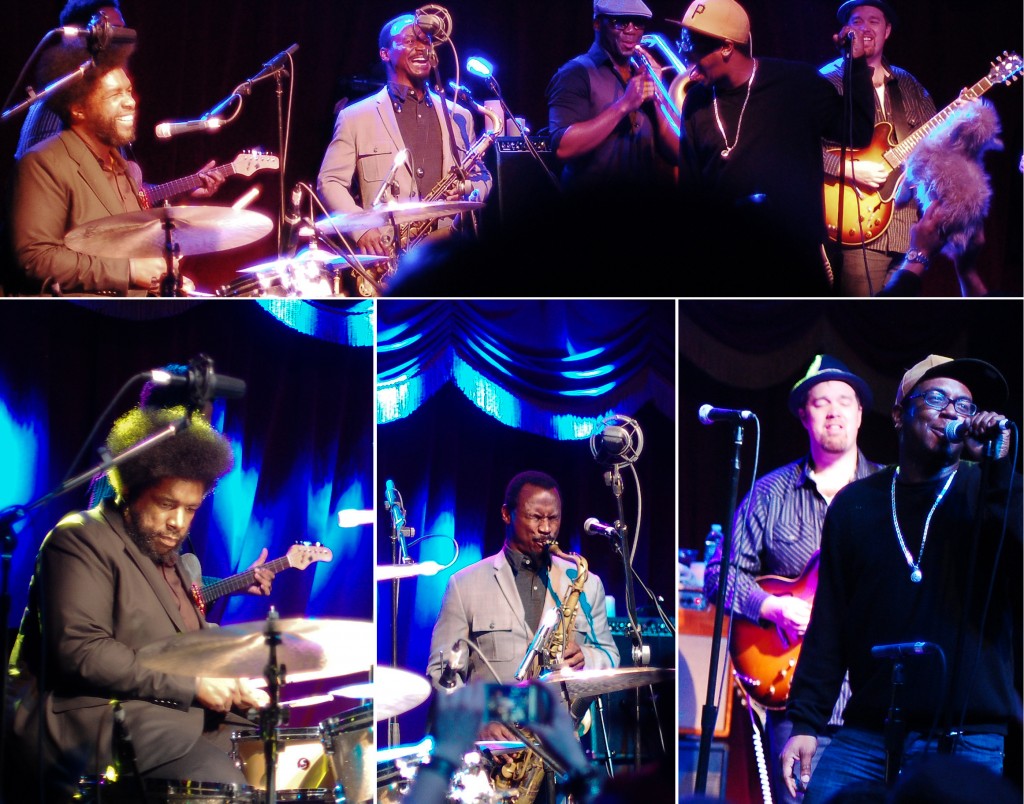 [photo by Jill from For The Love of Brooklyn]
For the past two years now, the funk/jazz trio Soulive have been commandeering the cavernous adult playland Brooklyn Bowl for a series of concerts they dub "Bowlive". These special shows in their home state of New York (they are originally based in Woodstock) feature memorable performances by the band as well as hordes of special guests; if anything, this year's "Bowlive II" was even more epic than last year's outing. This final night of their 10-day run promised to be a special one, and despite the last-minute illness-induced withdrawal of special guest Matisyahu, the band and their guests didn't let that slow them down as they brought the funk for more than two hours. The tighter first set focused mostly on Soulive's own material, including a heady rendition of "Doing the 2" jamming into "Too Much", with the night's opening act, Nigel Hall, on vocals together with Alicia Chakour. The first set closed with the night's first surprise, when during their cover of the Meters' "Just Kissed My Baby", American Idol winner Taylor Hicks (remember him?) bounded to the stage. Adding backing vocals and harmonica to Hall and Chakour's vocals, Hicks proved that although he may not be the most commercially successful Idol graduate, he lacks nothing in the talent department.
Set two saw more musical exploration, including a special showcase for the talents of guitarist Eric Krasno on a cover of Stevie Ray Vaughan's "Lenny". Not to be outdone, drummer Alan Evans brought the full force of his kit skills to bear during the night's most epic number, "One in Seven," featuring an extended solo in the middle. The set wrapped up with three covers: "Everybody Wants to Rule the World" by Tears for Fears (turned into straight-up soul number), Aretha Franklin's "Rock Steady," and finally (and appropriately), the encore, "Makin' My Way Back Home" by Lettuce (only half a cover, given the overlapping players in both acts). Bowling and funk may be natural bedfellows, or they may not be, but either way, we hope there is a Bowlive III in the future.
We recorded this set with a combination of the DPA microphones at close range to capture the PA output, plus AKG large-diaphragm microphones onstage to capture the instrumental detail and broad, spacious stage sound. The results are truly outstanding. Enjoy!
Special thanks to Soulive and Morgan Young for approving this recording, and to Peter Costello and the Brooklyn Bowl team for their hospitality and hard work.
Stream "Just Kissed My Baby":
[audio:http://www.nyctaper.com/S1302Soulive1021/soulive2011-03-12bbowl_acidjack-11.mp3]
Stream "Lenny":
[audio:http://www.nyctaper.com/S1302Soulive1021/soulive2011-03-12bbowl_acidjack-17.mp3]
Download the FLAC/MP3 files and stream this entire show on the Live Music Archive [HERE]

Soulive
2011-03-12
Brooklyn Bowl
Brooklyn, NY USA
Recorded and produced by Johnny Fried Chicken Boy and acidjack for nyctaper.com
Equipment: DPA 4021>Sound Devices USBpre2+AKG C 414 B-XLS (Wide Cardiod Mode)>Edirol R-44 [Oade Concert Mod]
Position: AKGs onstage, DPAs on stand, 10ft from right stack, 12ft up, X/Y
Mastering: 2x24bit/48kHz WAV>Audacity (EQ DPA source, mixdown, downsample, tracking, set fades, level adjustments, fix SBEs, tag files, smooth peaks, amplify and balance)>FLAC ( level 8 )
Tracks:
Set 1:
01. intro
02. Bubble
03. banter
04. Uncle Junior
05. banter
06. Flurries
07. banter
08. The Swamp
09. banter
10. Doing the 2 > Too Much
11. Just Kissed My Baby [The Meters]
Set 2:
12. 2nd set intro
13. El Ron
14. banter
15. Up Right
16. banter
17. Lenny [Stevie Ray Vaughan]
18. banter
19. One in Seven >
20. drums > One in Seven
21. Everybody Wants to Rule the World [Tears for Fears]
22. banter
23. Rock Steady [Aretha Franklin]
24. encore break
25. Makin' My Way Back Home [Lettuce]
If you download this recording from NYCTaper, we expect that you will PLEASE SUPPORT Soulive, visit their website, and purchase their official releases and merchandise directly from the band's online store [HERE]