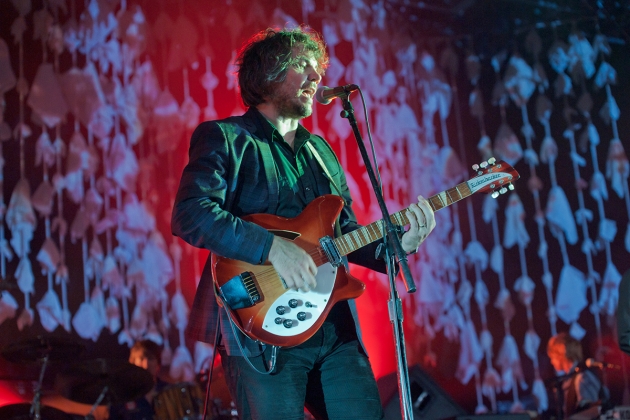 [Photo courtesy of wagz2it]
Whereas the previous evening we saw the damp weather held at bay, for Wilco's second night at Central Park's Summerstage the band and attendees weren't quite as lucky.  All parties took it in stride and the crowd, despite the rain or maybe because of it, seemed particularly enthusiastic.  Once again pulling a lion's share of tracks from the new album, The Whole Love (which has its official release today), we were also treated to crowd-pleasers "Passenger Side", "Impossible Germany" and "Heavy Metal Drummer", and wonderful takes on live staples "Bull Black Nova", "Misunderstood" and "Jesus, Etc.", which Jeff Tweedy dedicated to us.  With all the good stuff going on stage, Wilco made it pretty easy to forget about the drizzle on our heads.
As with the night before, the entire NYCTaper crew made it out for the concert.  Paring down our rig considerably due to the inclement weather, we were still able to get an excellent recording and hope you like what you hear as much as we did.  Enjoy!
Stream "Bull Black Nova":
[audio:http://www.nyctaper.com/W2238Wilco2297/Wilco_-_Bull_Black_Nova.mp3]
Stream "Dawned on Me":
[audio:http://www.nyctaper.com/W2238Wilco2297/Wilco_-_Dawned_on_Me.mp3]
Direct download of the complete show in MP3 [HERE]
Direct download of the complete show in FLAC [HERE]
If the FLAC link is no longer working, email nyctaper with a request for the download location of the FLAC files.
Note: All of the material on this site is offered with artist permission, free to fans, at our expense.  The only thing we ask is that you download the material directly from this site, rather than re-posting the direct links or the files on other sites without our permission.  Please respect our request.
Wilco
Friday, September 23, 2011
Rumsey Playfield
Central Park Summerstage
New York, NY, USA
Source: AUD > Audio-Technica AT3031's + DPA 4061's > Church Audio CA9200 > Edirol R-44 [Oade Concert Mod] >> Edirol R-44 (WAV @ 24-bit/48kHz)
Lineage: R-44 > USB > PC > Adobe Audition (mixdown, adjust levels, downsample, dither, tracking) > WAV (16-bit/44.1kHz) > Trader's Little Helper (check/fix SBE's, FLAC) > FLAC Level 8
Recorded by: acidjack and Johnny Fried Chicken Boy
Produced by: Johnny Fried Chicken Boy
SETLIST:
[Total time: 2:07:00]
01. One Sunday Morning (Song for Jane Smiley's Boyfriend)
02. Art of Almost
03. I Might
04. Poor Places
05. Bull Black Nova
06. I Am Trying to Break Your Heart
07. Pot Kettle Black
08. Impossible Germany
09. Black Moon
10. California Stars  [lyrics by Woody Guthrie]
11. Born Alone
12. Handshake Drugs
13. Heavy Metal Drummer
14. Whole Love
15. Standing O
16. Passenger Side
17. Dawned on Me
18. A Shot in the Arm
19. encore break
20. Misunderstood
21. banter / dedication
22. Jesus, Etc.
23. Walken
24. I'm the Man Who Loves You
25. Red-Eyed and Blue
26. I Got You (At the End of the Century)
If you download this recording, we expect that you will PLEASE SUPPORT Wilco, visit their website, visit their Facebook and MySpace pages, and purchase their official releases (including new release, The Whole Love) and merchandise [HERE].