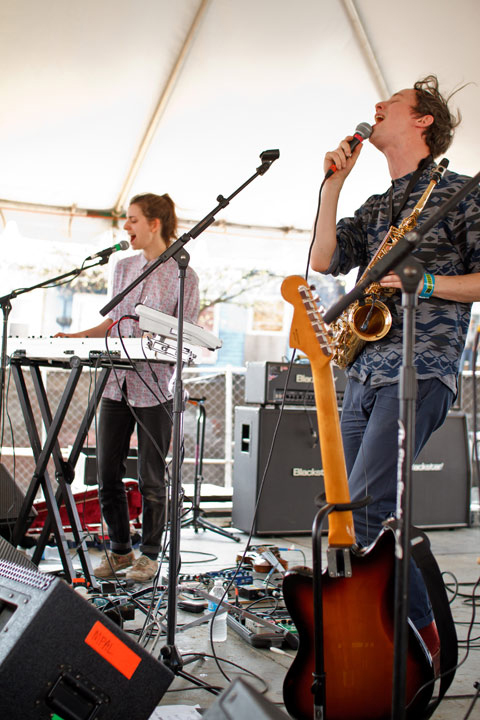 [photo courtesy of Amanda Hatfield]
NYCTaper went on the road to Austin last week for the annual SXSW Festival. As I tweeted at one point near the end of my trip, SXSW is kind of like CMJ on steroids. There are a ton of corporate-backed "scene" shows downtown that really don't appeal to me. However, on the East side there was a series of unofficial showcases that featured just about every band you could see downtown, only under much better circumstances — a relaxed atmosphere not overrun by commercialization. That's where we spent the Fest.
The best of these unofficial shows was the four-day afternoon showcases presented by brooklynvegan at the venue Hotel Vegas, rechristened "Hotel Vegan" for the week. Each afternoon eight or nine band played on an outside stage while inside there was additional bands on two other stages. We camped out on Thursday at noon at the outside stage and that's where we stayed for the next three days. Each day's afternoon showcases were recorded, and I'll be featuring a large amount of those recordings over the next few weeks.
One of the highlights of Thursday's show was the set by the British-based band Fanfarlo. They are currently in the US on tour to support their new album Rooms Filled With Light and based upon reviews, I expected the Fanfarlo to have a more pronounced electronic feel to their beautiful indie-folk. I had not seen the band since 2009 (here) and while its clear that their sound has changed, I find it more of an evolution than a departure. The focus remains on Simon Balthazar's vocals and songwriting accompanied by a variety of instrumentations from the talented band. At this Hotel Vegan show, it was the horn playing that cut through the heat, chatter and outdoor sounds to propel the band forward. The set consisted of all but one song from Rooms, and we are streaming "Deconstruction", a powerful song that builds in intensity to a stunning conclusion.
I recorded all of the Hotel Vegan outdoor sets with the assistance of my new Sennheiser MKH-8040 Cardioid microphones and they certainly proved up to the task. These recordings presented many challenges, the most pronounced of which was the persistent thumping of bass and drums from an adjacent competing stage (unaffiliated with brooklynvegan). Our "neighbors" seemed to feel the need to compensate for the poor attendance at their show by cranking their sound system. Some of this noise can be heard in between songs in many of the Hotel Vegan recordings. There was also the expected constant chatter and movement of the Festival crowd. I was also assisted with an excellent soundboard feed by the superb FOH technicians Toby and Taylor employed at the Festival by Miller Pro Audio. With all of these challenges (and caveats), I still feel that the sound quality of these recordings is excellent under the circumstances. Enjoy!
Stream "Deconstruction":
[audio:http://www.nyctaper.com/F2010Fanfarlo2290/05.%20Deconstruction.mp3]
This recording is now available for download in FLAC or MP3 at Archive.org [HERE].
Note: All of the material on this site is offered with artist permission, free to fans, at our expense. The only thing we ask is that you download the material directly from this site, rather than re-posting the direct links or the files on other sites without our permission. Please respect our request.
Fanfarlo
2012-03-15
Hotel Vegan – SXSW
Austin, TX USA
Digital Master Recording
Soundboard + Audience Matrix
Soundboard + Sennheiser MKH-8040 Cardioids > Edirol R-44 (Oade Concert Mod) > 2 x 24bit 48kHz wav files > Soundforge (level adjustments, mixdown, set fades) > CDWave 1.95 (tracking) > TLH > flac (320 MP3 and tagging via Foobar)
Recorded and Produced
by nyctaper 2012-03-21
Setlist:
[Total Time 32:15]
01 Feathers
02 Tightrope
03 Lenslife
04 Tunguska
05 Deconstruction
06 [banter]
07 Harold T Wilkins
08 Shiny Things
If you download this recording from NYCTaper we expect that you will PLEASE SUPPORT Fanfarlo, visit their website, and purchase Rooms Filled With Light directly from the Fanfarlo webstore [HERE].