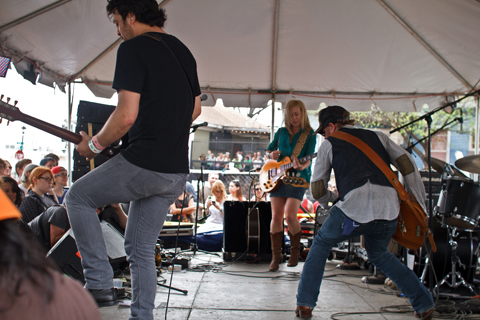 [photo courtesy of Amanda Hatfield]
We are all big fans of Heartless Bastards over here at nyctaper, as well we're quite fond of Partisan Records. When the two got together earlier this year and released HB's strongest record to date, Arrow, acidjack and John got to celebrate with the band at their sold out Webster Hall show in February. That triumphant 90+ minute show was a watershed moment of sorts, but it was not too long before we were able to catch them again. This time it was the packed bill of Hotel Vegan's final day. Playing after Lucero and before Diamond Rugs (coming soon), Heartless Bastards delivered a powerful forty-minute set that began with a stunning version of epic song of the year candidate "Down In The Canyon", and never let up. The new songs were primarily featured, but we're streaming an HB classic "Nothing Seems the Same" which ended the show on a high note.
I recorded this set in the same manner as the Lucero set with the Sennheiser cards mixed with a board feed, and the sound quality is excellent despite the many distractions the setting contained. Enjoy!
Stream "Nothing Seems the Same":
[audio:http://www.nyctaper.com/H6602HB9922/07.%20Nothing%20Seems%20the%20Same.mp3]
Direct download of complete show in MP3 files (HERE)
Download the Complete show in FLAC [HERE].
Note: All of the material on this site is offered with artist permission, free to fans, at our expense. The only thing we ask is that you download the material directly from this site, rather than re-posting the direct links or the files on other sites without our permission. Please respect our request.
Heartless Bastards
2012-03-17
Hotel Vegan – SXSW
Austin, TX USA
Digital Master Recording
Soundboard + Audience Matrix
Soundboard + Sennheiser MKH-8040 Cardioids > Edirol R-44 (Oade Concert Mod) > 2 x 24bit 48kHz wav files > Soundforge (level adjustments, mixdown, set fades) > CDWave 1.95 (tracking) > TLH > flac (320 MP3 and tagging via Foobar)
Recorded and Produced
by nyctaper 2012-04-06
Setlist:
[Total Time 37:50]
01 Down In The Canyon
02 Late In The Night
03 Parted Ways
04 Got To Have Rock And Roll
05 Simple Feeling
06 Hold Your Head High
07 Nothing Seems the Same
If you download this recording, we expect that you will PLEASE SUPPORT Heartless Bastards, visit their website, and purchase Arrow from Partisan Records [HERE]