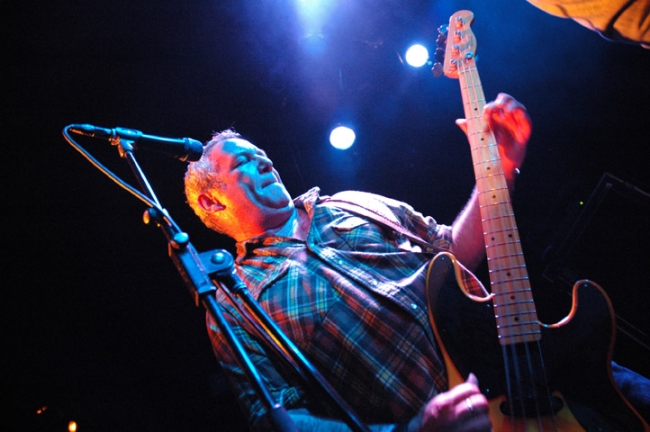 [Photos courtesy of Robert Kidd.  See more of his excellent work HERE.]
To paraphrase the late Jerry Garcia, not everybody knows who Mike Watt is, but those who do really appreciate Mike Watt.  Having long been established as an elder statesman of punk, post-punk and alternative rock starting with the seminal Minutemen and the inspired fIREHOSE, his versatility has allowed him to play with many musicians of different stripes and genres.  He's a bass player's bass player; the go-to guy who you know will hold down the low-end duties superbly and is not afraid of working hard.  If it doesn't already, his business card should read, "Have bass, will travel."  That's why when people in the know hear that Watt is coming to town, they run and don't walk to get to the gig.
Initially announced as the NYC launch of his new book, 'Mike Watt: On and Off Bass', and calling the event "Mike Watt & Friends", word had it that he was also planning to dust off the Hellride East moniker (one of his many projects) and play Stooges tunes with J Mascis and Murph from Dinosaur Jr.  After an interview session with noted music writer Byron Coley, the music kicked off and it was indeed The Stooges from their first two excellent albums.  In his element, clearly enjoying himself and fingers hammering the strings, Watt and Mascis were the only two constant musicians during the set.  At any given time the drummers were rotating between Murph, John Maloney and Sonic Youth's Steve Shelley.  SY's Thurston Moore took a turn or two on vocals as did Don Fleming, John Petkovic (also playing clarinet), Sharon Van Etten, Kurt Vile, Byron Coley and Noel Ford, the former soundman from the Continental (and current one for Dinosaur Jr.) or so I was told.  It was a whirlwind trying to keep up with the cavalcade of performers who kept jumping on stage.  With the pervasive sense of "what's next?" in the air and the close proximity of all these great artists, the small Le Poisson Rouge felt more like a party at a friend's house with a killer band than a concert.  That atmosphere prevailed even more so when the music ended and everyone milled around chatting and drinking while the guest of honor signed copies of his book and greeted all comers with a handshake.  A truly unique evening and, personally, I can't wait for Mike to pop up here in our city again.  Wondering in just what permutation that will be should prove almost as much fun.
This night at Le Poisson Rouge presented a unique recording opportunity for us.  Rather than having to set up towards the back of the room so as not to be in the way, we were able to park our rig right at the stage lip and nearly dead center.  Recording in this manner makes the separation of the instruments and where they were on stage very distinct.  A monitor was just off to our right so while the vocals aren't entirely centered, the overall effect is really cool and the next closest thing to being right up front at the show.  We hope you like what you hear as much as we did.  Enjoy!
Special thanks to Mike Watt and all the performers for making this recording possible, and to Frankie, Bernie and the staff at Le Poisson Rouge for their courtesy and cooperation.
Stream "T.V. Eye": [audio:http://www.nyctaper.com/W7025Watt2929/Mike_Watt_-_TV_Eye.mp3]
Download the FLAC/MP3 files and stream this entire show on the Live Music Archive [HERE]
Follow Johnny Fried Chicken Boy on Twitter
Note: All of the material on this site is offered with artist permission, free to fans, at our expense.  The only thing we ask is that you download the material directly from this site, rather than re-posting the direct links or the files on other sites without our permission.  Please respect our request.
Mike Watt & Friends
(billed as Hellride East)
Wednesday, May 2, 2012
Le Poisson Rouge
New York, NY, USA
Source: AUD > Audio-Technica AT3031's > Sound Devices MixPre > Roland R-05 (WAV @ 24-bit/48kHz)
Lineage: R-05 > PC > Adobe Audition (mixdown, downsample, dither, tracking) > WAV (16-bit/44.1kHz) > TLH (check/fix SBE's, FLAC conversion) > FLAC ( level 8 )
Recorded and produced by: Johnny Fried Chicken Boy
TRACKLIST:
[Total time: 1:20:43]
00. Mike Watt interviewed by Byron Coley
01. Real Cool Time  [Don Fleming (vocals), Murph (drums)]
02. T.V. Eye  [John Petkovic (vocals), John Maloney (drums)]
03. Loose  [Thurston Moore (vocals), John Maloney (drums)]
04. Dirt  [Sharon Van Etten (vocals), Steve Shelley (drums)]
05. Not Right  [John Maloney (drums)]
06. Down on the Street  [Thurston Moore (vocals), Murph (drums)]
07. No Fun  [Kurt Vile (vocals), Murph (drums)]
08. 1970  [Noel (vocals), Steve Shelley (drums)]
09. Little Doll  [Steve Shelley (drums)]
10. encore break / banter
11. Fun House  [Thurston Moore (vocals), John Petkovic (clarinet), Murph (drums)]
12. L.A. Blues  [Byron Coley (vocals), John Petkovic (clarinet), Murph & John Maloney (drums)]
If you download this recording, we expect that you will PLEASE SUPPORT Mike Watt, the performers and their projects, go see their shows, visit their websites (Mike's is HERE), and purchase some of their official releases and merchandise [HERE] and [HERE].