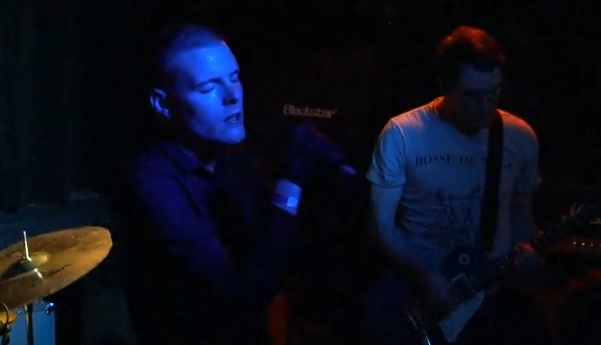 [screen capture from unARTigNYC video]
Deafheaven's new album Sunbather is a game-changer in so many ways. Its been called "a modern classic" and a "pinnacle of American black metal" by preeminent metal writer Brandon Stosuy. The album's universal critical acclaim and the increased crowds that will inevitably gather for the band's uber-intense live shows mean ultimately that Deafheaven is on a very steep trajectory to the apex of its genre. There will not be (m)any more nights like Tuesday at Saint Vitus, where the packed crowd saw the band deliver a show for the ages. Opening with a quiet guitar introduction, the band then crashed into Sunbather's first track "Dream House", and the level of energy did not subside until the band and the audience came up for a breath of air before the final song. One of Deafheaven's strengths is their ability to seamlessly transition from one apparent genre to another. We are streaming "The Pecan Tree" which encapsulates this ability multiple times within one track. The song opens with a dead start directly into a "screamo" black metal segment before evolving mid-track into a melodic post-rock guitar passage and then concludes in full Deafheaven mode while vocalist George Clarke belts out what is perhaps the darkest lyrics of the entire album "I am no one. I cannot love. It's in my blood." Deafheaven's current tour concludes with two shows in the Midwest — Cleveland on Friday and Chicago on Saturday. If you live in one of those two cities, we recommend that you not miss this band.
I recorded this show with the Sennheiser cardioids set up in the rear of the room and mixed it with a board feed. The strengths of both sources compliment each other and the result is an excellent recording. Enjoy!
Stream "The Pecan Tree":

Download the Complete show [MP3] / [FLAC]
Note: All of the material on this site is offered with artist permission, free to fans, at our expense. The only thing we ask is that you download the material directly from this site, rather than re-posting the direct links or the files on other sites without our permission. Please respect our request.
Deafheaven
2013-07-02
St. Vitus
Brooklyn, NY
Digital Master Recording
Soundboard + Audience Matrix
Soundboard + Sennheiser 8040 Cardioids > Edirol R-44 (Oade Concert Mod) > 2 x 24bit 48kHz wav files > Soundforge (level adjustments, mixdown, set fades) > CDWave 1.95 (tracking) > TLH > flac (320 MP3 and tagging via Foobar)
Recorded and Produced
by nyctaper 2013-07-04
Setlist:
[Total Time 1:05:32]
01 [intro]
02 Dream House
03 Sunbather
04 Unrequited
05 The Pecan Tree
06 [banter]
07 Violet
If you download this recording from NYCTaper, we expect that you will PLEASE SUPPORT Deafheaven, visit their website, and purchase their official releases including Sunbather from Deathwish Inc. [HERE].