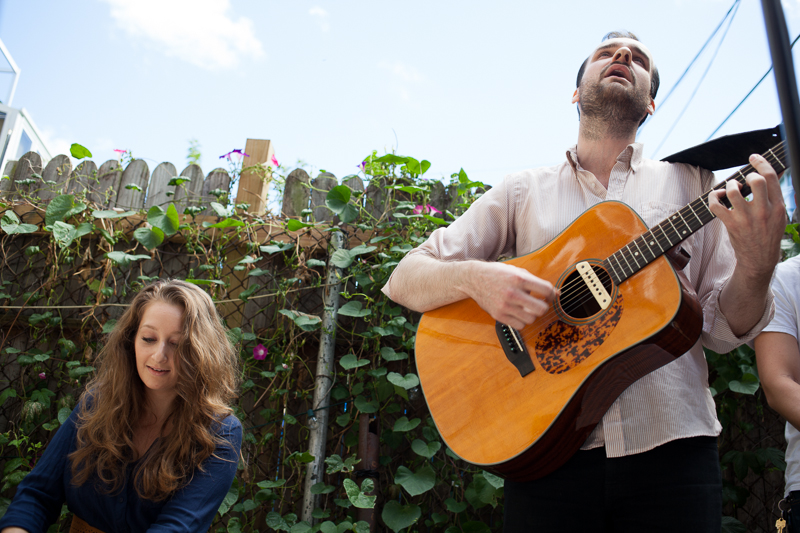 [Photography by Dominick Mastrangelo]
The Brooklyn band Modern Merchant have an easy charm to them. Their laid-back sound will suck you in at an instant. But what will keep you coming back are the subtle shifts of tempo and texture that give their arrangements heft. Lead singer John Parson has a steady, soothing voice that heads into euphoric territory when it's called for, but he knows when to use it. This Backyard Brunch Sessions performance carved back some of the more dream-pop-driven elements of the band's sound, which are out in force on their current EP, For the Fields. For my money, this live set gave the band's songs a more natural, lived-in feel that goes well with their natural tendencies. It's always a nice calling cards to have when the band you're playing with (in this case, Elizabeth and the Catapult) asks when they can see your next show. It was a compliment well deserved, as Modern Merchant put on a live show worth seeing more than once.
I recorded this set in the same manner as the Elizabeth and the Catapult recording, and the sound is excellent. Enjoy!
You can catch Modern Merchant live in Brooklyn on October 29 at the Paper Box.
Stream "Be That As It May":

Stream "Necessary Evil":

Download the complete show: [MP3] | [FLAC]
Note: All of the material on this site is offered with artist permission, free to fans, at our expense. The only thing we ask is that you download the material directly from this site, rather than re-posting the direct links or the files on other sites without our permission. Please respect our request.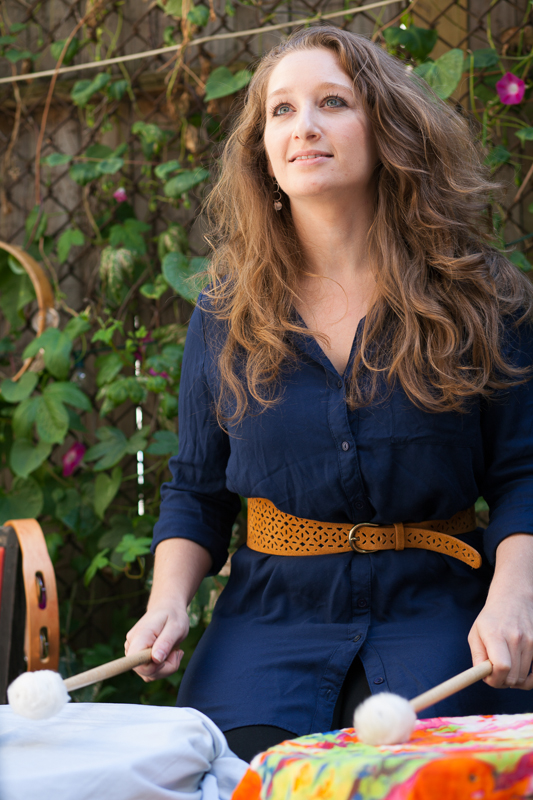 Modern Merchant
2013-09-22
Backyard Brunch Sessions
Brooklyn, NY USA
Recorded and produced by acidjack
Hosted at nyctaper.com and backyardbrunchsessions.com
Schoeps MK5 (omni)+Schoeps MK8 (M-S) + Audio Technica 3031>Edirol R-44 [OCM]>2x24bit/48kHz WAV>Adobe Audition CS 5.5 (various effects and mixdown)>Izotope Ozone 5 (EQ, effects)>Audacity 2.03 (fades, tracking, amplify, balance, downsample, dither)>FLAC ( level 8 )
Tracks
01 [intro – David Chaitt]
02 Be That As It May
03 [tuning]
04 For the Fields
05 Necessary Evil
06 [tuning2]
07 Marry Me Annie
08 [tuning3]
09 Untitled (Patito)
If you enjoyed this recording, please support Modern Merchant, visit their website, and buy For the Fields from their bandcamp page.