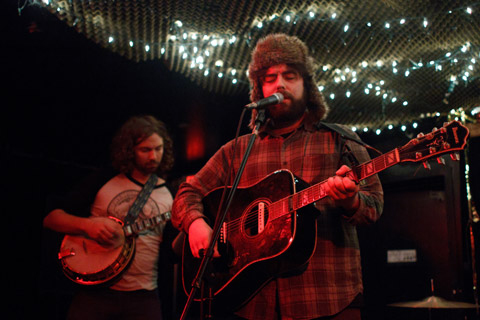 [photos by Amanda Hatfield]
The Moondoggies hail from Everett Washington, which means that they don't get to NYC very often. We were there the last time they played our area — a superb show at the Rock Shop nearly three years ago. So when we learned that their tour coincided with CMJ, we jumped at the chance to have them play at our annual CMJ Day Party. Although the band started their set at 2pm, they still managed to pull in a nice crowd who were attentive throughout the band's acoustic set. This year the Moondoggies released their third album Adiós I'm a Ghost (Hardly Art Records) and while this album continues the band's rich Americana music, there's also a mellower tone on the release. This theme fit the band's stripped down set at Cake Shop which began with two of the songs from the new album, and included one other new song in the seven song set. We are streaming an excellent cover of the Byrds "Sweet Mary", which reflects both the band's influences and their ability to pay tribute to their predecessors. Those qualities are part of the reason why we hope its not another three years before the Moondoggies come back to NYC.
I recorded this set in the same manner as the two previous CMJ recordings (stage-mounted Sennheiser cards + board) and the sound quality is superb. Enjoy!
Stream "Sweet Mary" (Byrds cover):

This Recording is now Available for Download in FLAC and MP3 and to Stream the Entire Show at Archive.org [HERE].
Note: All of the material on this site is offered with artist permission, free to fans, at our expense. The only thing we ask is that you download the material directly from this site, rather than re-posting the direct links or the files on other sites without our permission. Please respect our request.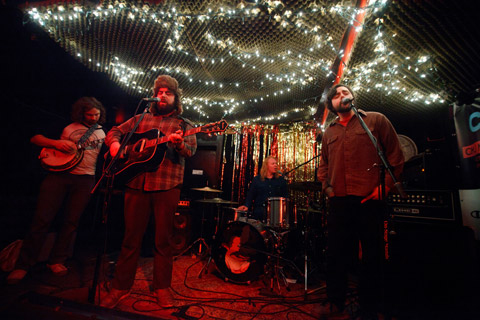 Moondoggies
2013-10-17
NYCTaper CMJ Day Party
Cake Shop
New York, NY
Digital Master Recording
Soundboard + On Stage Audience Matrix
Soundboard + Sennheiser MKH-8040s > Edirol R-44 (Oade Concert Mod) > 2 x 24bit 48kHz wav files > Soundforge (level adjustments, mixdown, set fades) > CDWave 1.95 (tracking) > TLH > flac (320 MP3 and tagging via Foobar)
Recorded and Produced
by nyctaper
Setlist:
[Total Time 28:50]
01 Annie Turn Out the Lights
02 Stop Signs
03 Just Makes Sense to Me
04 Empress of the North
05 Pride
06 Sweet Mary [Byrds]
07 Keep Her On The Line
If you download this recording from NYCTaper, we expect that you will PLEASE SUPPORT The Moondoggies, visit their website, and purchase their new album Adiós I'm a Ghost from the Hardly Art Records website [HERE].