Follow @acidjacknyc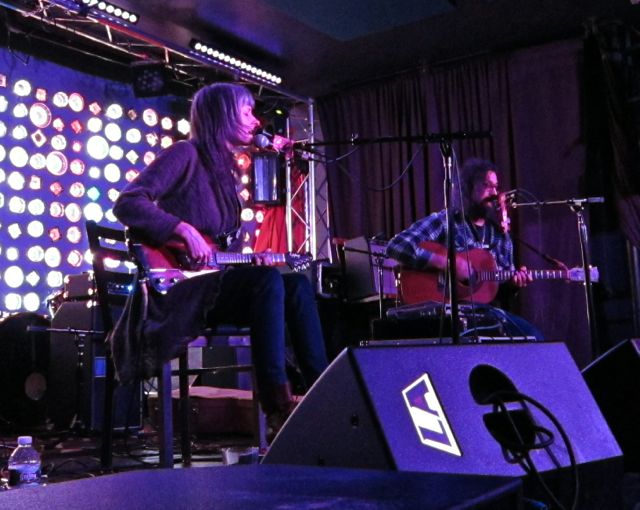 [Photos by acidjack]
MV & EE are one of those acts that's so prolific, and whose output is so varied, one would be a fool to try and summarize it all. Cosmic voyagers Matt Valentine and Erika Elder began their journey more than a decade ago, combining Indian raga style with deep psych and damaged Appalachian folk into something wholly new and often unexpected. The duo has a mini-residency going this month at Baby's All Right, a relatively new Williamsburg venue and restaurant that's as good-looking as it is inviting. Elder and Valentine served up two sets' worth of material that covered a range of their career, including songs from their latest, Shade Grown. Building gradually, the first set began with the early slow-burner "Beautiful Mountain", then "Tea Devil" from the band's Three Lobed release Country Stash, and "Leaves" from their Woodsist LP Space Homestead, ending with the countrified twang of "Shotgun Willie". Set two found Valentine and Elder kicking off with "Shit's Creek" (also from Space Homestead) before taking things into the deep jam zone, as an extra-heady "Too Far To See",  flowed into an extended jam before landing on a cover of Pink Floyd's "Green Is the Color", jamming into the beat-backed "Cocola Parabola". This show whetted our appetite for the band's next appearance at the venue this coming Monday, which is a free show. If you haven't had a chance to check out MV & EE, not to mention Williamsburg's finest new venue, this is your chance.
This recording was made with a full multitrack digital fileset generously provided by house engineer Devin Foley, together with my Schoeps MK4V microphones at the stage lip. The sound quality is outstanding. Enjoy!
MV & EE will be back at Baby's All Right this coming Monday, February 24. The show is free (see flyer below), so come check it out!
Stream "Shotgun Willie"

Download the complete show [MP3] | [FLAC]
Note: All of the material on this site is offered with artist permission, free to fans, at our expense. The only thing we ask is that you download the material directly from this site, rather than re-posting the direct links or the files on other sites without our permission. Please respect our request.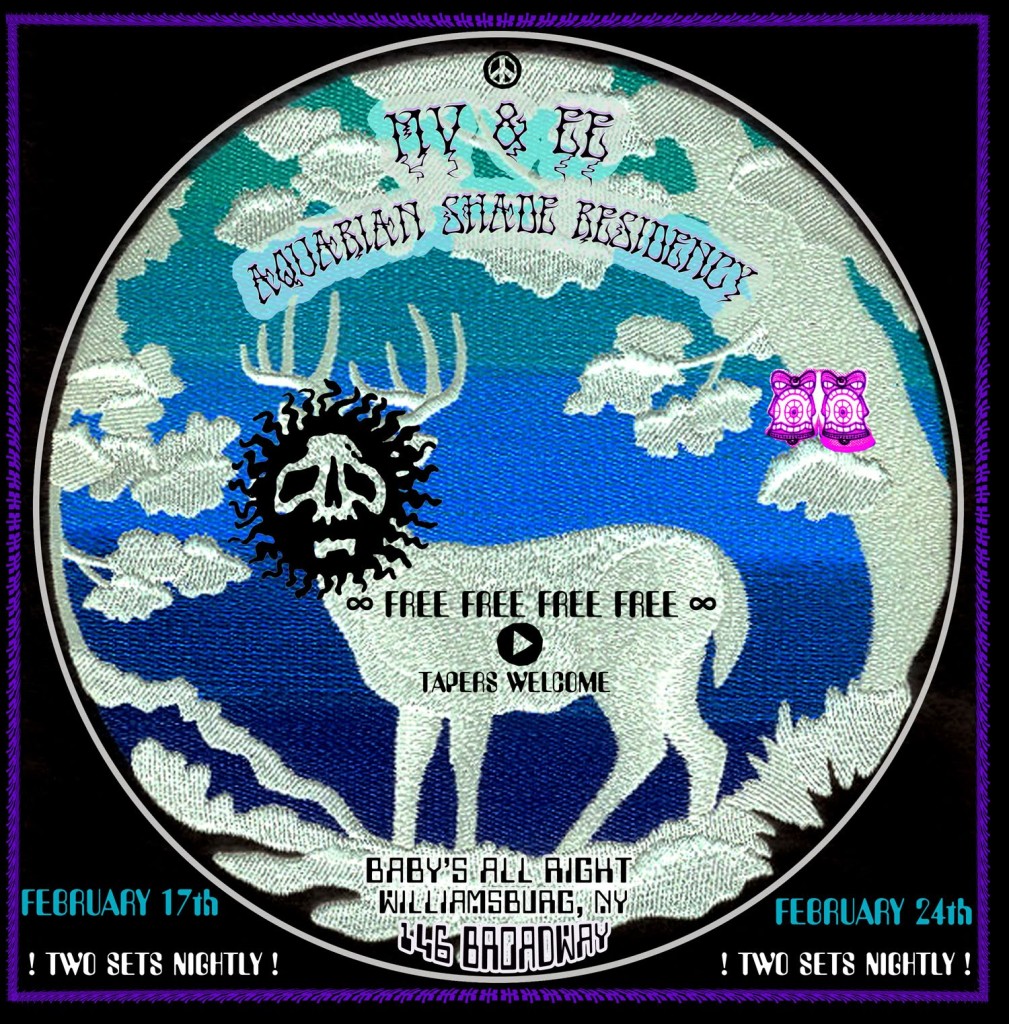 MV & EE
2014-02-17
Baby's All Right
Brooklyn, NY USA
Exclusive download hosted at nyctaper.com
Recorded by Devin Foley and acidjack
Produced by acidjack
6-channel multitrack soundboard (Engineer: Devin Foley) + Schoeps MK4V (stage lip)>KC5>CMC6>Pro Tools>8x24bit/48kHz WAV>Adobe Audition CS 5.5 (various dynamics, compression, alignment, mixdown)>Izotope Ozone 5 (EQ, effects, stereo imaging, dynamics)>Audacity 2.0.3 (tracking, fades, amplify, balance, downsample, dither)>FLAC ( level 8 )
Set 1
01 [intro]
02 Beautiful Mountain
03 Tea Devil
04 [tuning]
05 Leaves
06 [banter]
07 Shotgun Willie
Set 2
08 [intro set 2]
09 Shit's Creek
10 Too Far To See>jam
11 Green Is the Color [Pink Floyd]>jam>
12 Cocola Parabola
If you enjoyed this recording, PLEASE SUPPORT MV & EE, visit their website, buy Shade Grown and other releases there, and visit Three Lobed Recordings for Fuzzweed and Country Stash and Woodsist for Space Homestead.