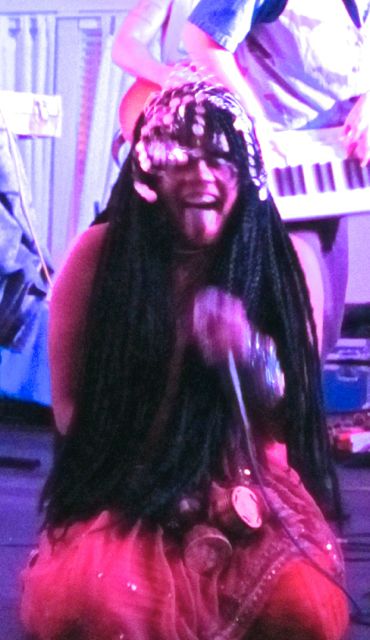 [Photo by acidjack]
Brooklyn's NYMPH took things to another level of the eclectic at the standout Northern Spy / Ba Da Bing SXSW Showcase this past March. Like many of the other acts on this night's bill, the seven-piece is exuberantly unconventional, drawing inspiration from psychedelic rock, free jazz, kraut, and damaged blues. This three-song, thirty-two minute set included the title track from the band's first Northern Spy release, New Millennium Prayer, which should be on any fan of experimental/out music's list of 2014 releases to own. With each composition stretching past the seven-minute mark, every song became a chance for the band to explore, and those of us in the audience to rage on the floor in return. As the band's Facebook page promises, "Witnessing NYMPH at peak power is akin to witnessing ritual." Having seen what I saw this night, I'd say I agree.
I recorded this set in the same manner as my other recordings this night, with Schoeps MK4V microphones in the optimum position hanging over the crowd and a soundboard feed. The sound quality is outstanding. Enjoy!
Stream the full set and download individual tracks

Download the complete show: [MP3] | [FLAC]
Note: All of the material on this site is offered with artist permission, free to fans, at our expense. The only thing we ask is that you download the material directly from this site, rather than re-posting the direct download links or the files on other sites without our permission. Feel free to re-post the Soundcloud link. Please respect our request.
NYMPH
2014-03-14
Northern Spy / Ba Da Bing SXSW Showcase
Palm Door
Austin, TX USA
Exclusive download hosted at nyctaper.com
Recorded and produced by acidjack
Soundboard + Schoeps MK4V (FOB/DFC)>KC5>PFA>>Edirol R-44 [OCM]>2x24bit/48kHz WAV>Adobe Audition CS 5.5 (adjust image, mix down, compression)>Izotope Ozone 5 (effects, EQ)>Audacity 2.0.3 (tracking, amplify, balance, downsample, dither)>FLAC ( level 8 )
Tracks
01 Nuclear Allah (Atomic God, Particle Fusion Buddha)
02 Thiyo
03 New Millennium Prayer
If you enjoyed this recording, PLEASE SUPPORT NYMPH, like them on Facebook, and buy New Millennium Prayer from Northern Spy.